Shopify Toys Business continued to grow in importance for shoppers researching toys every holiday season. Use Shopify to sell Toys is a commerce platform that allows anyone to set up a store
and sell their products online or in person.
As well as enhancing physical stores, digital is also impacting total retail sales through ecommerce. Global data predicts that 43.4% of toys and games sales in the UK will be made online in 2022.
Toys Ecommerce Market Predication
The overall eCommerce market for Toys, Hobby, and DIY is a growing market, with global revenue of US$415.6 billion in 2019.
In the US, online toy category has grown by over 55% in the past two years. In the United
States has noticed that "more than 60% of the company's customers visit its website before deciding to go to an actual store", showing that Toys sales both online and offline are being driven by digital channels.
An analysis by Statista Toys, Hobby & DIY United States Report shows that in The United States, toy commerce is rapidly moving away from in-store sales.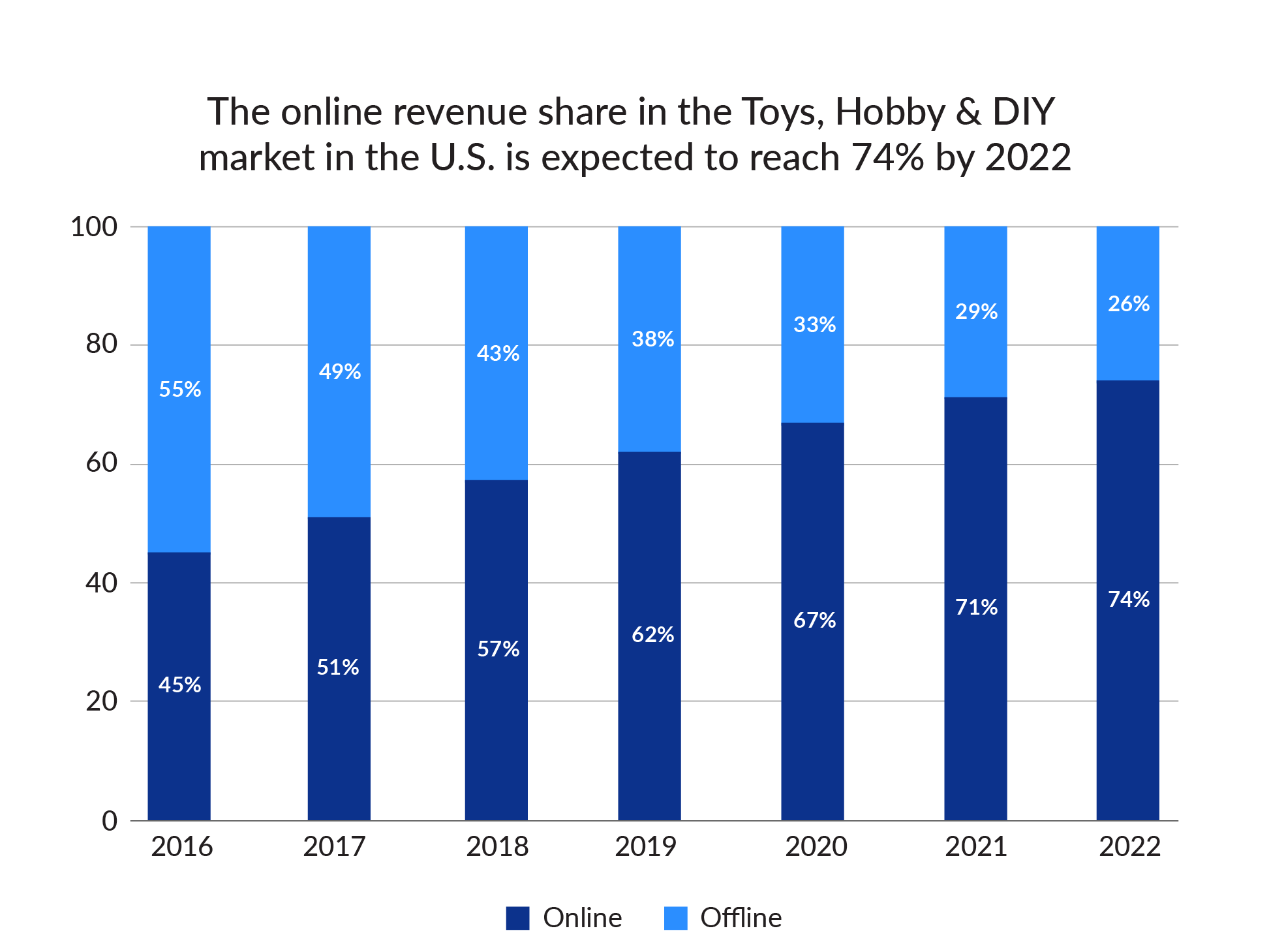 Bridging the gap from offline to online, Shopify Toys Business is , far and the best fit for the majority of the vendors.
Use Shopify To sell Toys And Create Your Own Store
Whether you are playing around with pre -made templates, or are ready to invest a high quality and engaging custom design for your store, Shopify is easy to use because of wide variety of apps available, and integrates easily with many of the marketplaces you will likely want to sell in, and store to.
Read on to find out the key advantages of using Shopify Toys Business :-
1. Quick ,Easy To Set Up And Use:
Shopify offers an easy way to quickly launch an online store without the fuss over servers and development costs that can be incurred with self hosted platforms.
All the features are logically structured and you can find extensive documentation and video guides on the Shopify site.
2. Mobile Ready Of Shopify Toys Stores:
With mobile visits to websites now higher than desktop, it is essential, not optional, to have a mobile optimized site. All Shopify themes are mobile responsive and the platform includes a free built-in mobile commerce shopping cart .
In addition, there are free iPhone and Android apps that let you manage your store on the go.
3. 24/7 Customer Support:
Shopify is big on customer support. They are available 24 hours a day, 7 days a week, and the
response time is fairly instant. You can get in touch via phone, email or web chat.
4. Secure And Reliable:
Shopify takes care of all server maintenance and upgrades to keep your store and shopping cart available at all times, and ensures that pages load quickly.
5. No Tech Worries:
All hosting and software is provided by Shopify Toys Business. Shopify also takes care of all software updates, so you can focus all your efforts on selling and not worry about technical issues.
6. Customizable Your Shopify Toys Stores:
There are 160 themes to choose from in the Shopify theme, all of which are mobile responsive. So creating a beautiful and unique online shop that fits your brand identity is simple.
7. Own Payment Gateway:
Shopify has integrated with dozens of payment gateways, but also offers its own which is powered by stripe. If you choose to use this, you will not incur any transaction fees, plus you will benefit from
lower credit card fees. It also does not require a merchant account to use.
8. Abandoned Cart Recovery:
Shopify Toys Stores offers an abandoned checkout cart recovery service which automatically tracks and emails these potential customers to remind them to complete their purchase; an easy way to potentially generate more revenue.
Top Companies Already Using Shopify Toys Business
Already a well established marketplace seller, PoundToy is now using Start a Toys Business with Shopify to grow sale through their own store too, with some amazing results. We caught up with PoundToys's Marketing Director "Rob Owlett" to uncover the secrets behind their success.
Overall, Use Shopify to sell Toys is one of best hosted solutions that allows to set up a free online
store and sell your products.
With flexibility, security, efficiencies, support and return on investment it offers, Shopify ticks all the boxes to allow online store owners to get on with the business of running their business.
It is affordable and saves more time and resources. If you want full control over the structure
and setup the store, then Start a Toys Business with Shopify is an ideal platform for you.