The whole world is facing this pandemic in unified isolation. Covid 19 pandemic situations across the world and have forced everyone to stay in their homes. The crisis has dramatically affected the Shopify for Fashion Boutiques, industry worldwide.
The lowest paid people in the fashion Boutiques supply chain have faced the worst effects in manufacturing in this unexpected halt.
In this unfolding situation, retailers are shutting their doors around the world and encouraging their customers to shop online.
Market Predication For Fashion Industry
According to data from digital commerce 360, online spending with U.S. retailers grew 30.1% – that's $60.42 Billion – year over year for the first six months of 2020 to reach the total of $347.26B. From
2018-2019, e-commerce sales grew just 12.7%.
As stated by Forbes, E-commerce penetration in the US took a steep increase from 16% at the end of 2019 to 27% at the end of the April.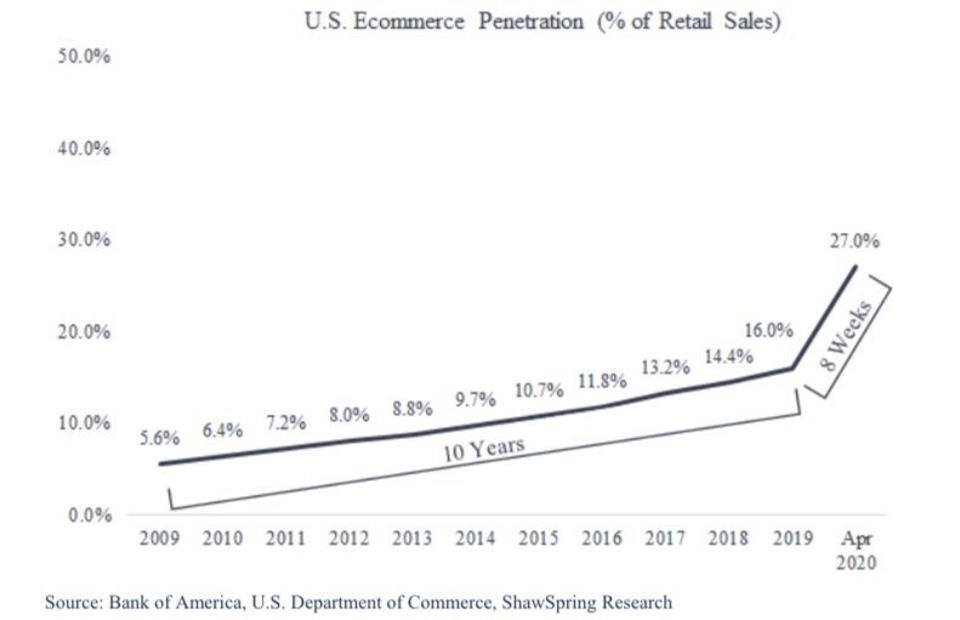 This change is likely here to stay- even after the lockdown is lifted. Many shoppers will continue shopping online from the safety and comfort of their homes.
Digital is not only an increasingly important sales channel and it also helps companies adapt cost structures and make each step of the value chain better, faster and cheaper.
Fashion and apparel industries now need to consider going online with their products to survive the pandemic. Delivering an excellent customer experience is crucial, so Shopify has provided a platform for own fashion store on Shopify and even large businesses to continue their trade via online platforms. It gives the ability to reach out to existing customers and attract new customers by promoting a 'safer' way to shop that lets them experience in-store, shopping online.
Shopify is an e-commerce platform for online stores and retail point of sale systems. Shopify offers the best web design service for Small Fashion Boutiques.
Small Business Journeys Of Shopify Stores
Read the 8 great small business stories who started their remarkable and unique journeys on Shopify platform with great success.
Make Your Own Fashion Store On Shopify that sell the products with a minimal amount of configuration. You can sell a single product or a handful of products by implementing an advanced Shopify homepage section as per your business requirements. This ultimately boosts your business revenue.
Shopify has come to the rescue of small businesses and offered a different kind of partnership. Even before the pandemic arrived, the company was known for its easy to setup and use e-commerce platform. During the crisis, Shopify doubled down on a mission to help struggling businesses capitalized on the increasing e-commerce penetration. According to the company's COO, Harley Finkelstein, the number of new stores created on Shopify grew 62% between March 13 and April 24, compared to the prior 6 weeks.
Shopify Offers For E-commerce Store
Shopify is the most recommended e-commerce platform on the market today. It is flexible, easy to use, and offers plenty of powerful features for putting your fashion store at the top of the pile.
Have a look to the benefits the Shopify offers:
1. Easy To Setup And Use:
Shopify is a great cloud base choice with low startup cost and an easy-to-use interface from which you can promote, sell and ship the products.
2. Mobile Responsive :
As the number of mobile shoppers are increasing day by day, Shopify for Small Fashion Boutiques offers mobile friendly themes that are used to avail mobile-optimized stores. There are even free Android and IOS apps used to manage the store.
3. Easy Payment :
Shopify makes it simple for the store owners to set up the payment gateway. The platform supports the Stripe payment option, giving buyers the liberty to make transactions without paying any extra fees.
4. Outstanding Customer Support:
Shopify offers its customers an option to contact the support team instantly using a live chat interface; providing an instant customer service, without the need to wait for a response via email.
5. Security And Reliability:
Both of these features are taken care of with this hosted solution that takes care by Shopify maintenance services. Shopify stores are equipped with data encryption tools, protection of Shopify payment transfers, prevention of viruses at the servers, risk analysis tools as well as constant security monitoring.
6. Visually Appealing Online Store:
The platform bundles up a variety of professional templates the creation of unique and visually appealing online stores.
7. Supports Drop Shipping:
Drop shipping lets you sell products by using a supplier that holds the inventory and ships the products for you. You don't need to hold any inventory or ship items yourself and Shopify for Online Boutique supports the drop shipping facility. You pay the wholesale price to the supplier, while controlling the price your customer sees in your Shopify store.
8. Great Social Integration:
Shopify has some great options for seamlessly integrating social media into your site. You can quickly link your social accounts with Shopify apparel stores, sharing and interacting easy for your customers.
9. Advanced Search And Filtering:
You can easily set up the necessary variants for your products and allow customers to search for only the ones they will interested in. Having really a powerful search and filtering feature on your site
can be the difference between a customer finding the product perfect for them or looking elsewhere.
10. No Shopify Branding:
There is no "powered by Shopify" branding on a merchant's website. You can choose the design of your online shop and decide how to interact with customers.
In an interview, the CEO and founder of Shopify, Tobi Lutke explained his desire to empower brands to create quality products that people love and use customer feedback to continuously perfect them.
It is centered around their merchants – "focus on your products and let us take care of everything else".
For getting your Shopify for Online Boutique store running online or re-platforming from another e-commerce platform, Shopify is a great choice!
For a Shopify for Small Fashion Boutiques store looking to grow a strong online business, engage customers, and showcase products, Shopify is the best choice!