It's true. Every marketing strategy has one common objective: to drive maximum conversion rates. If your Shopify store attracts a lot of traffic but makes few sales, you must consider improving conversion rates.
Some of the most effective ways of boosting conversion rates are optimizing marketing strategies or even choosing high-converting themes for your Shopify store. Yes, you read that right! A great theme is essentially the backbone of your ecommerce store.
The good news is that the Shopify theme store has over 100 free & paid pre-built themes to boost your ecommerce store performance in all digital formats. This article explores the seven best shopify themes for conversion rate optimization.
But before we proceed, let us learn more about the conversion rates & their importance.
What Makes A High-Conversion Shopify Theme?
A website or store has a key role in attracting traffic, engaging them & finally converting qualified leads into customers. The best shopify themes for conversion can have a massive impact on your profits.
To make your theme functional, you have to consider optimizing every element of your theme that is likely to impact your conversions. Use A/B testing wherever possible to know which versions perform better for your audience.
Some of the elements that can impact your conversion rates include:
Design
Mobile responsiveness
Loading speeds
Use of Call to Action (CTA)
User-friendly navigation
Seamless checkout process
7 of the Best Shopify Themes for Conversion Rates Improvement
Booster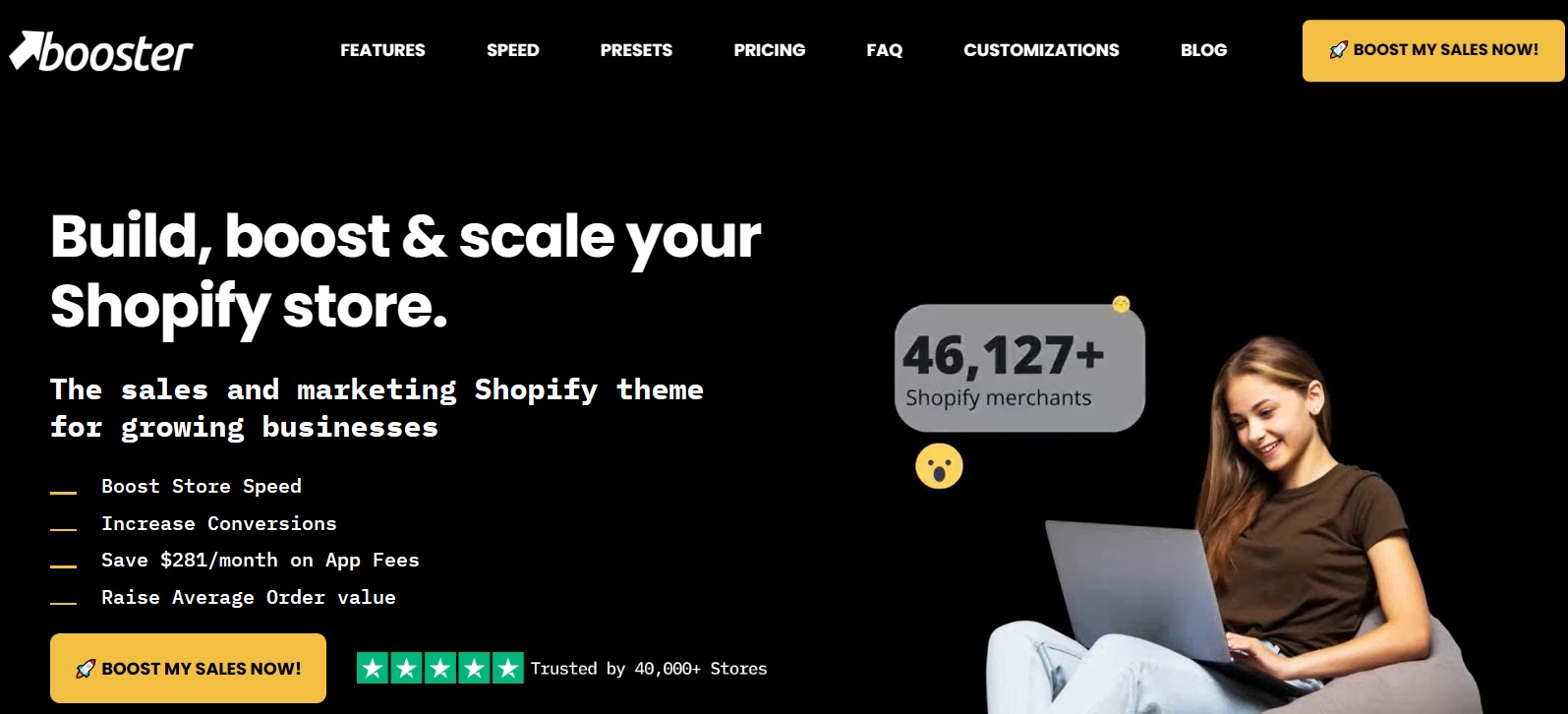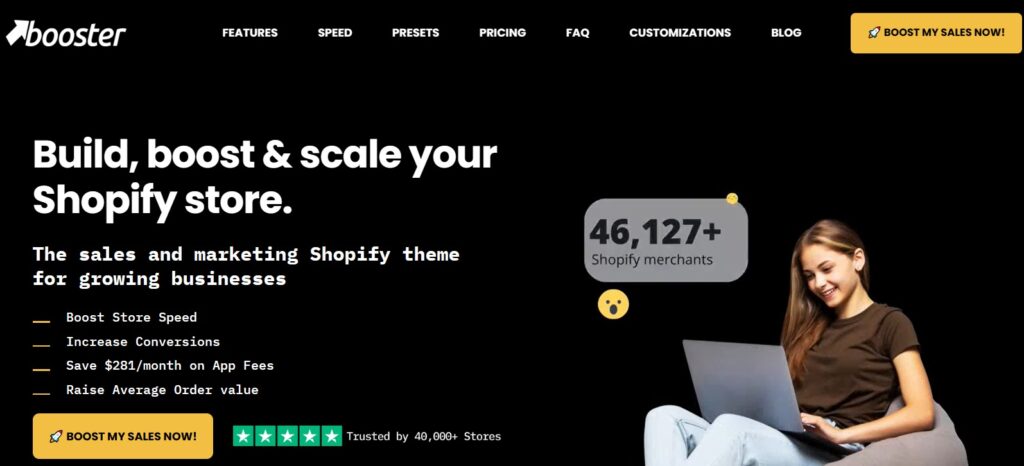 Booster is one of the best shopify themes for conversion rate enhancement. This renowned marketing & sales-focused Shopify theme is designed to improve the shopping experience. The theme offers over 50 presets that can be customized according to the user's requirements.
It also lets users modify Booster's code and change the homepage layout. As a result, the theme is an excellent choice for multiple niches, including fashion, electronics, music, books, electronics & more. Here are some key features of the Booster theme:
Features
Booster is a conversion-focused Shopify theme designed to encourage visitors to purchase.
The theme is easy to install & doesn't require coding knowledge or technical experience.
It supports over ten languages and thus lets you connect easily with international customers.
You can choose from multiple cart options, including a cart slider, cart drawer, cart page, or direct checkout.
When in trouble, the customer support team responds in minutes to resolve your issues quickly.
Yuva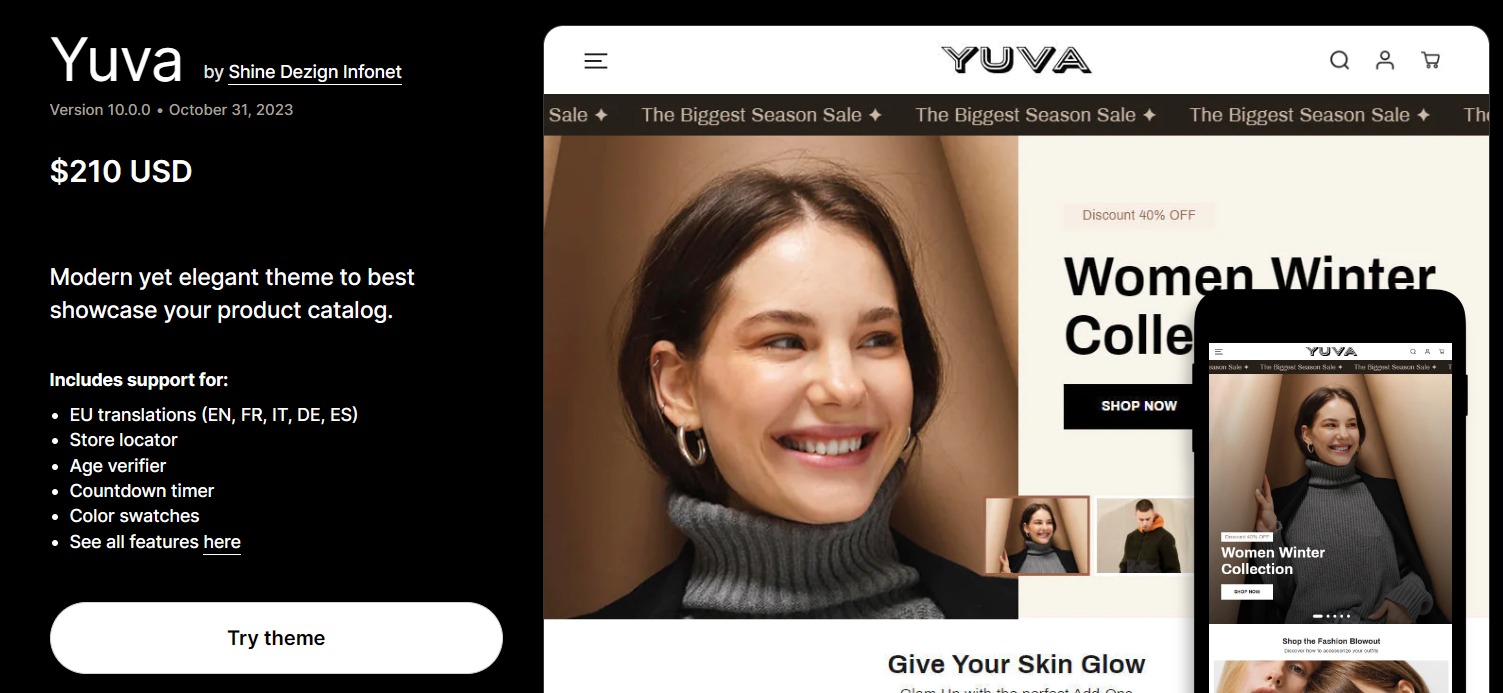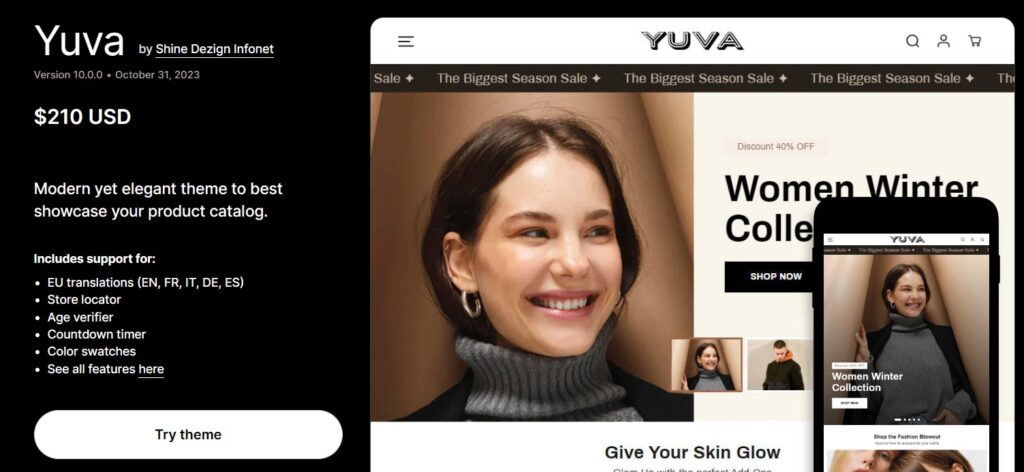 Yuva theme Shopify is popular for enhancing the aesthetics of landing pages. Shopify recommends the theme for high-volume stores with flash sales featuring time-based promotion and visual storytelling through premium-quality images.
The theme offers four styles, namely Classic, Elegant, Bold, and Amaze themes, to fit various business needs. Some of the key features of the Yuva Shopify theme are given below.
Features
The Yuva theme Shopify is regularly updated to keep up with ecommerce trends.
The Color Swatches feature enables customers to explore multiple product variants & get the real look of the product even before purchasing.
The countdown timer induces a sense of urgency for flash sales & clearance sales and encourages customers to make purchase decisions quickly.
It has a unique navigation menu that allows you to highlight special offers & discounts within the navigation menu. As a result, you attract more traffic & sales.
The before/after image slider helps customers to visually compare the transformation your products can bring to their lives. It lets them make informed purchase decisions quickly.
Impulse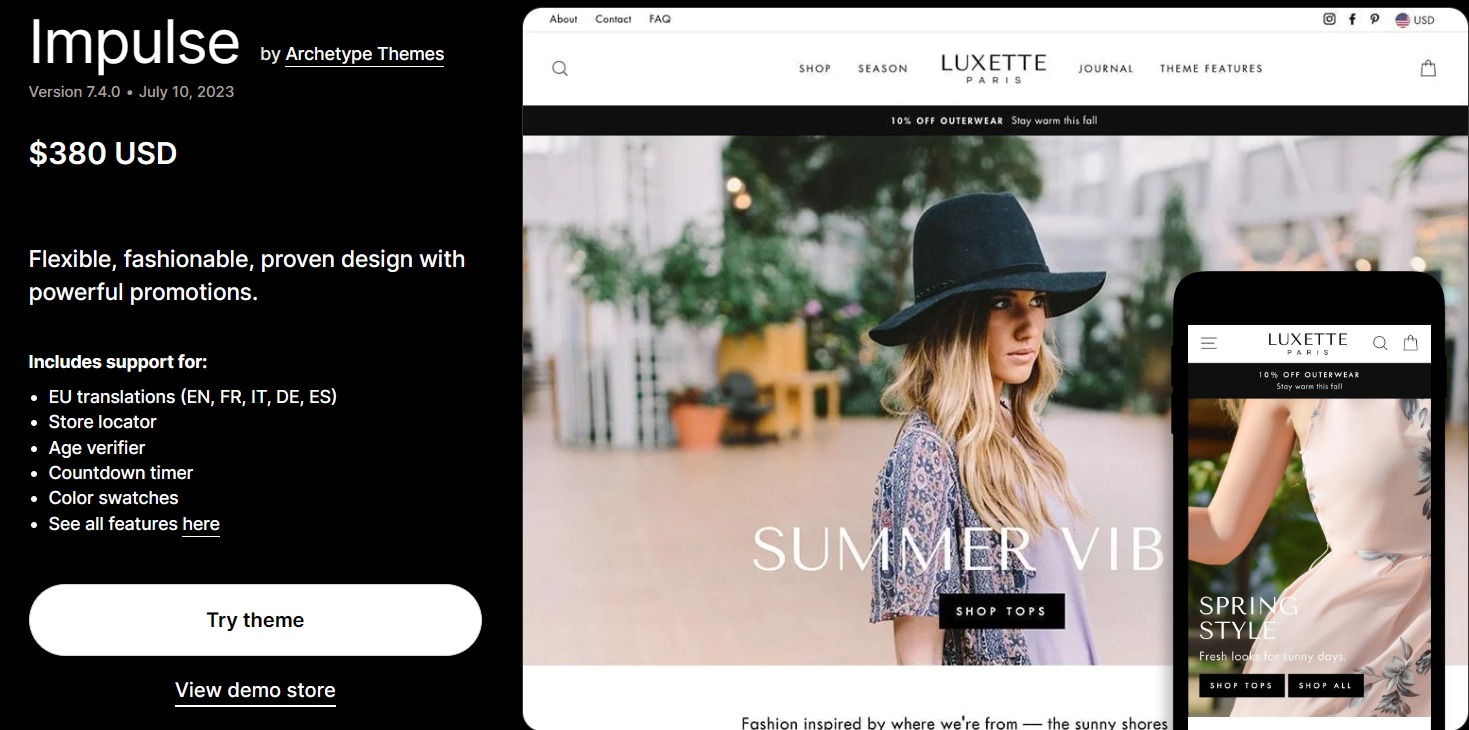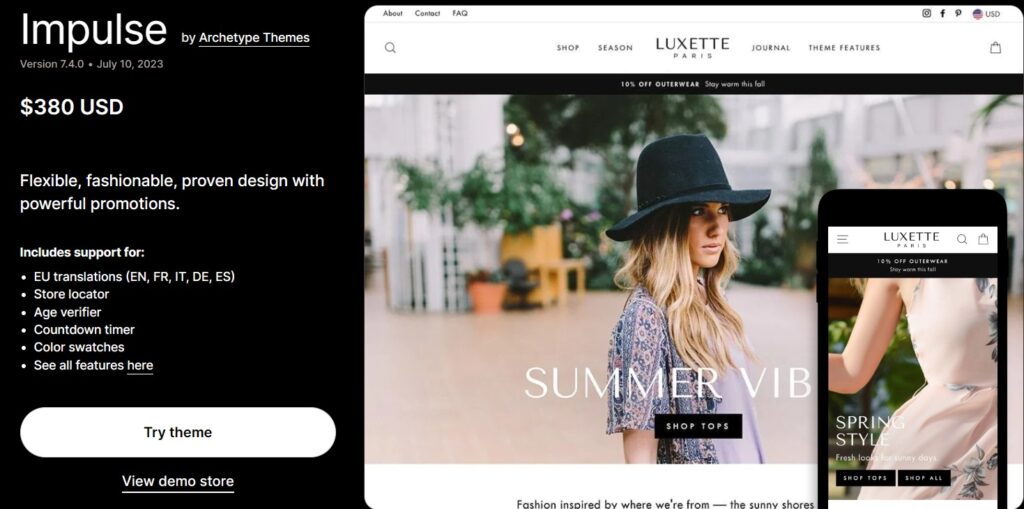 The Impulse is a versatile Shopify theme developed by Archetype. It has three theme styles: modern, clean, and bold, each with a unique purpose to suit a vast array of businesses.
Shopify recommends an Impulse theme for high-volume stores & the ones with brick-and-mortar stores. Impulse offers enough flexibility to fulfill all your business needs, whether you have a small store or a large enterprise.
Here are some of the key features of the Impulse theme:
Features
It has a quick-buy functionality that lets customers modify their cart items without leaving the current page. It minimizes friction in the customer buying experience.
Impulse has a customizable homepage where you can choose from various pre-built sections, such as image galleries, promotional products, etc.
Thus, it gets easier to highlight your best products or promotions & keep attracting customers.
The Impulse theme is fully optimized for mobile phones & other digital devices.
Retina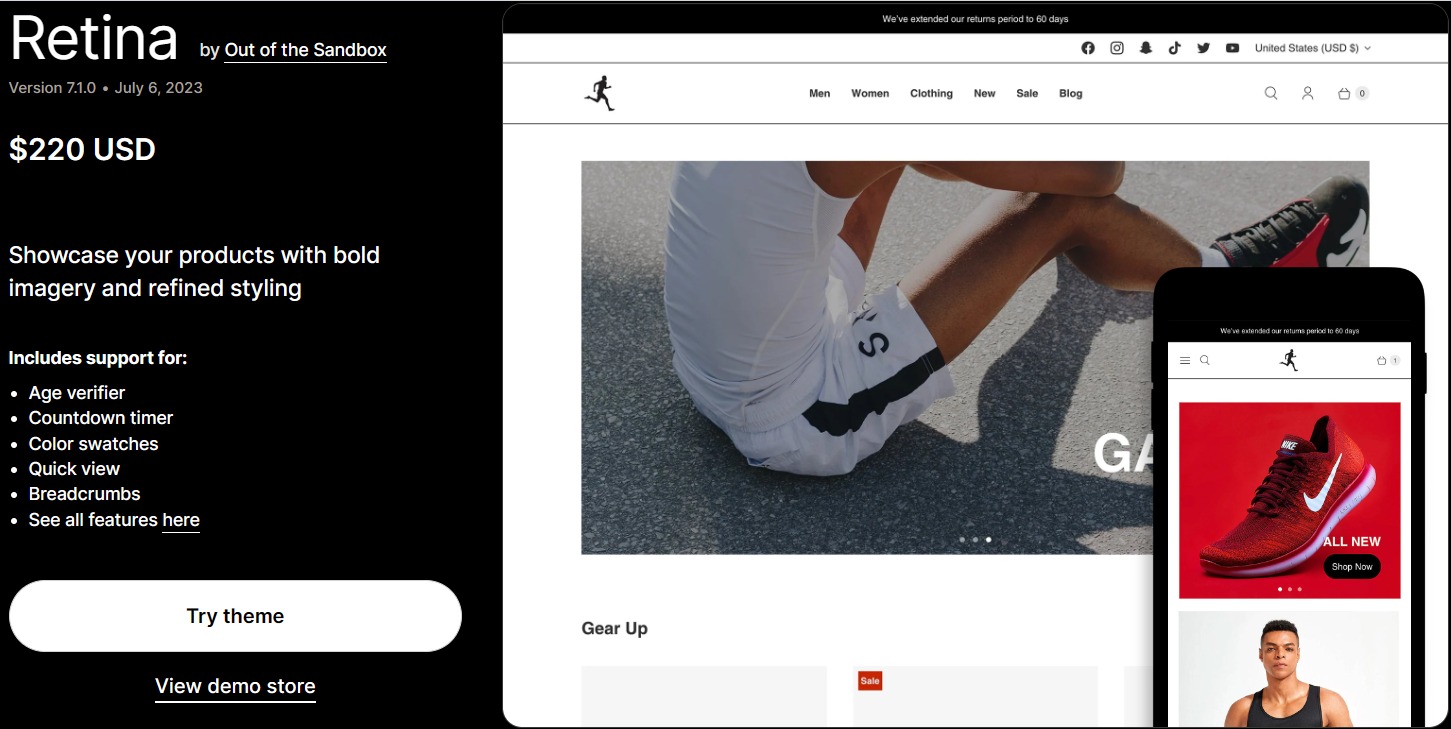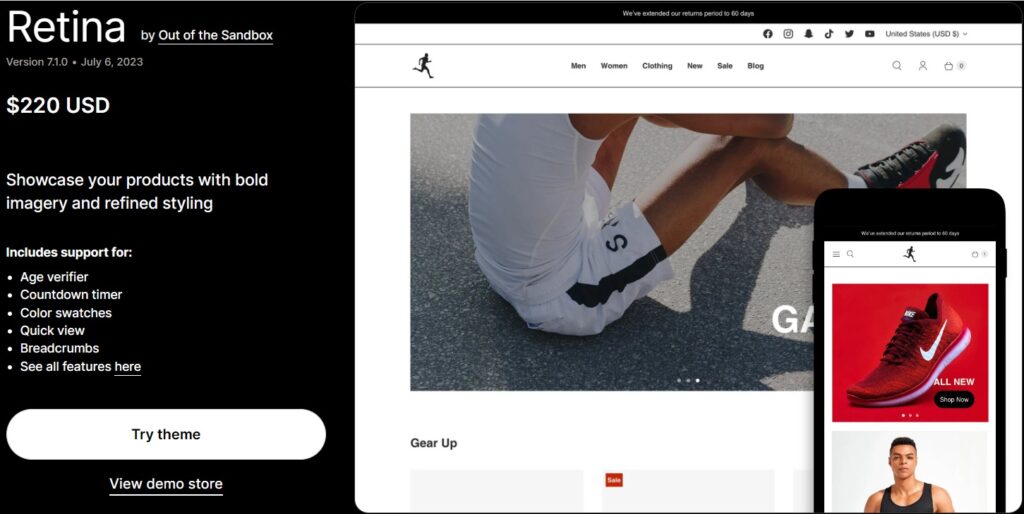 Retina theme Shopify is one of the best shopify themes for conversion rates-focused Shopify stores. It has a sleek, modern & feature-rich design offering a professional and functional look.
Designed by the Out of the Sandbox team, the Retina theme offers more than a merchant can ask for. It has a huge collection of homepage sections, including full-width slideshows, customer testimonials, logos, contact forms, etc.
You (merchants) can use the section to narrate your brand story for the customers visiting your website. Let us explore some key features of the Retina theme Shopify.
Features
Retina theme won the "Shopify Ecommerce Design Award Competition." The presence of various blog templates, social media icons, logo lists, image galleries & outstanding designs makes it highly deserving of the award.
Enables an interactive browsing experience for the customers through high-resolution images optimized for multiple screen sizes & orientations.
Go to the 'Theme Help Center' & access detailed documentation & video guides on installing and setting up themes on your Shopify store.
Shopify Focal Theme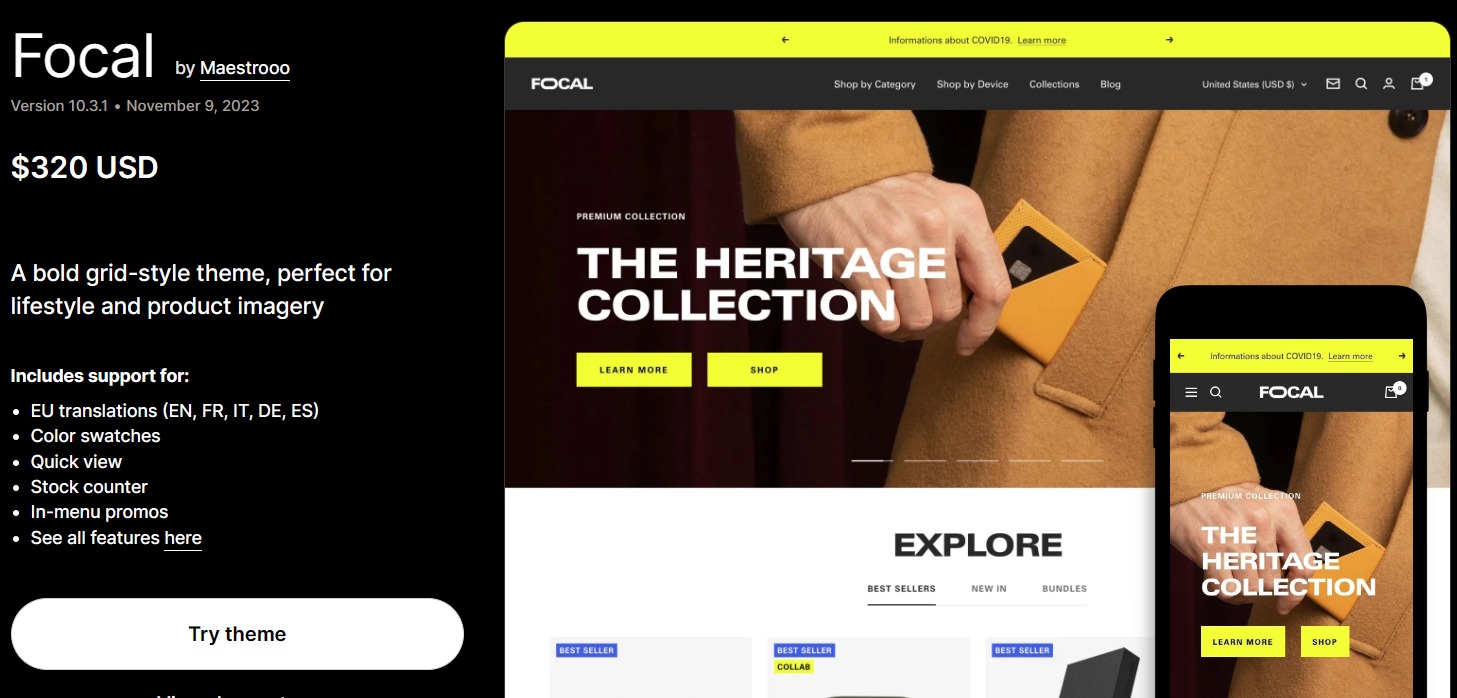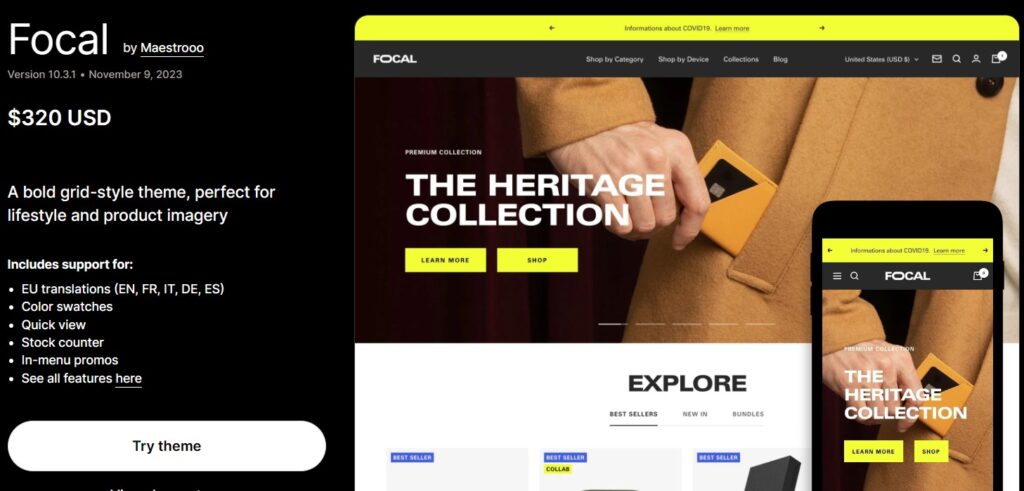 Developed by Maestro, the Shopify Focal theme is an organized, user-friendly grid-style theme perfect for lifestyle products. Whether you want a simple or complex theme, the versatility of the Focal theme makes it the right choice.
Shopify theme store recommends Focal themes for editorial content, high-volume stores, brand storytelling through long-form content, etc. Here are some key features of the Shopify focal theme:
Features
The Shopify Focal theme comes with a sleek, clean & easy-to-use interface, making it a great choice for professional websites.
This theme comes with four main theme styles: Carbon, Ivory, Quartz, and Sapphire, each with a specific purpose.
It is a versatile theme that lets you customize fonts, colors, & website layout to match your brand requirements quickly. The theme offers a wide range of functional features & color swatches to highlight your best products.
The focal theme is regularly updated to fix bugs & enhance functionality. It ensures that your Shopify store stays up-to-date & performs at its best.
If you are stuck anywhere, the customer service team can always help with the issues or customizations.
Drop Shopify Theme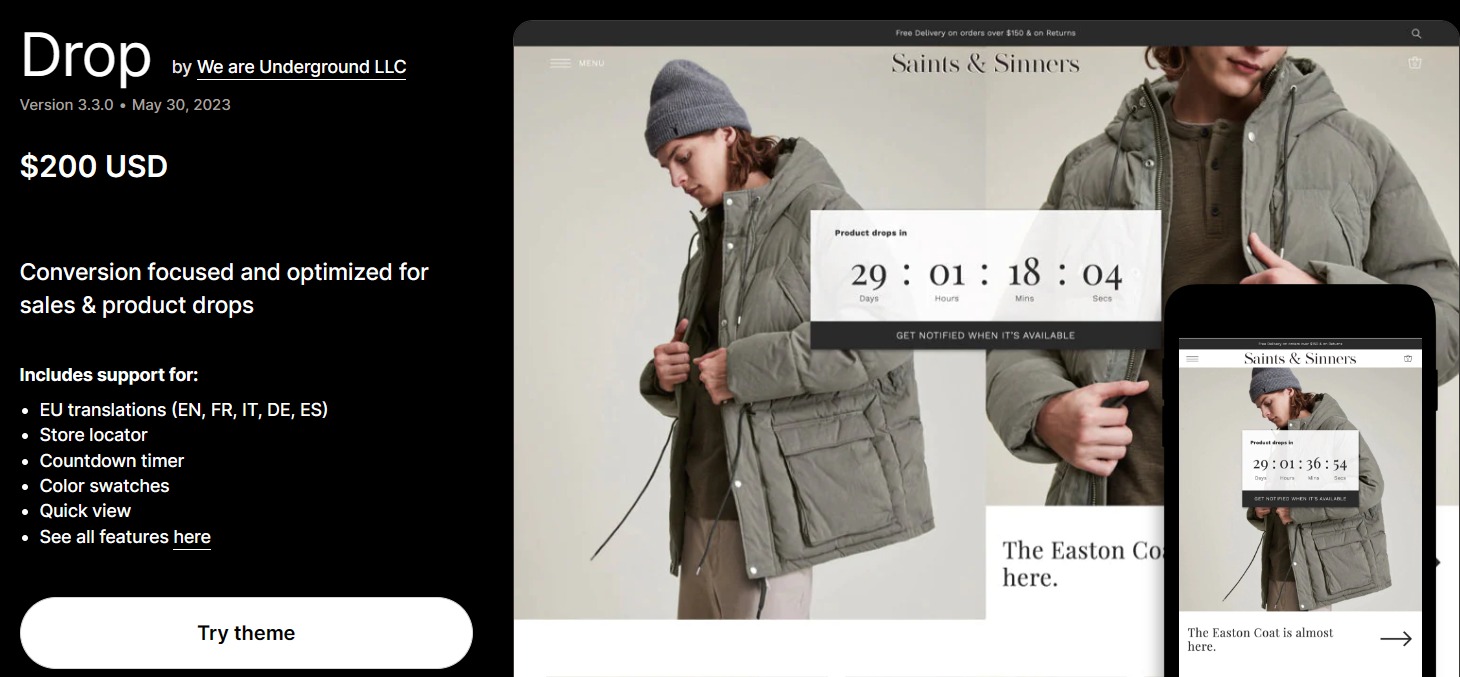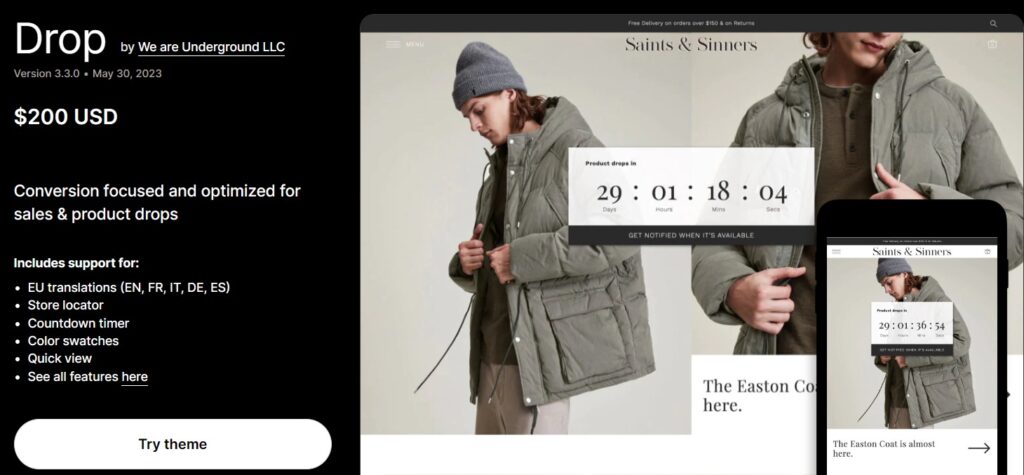 Drop Shopify theme offers an elegant look for the website with many useful features, customizable tabs, & mobile-friendly layout. It has an intuitive interface & offers diverse tools to help you create a standout ecommerce store.
Some of the noteworthy features of the Drop Shopify theme are given below.
Features
A countdown timer on the homepage, which creates hype & sense of urgency for the products.
The auto-play feature enables you to animate the product grids and collections pages.
Get free theme updates & free customer support for a lifetime. Thus, once you buy the theme, the technical team will always resolve your issues.
The product filtering feature simplifies the customers' search & makes shopping more convenient & enjoyable.
The knowledge base section of the Drop Shopify theme has tons of documentation & video guides to help users with the theme configuration & setup.
Stiletto Shopify Theme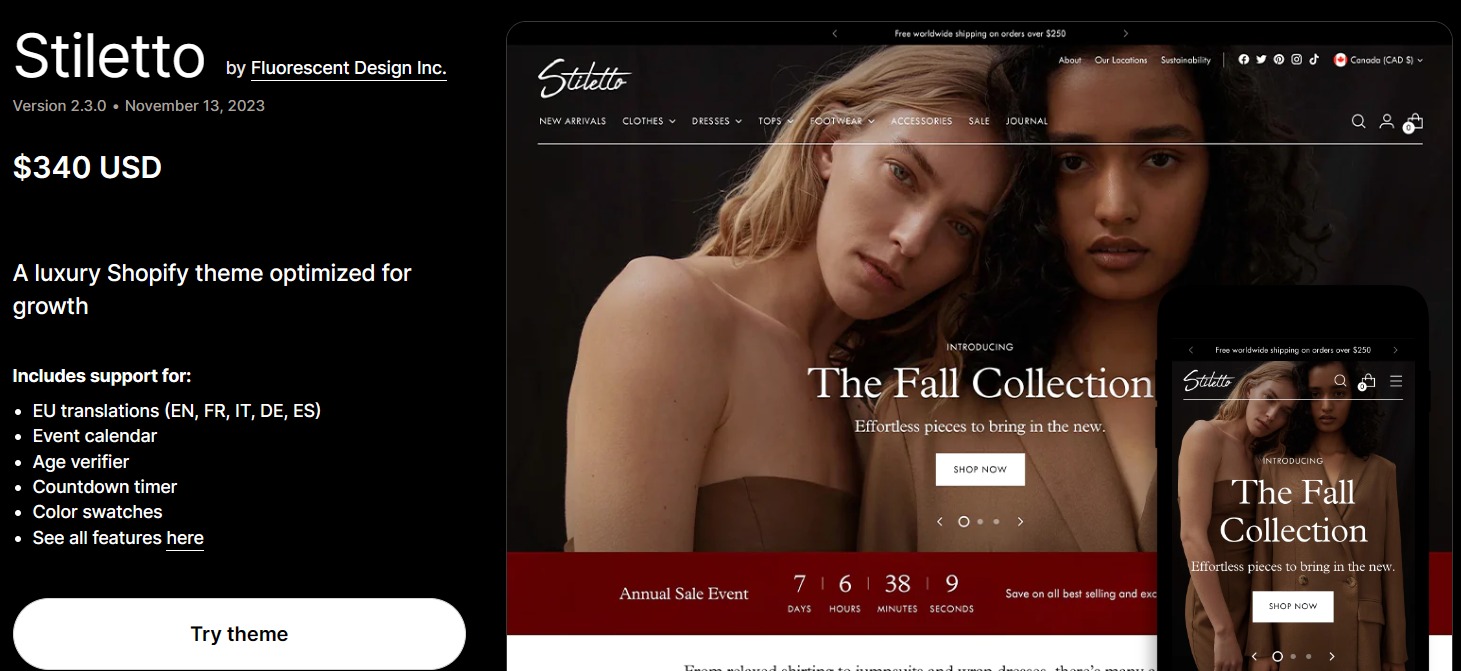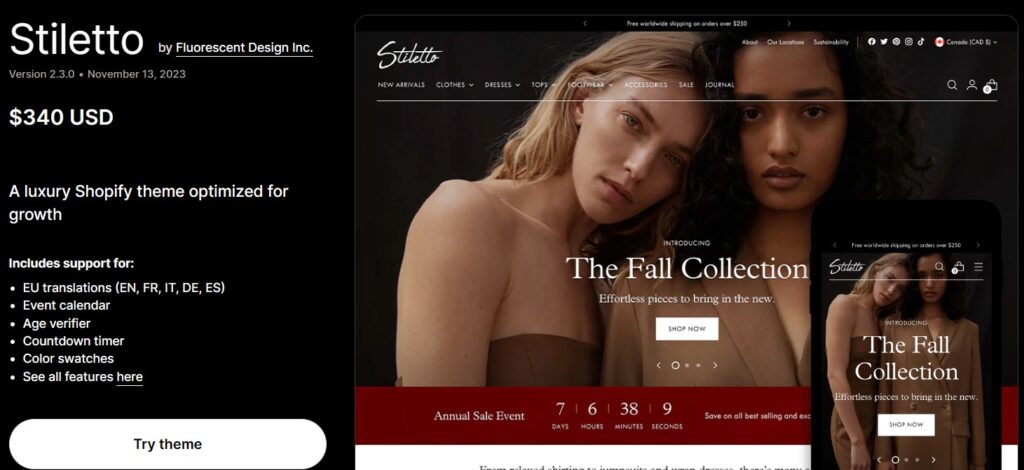 If you want a versatile & visually appealing theme, this Stiletto Shopify theme is for you. The theme is renowned for its exceptional flexibility & customization options.
It has various built-in features, such as high-resolution images, easy navigation, promotional pop-ups, etc., to enrich the shopping experience. Here are some key features of the Stiletto Shopify theme:
Features
The slide-out cart feature enables customers to access their shopping cart without leaving the products page.
Whenever a user modifies the cart, a preview cart summary pops up, displaying the items in the cart & other relevant information. This helps customers to shop while modifying their carts seamlessly.
Add a visual countdown timer button to your homepage and create a sense of urgency for the visitors on the soon-ending clearance sale, limited-time discounts, etc. This feature is proven effective in driving conversions & increasing sales through FOMO (fear of missing out).
The promo pop-ups can be used to display promotional messages, special discounts, or limited-time deals on your website.
The theme has a unique sticky header that remains fixed on the top of the screen as the user scrolls down your website.
It ensures quick accessibility of the navigation menu to the customer regardless of his position on the page, thus improving the overall user experience on your website.
What's Your Favorite Theme?
A high-converting Shopify theme combines appealing design, functionality & user experience. We have listed some of the best shopify themes for conversion focused stores.
Choose your favorite Shopify theme from the list that aligns with your brand vision.
No matter what theme you choose, your overall ecommerce strategy must be hyper-focused on revenues. So, if you need help with your Shopify store strategy, let Originate Web be there for you.
Originate Web is a renowned Shopify development agency building successful Shopify stores that drive conversions. With an extensive list of satisfied clients, we pave the way for e-commerce success like no other.
Keen to know more? Let's connect!