Did you just decide to start or refresh your e-commerce store? The appearance of your online store plays a crucial role in attracting potential customers, increasing the engagement rate, and hence sales.
Well, the Shopify theme store is the ultimate solution to browse, try, and choose your favorite theme. Creating a quality web design is of utmost importance especially if you wish to have a high converting website.
To make it easier for you, we have compiled a list of some most popular and the best Shopify themes for 2022. These themes will not only boost the conversion rate but also help reach business goals. Whether you choose to pick paid or free premium Shopify themes; it will definitely enhance the web and user experience.
Let's explore, and find out the perfect Shopify theme for your conversion-hungry online store!
What is an eCommerce Theme?
An e-commerce theme improves the store appearance as well as the buyer experience. It allows the designers to take advantage of both the core and customized Shopify features. The Shopify premium themes are carefully built by the experts. It includes
Smooth navigation
Edit without touching code
Better conversion flow
Easy Accessibility
Viable Technical Support
High-responsiveness.
How To Select The Right Shopify Theme For Your Store?
Don't know which is the best Shopify theme for your store? Is it a free or premium one? Is it the custom theme or template?
Tangled with lots of questions in your head? Then Stop!
Let us tell you that choosing the right theme depends on many factors. Few given below:
Know the product Category
Size of your Product catalog ( Is it a single or multiple product store?)
Decide the features you need? (Opt-in form/ Mobile Friendly/ Slideshow)
Check the themes of your competitors.
Decide your budget.
Do you need to hire an expert or can you manage on your own?
Expert's tip: To get a better idea, we suggest using a Shopify theme detector to check & detect the themes of your competitors.
Also Read: Add a Shop the Look section to my theme
#10 Official & Best Shopify Themes For Your e-Commerce Store:
1. Wokiee: The Multipurpose Best Shopify Theme
Price: $89
According to Envato Tuts+, Wokiee is the best premium Shopify theme 2022 for your eCommerce business. This beautifully designed theme comes with unique features and high design quality.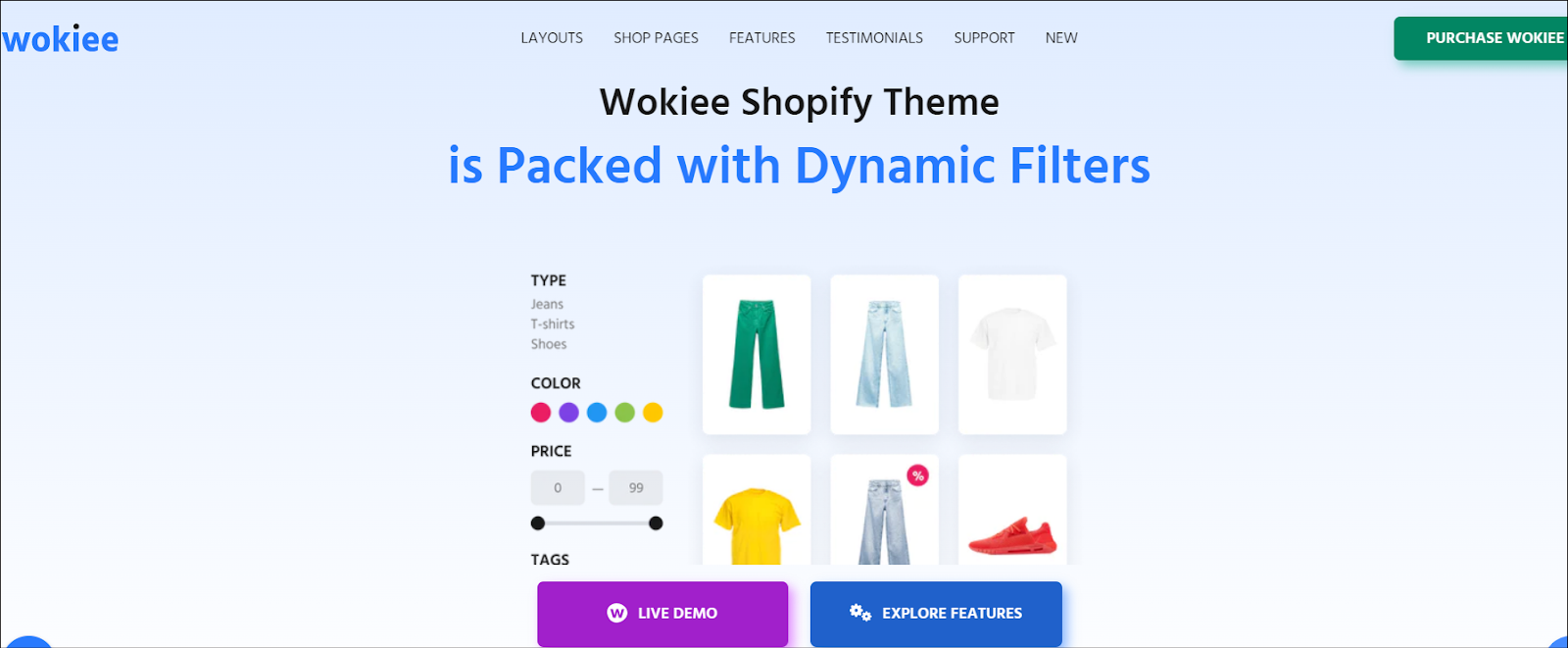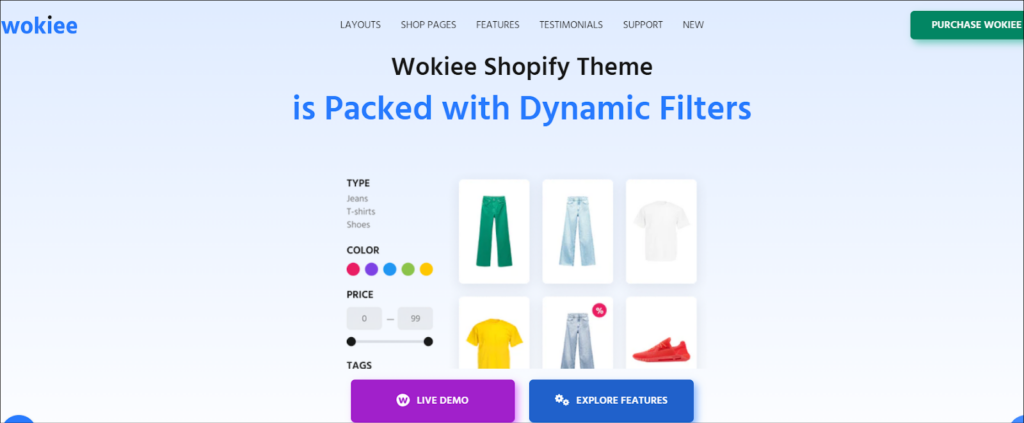 The Key Features:
120,000+ Active Happy Customers.
Premium Customer Support Service
Shopify 2.0 sections everywhere.
A97% page speed score.
99+ new content blocks
Fast Production Configuration.
Optimized for dropshipping
Several Header Variants.
Flexible Banners Section.
Dynamic checkout buttons.
Color, Size, and material swatches.
2, different Banner Buttons.
Support 3D Model, Video & AR in the Product Page. a
General Data Protection Regulation
2. Kalles – A Responsive Shopify Theme/ RTL Support
Price: $89
Website: Kalles Multipurpose theme
Kalles is one of the versatile and top-rated Shopify themes. It includes 15+ purpose-built demonstrations, brilliant outstanding features, and attractive styles. The single-click install allows you to easily import the demo, add content and publish in a few minutes.


The Key Features:
Optimized Speed Better Performance.
Cooler Product Video, 3D AR Models.
User-friendly Theme Editor.
Several Stunning Homepages.
Shipping Bar Notification.
Super fast Loading Speed.
Responsive & Ready Retina Design
Mobile First Design
Supports Video Thumbnails & 3D.
Highly customizable.
Product Variations Swatches.
3. Roxxe: The Powerful Best Shopify 2.0 Theme
Price: $59
Website: Roxxe Shopify Theme
The well-documented Roxxe Shopify theme is the best option for modern-day e-commerce Stores. It's the most powerful Shopify theme with 70+ pre-built home pages and 50+ pre-designed layouts. Roxxe is a simple-to-use theme with lots of easy-to-follow instructions.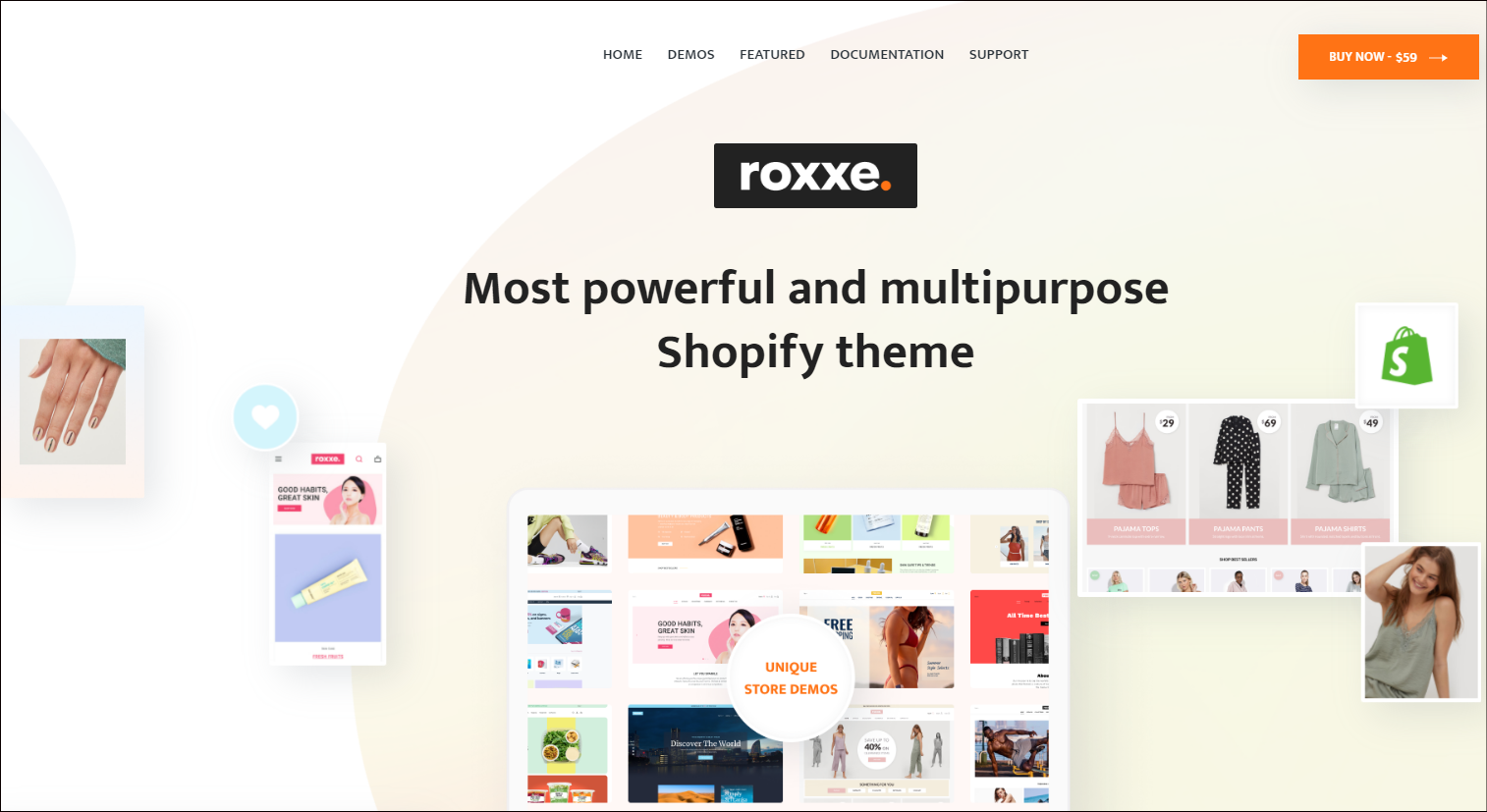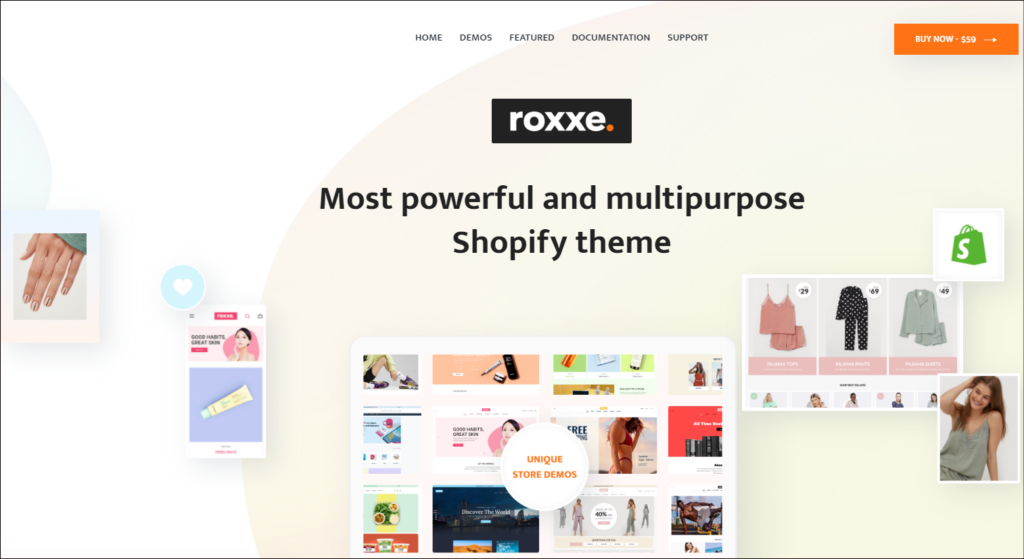 Key Features:
Advanced Media on Product Page.
CTA Pop-ups
Compare Products
Implementation of the Dynamic blocks
Envato tuts+ recommended
Collection Filtering
Dynamic Sources
supports both LTR & RTL languages –
Fully responsive and retina-ready pages
Quick-view option
4. Porto: A Responsive Best Shopify Theme
Price: $99
Website: Porto Shopify Theme
Porto Template is a powerful package that features all the essential features, and tools to make your store super fast and responsive. With 20+ niche demos & layouts, the Porto Shopify theme offers an excellent UI & UX experience.
and styles allow you to create your own modern Shopify store. You can avoid much cost on development and design premium Shopify theme Porto. The Content Management System(CMS) tool offers control over your website.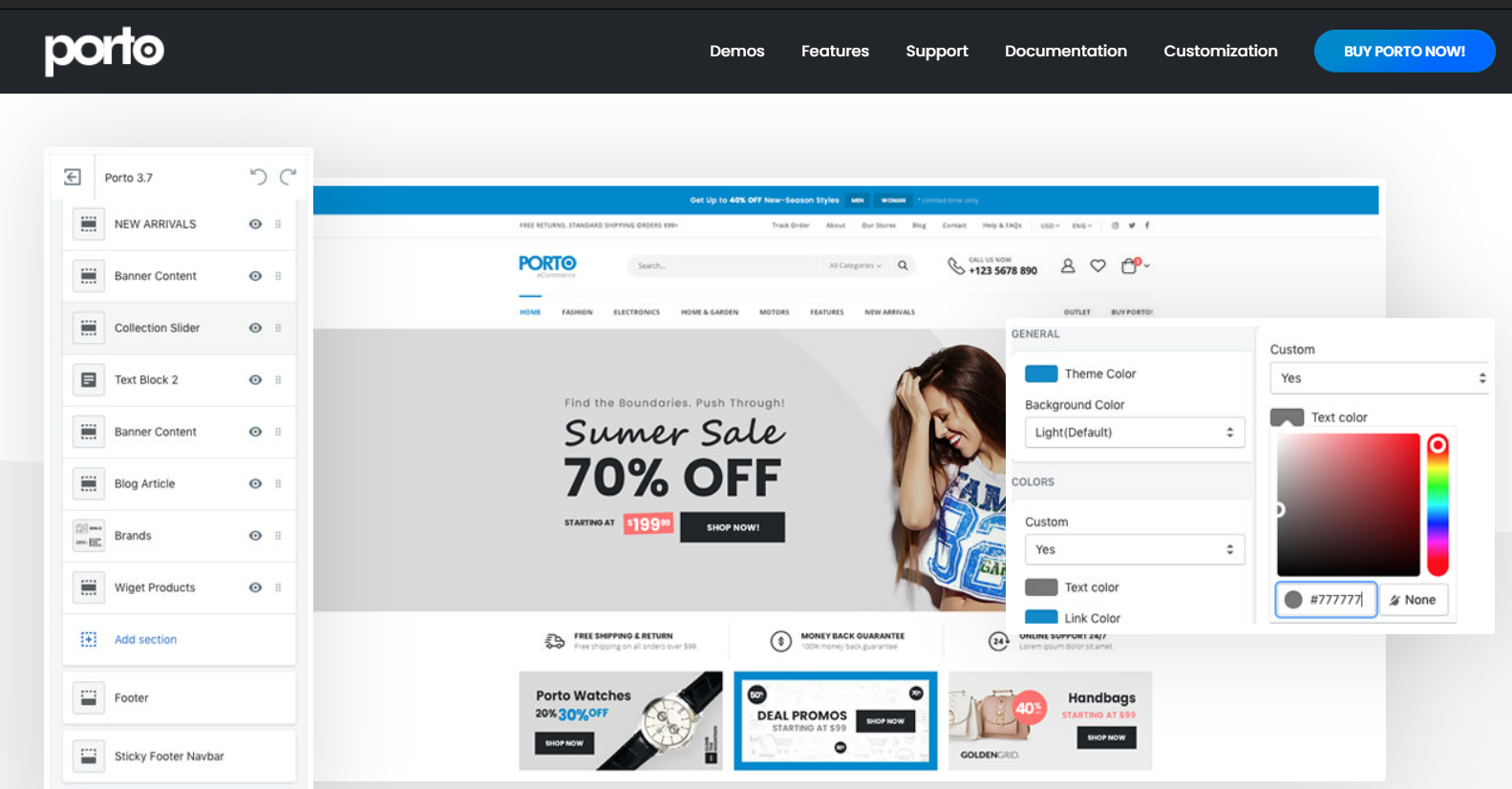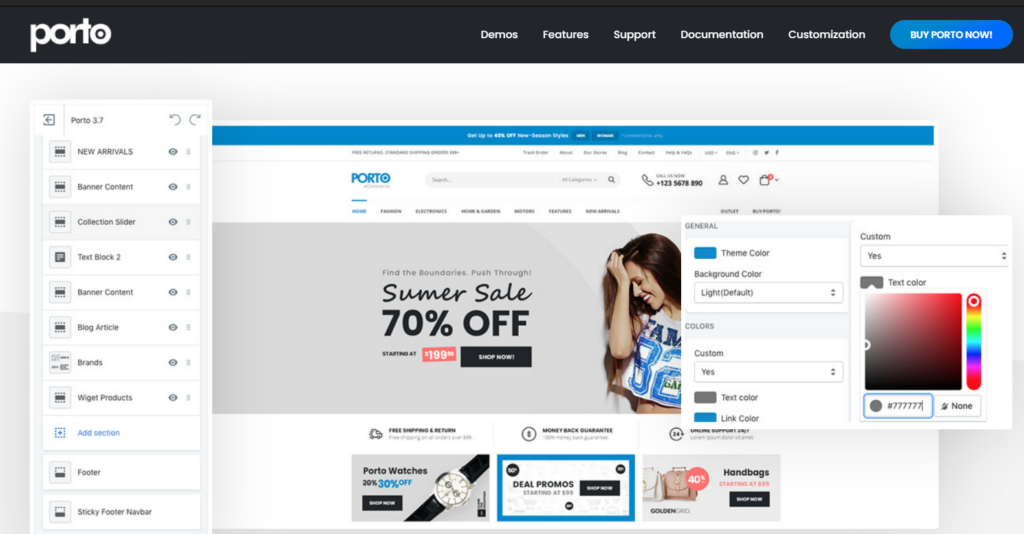 Check the Key Specifications:
Fully responsive eCommerce design
Optimized for speed performance.
Powerful theme Option
Mobile Friendly
Powerful admin panel & Theme Options
Exclusive UX/UI Experience.
RTL support, testimonial slide,
AJAX loading, Google Fonts integration.
5. Pacific Theme
Price: $220
Website: Pacific Shopify Theme
Pacific theme is a great option for hardware & Automotive, Health & Beauty, Sports & recreation. Pacific is specifically designed for high-volume stores with high-resolution images. The non-expiring license allows you to keep the theme for as long as you want.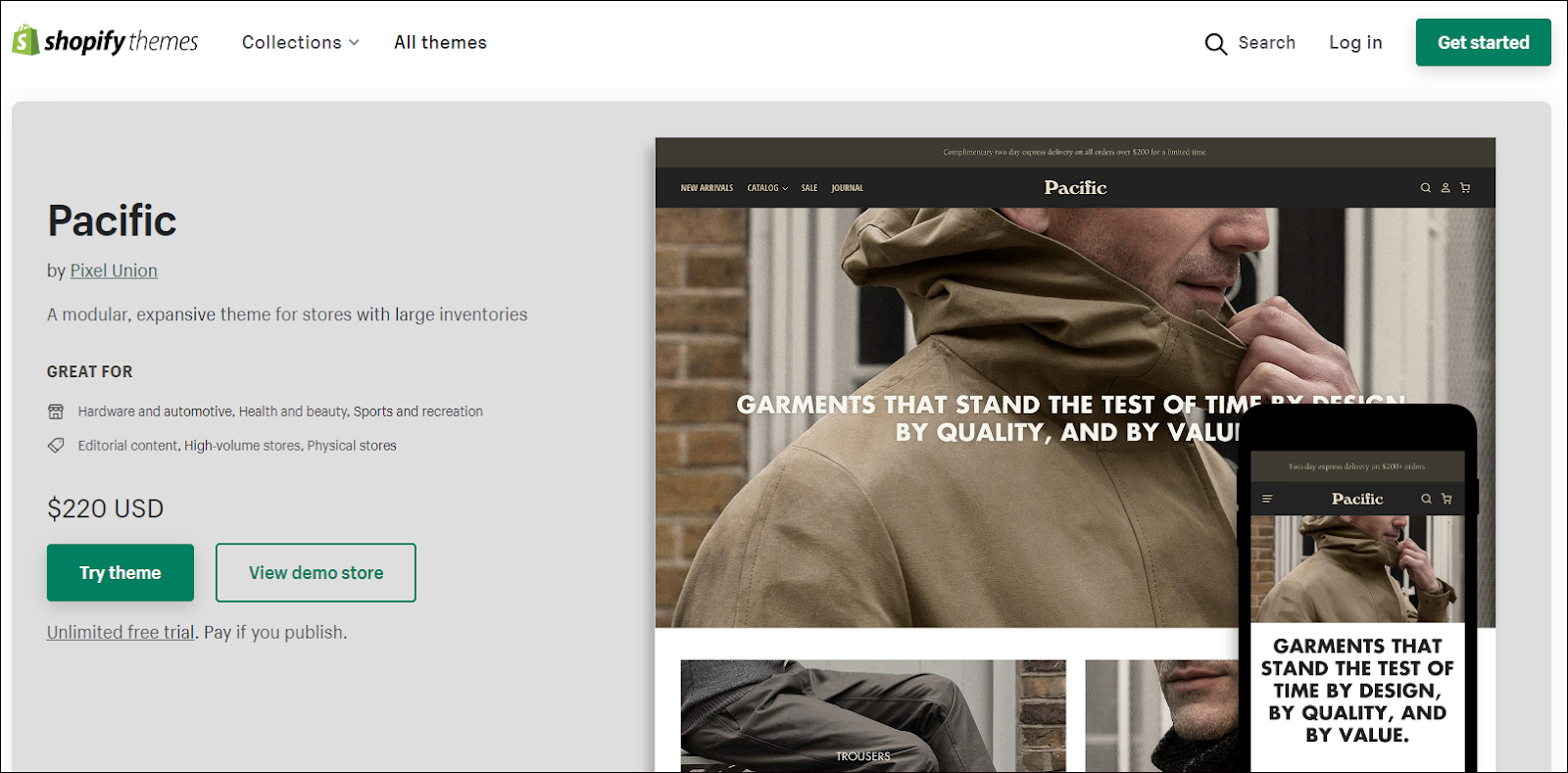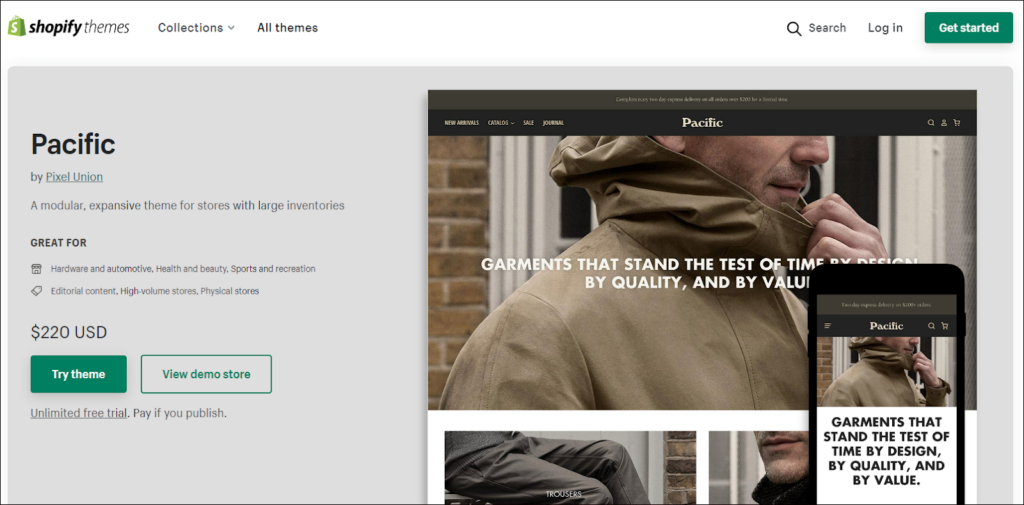 The Key Features:
Minimal UI
Unlimited Free Trial
Best for Editorial content
Pre-added color palettes and styles
Modern and clean layout
More themes by pixel union
Free theme updates
Responsive design
Designed for large inventories
Integrated social media icons
6. Responsive: A Flexible Shopify Theme
Price: $220
Website: Responsive Shopify Theme
Responsive is the best option if you have a physical eCommerce store for Health & Beauty, Jewelry & accessories, or Sports & recreation.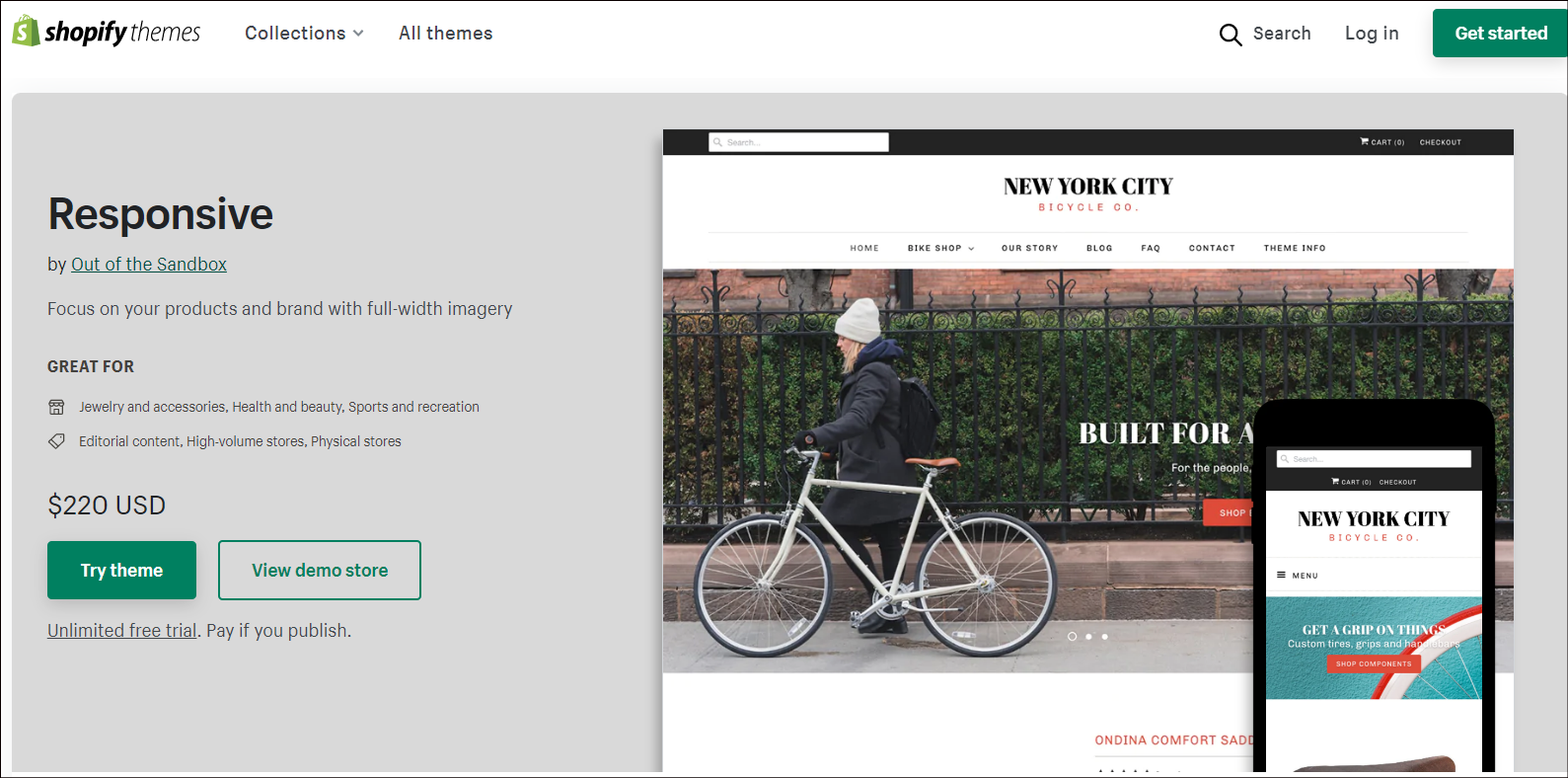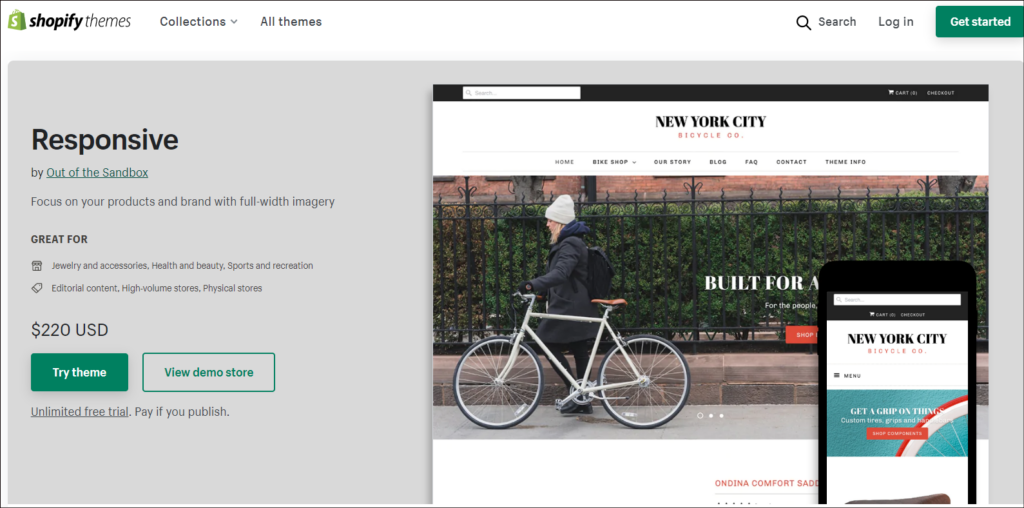 The Key Specifications:
Product popping features
Highly customizable design
Speed-tested and approved
Free theme updates
Looks great on every screen
Easily handle High Volume Stores
Well-designed blocks for images, products
Easy-to-use drag-and-drop sections
7. Retina Theme
Price: $210 USD
Website: Retina Shopify Theme 
The modern & boutique design of Retina themes not only elevates your brand but is also easy to set up. If you have a high volume physical store; this theme is an ideal choice. It allows you to showcase your products with styling & bold imagery.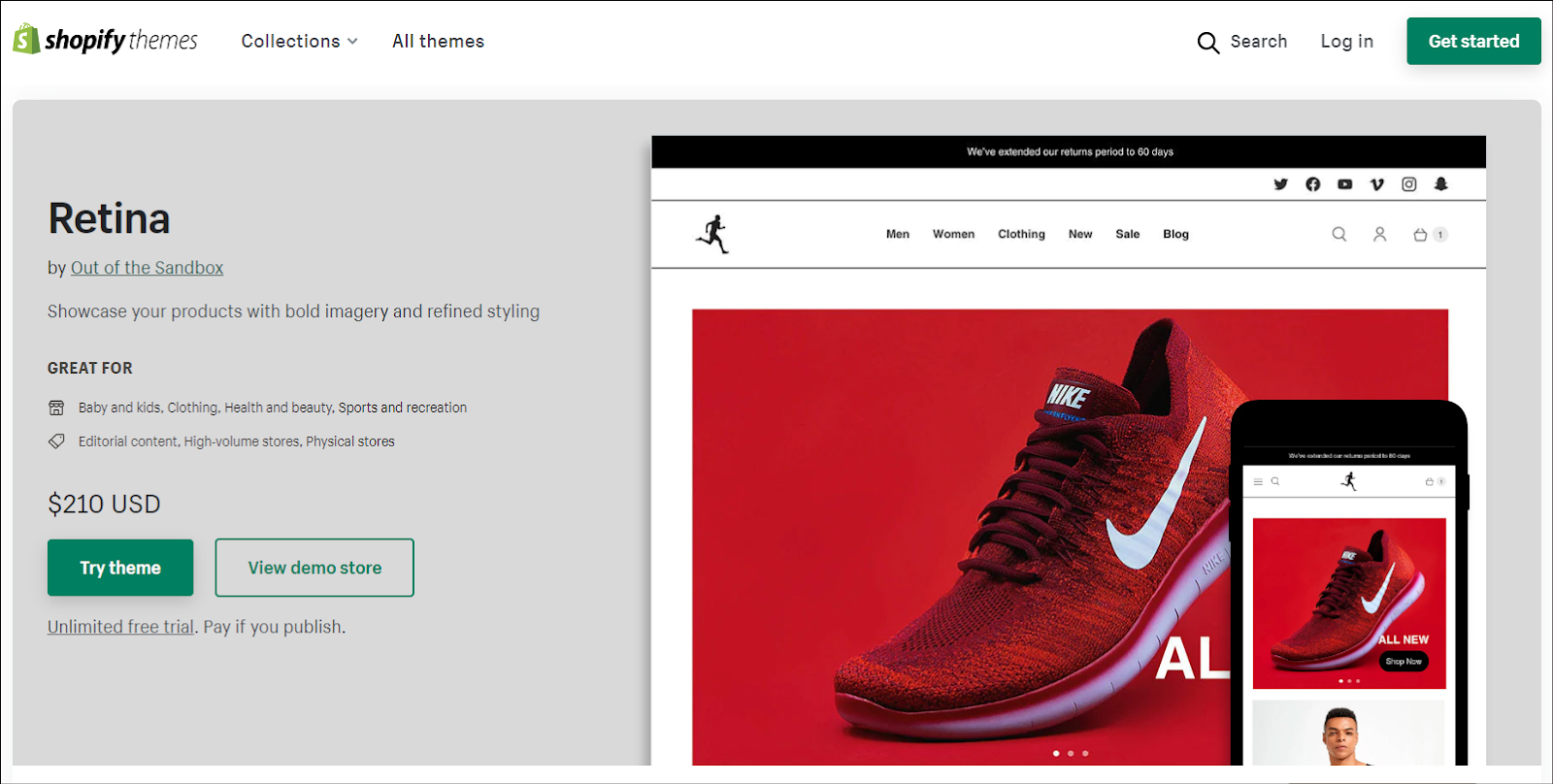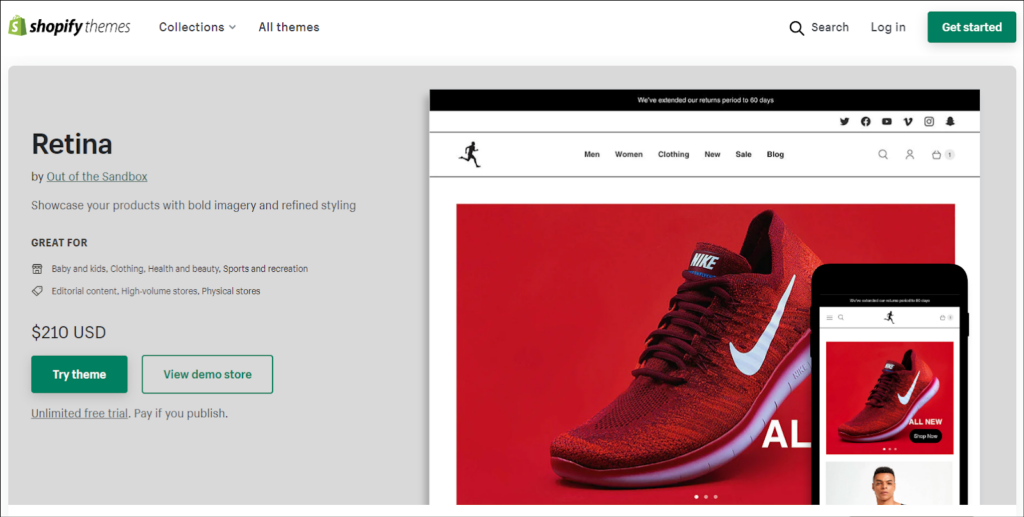 The Key Specifications:
Unlimited free trial, Pay only when you publish.
Multiple home page videos
custom promotion tiles, product image zoom, and slide-out cart.
Create a self-service FAQ page.
Mobile-friendly.
Easy to set up & Customize.
Leverage SEO to widen your reach.
Testimonial sections and
Featured product callouts options
8. Brooklyn: Download the Shopify theme for Free!
Price: Free
Website: Brooklyn Shopify Theme
All the eCommerce store owners are looking for a free Shopify theme; Brooklyn is the classic option. It's colorful, easy to apply, and can be customized as per your business needs. You can showcase multiple products at the top of the homepage.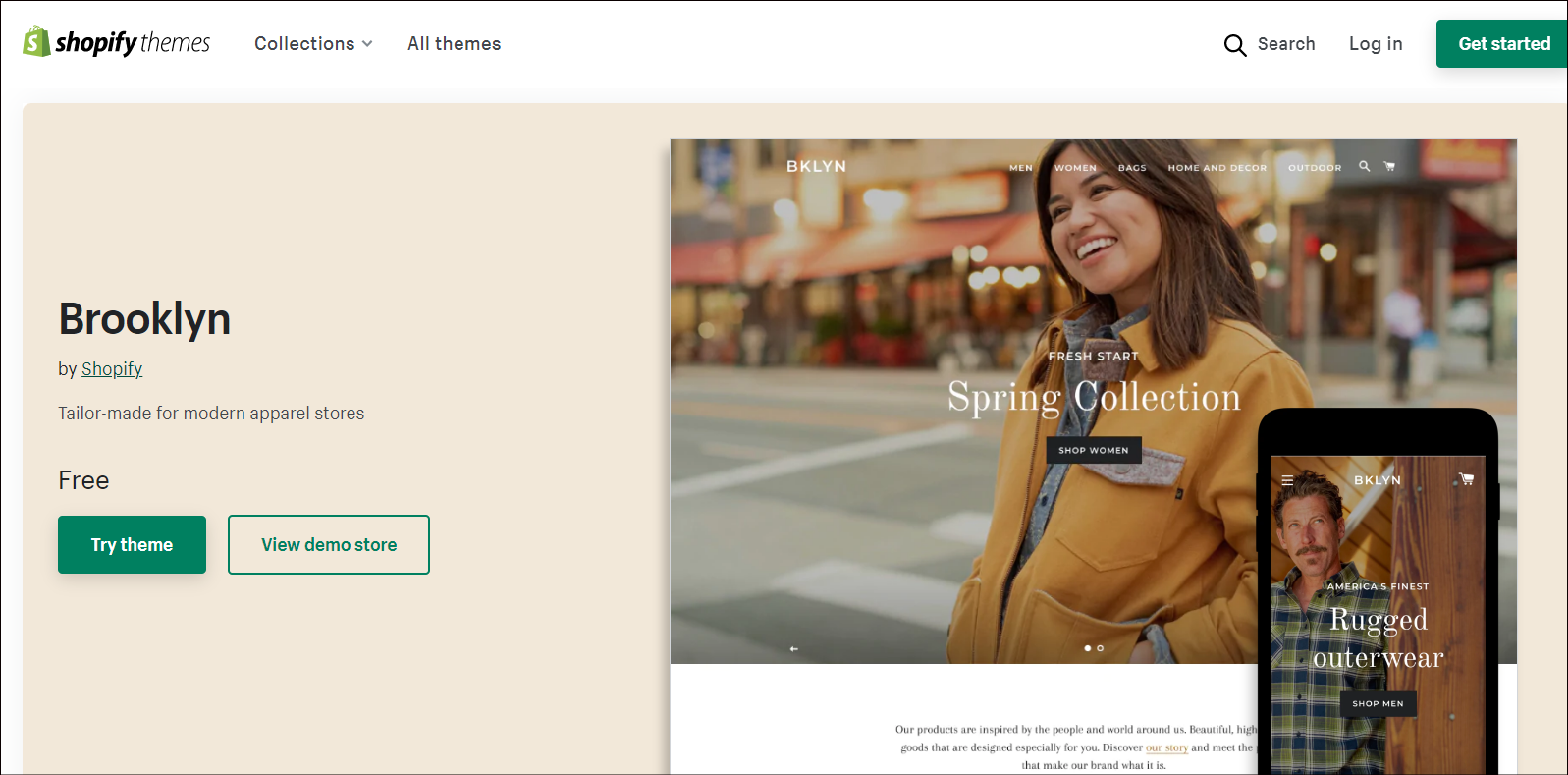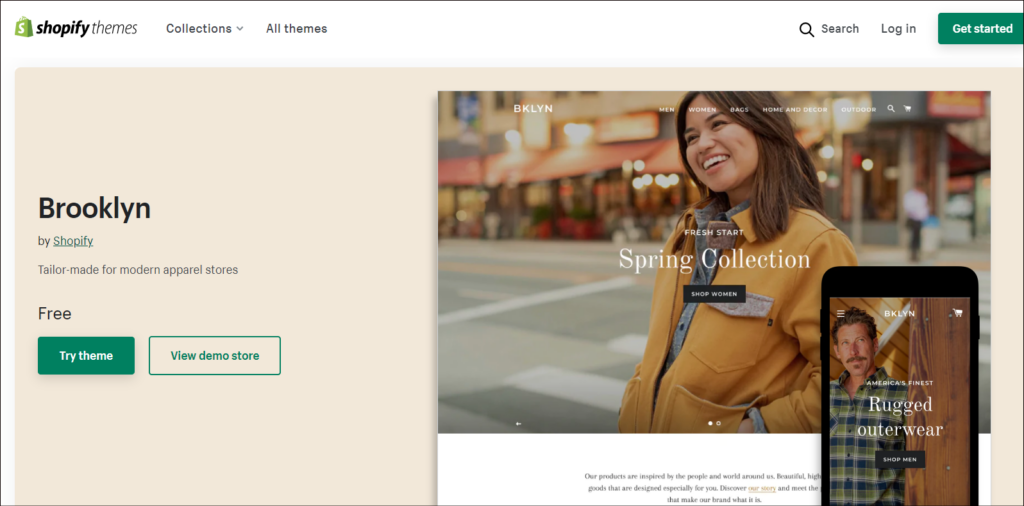 The key features:
Ideal for modern apparel stores
Brand imagery
Header slideshow
homepage video option
Dynamic product grid
Slide-out cart option
9. Minimal
Price: Free
Website: Minimal Shopify Theme
Minimal is a clean, simple, and versatile theme that focuses on brand imagery. The quick set up enables the quick launch, and discovery for recommended products. The minimal theme guarantees to stay up to date, and supports the advanced features of Shopify.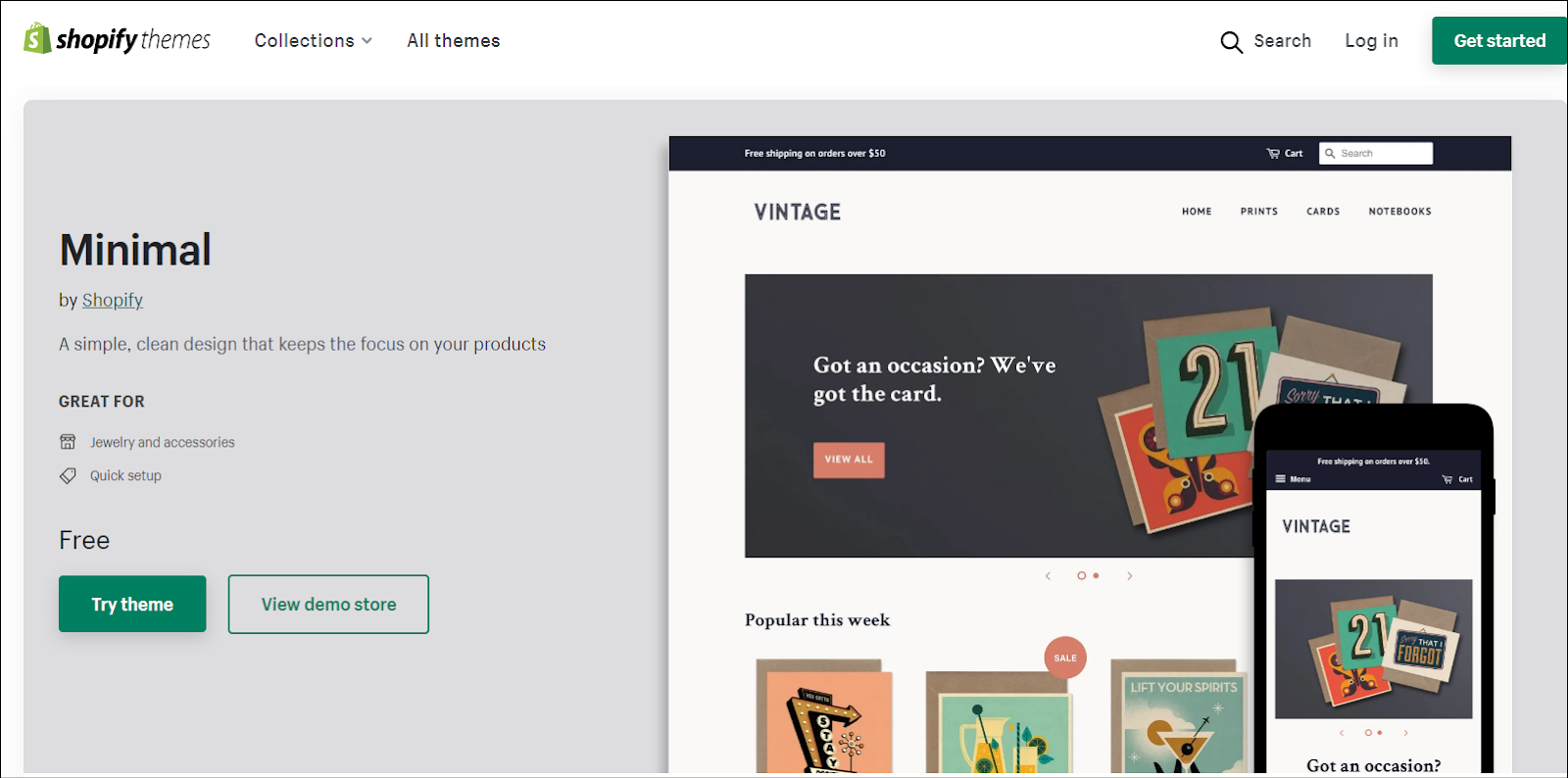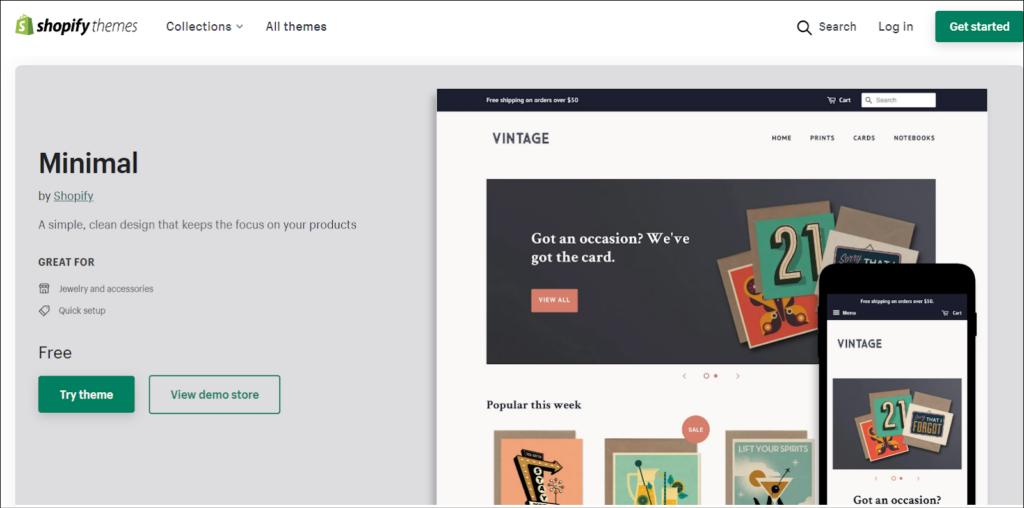 Check the Key features:
Ideal for small businesses.
Free theme updates.
In store Pick ups
Faster Shopping experience.
Unlimited Free Trial
10. Debut Theme
Price: Free
Now, you can display your products and services for free using Debut; The free Shopify theme. We suggest downloading debut only if you have a small product catalog. It enables you to engage local users easily through links & live search results.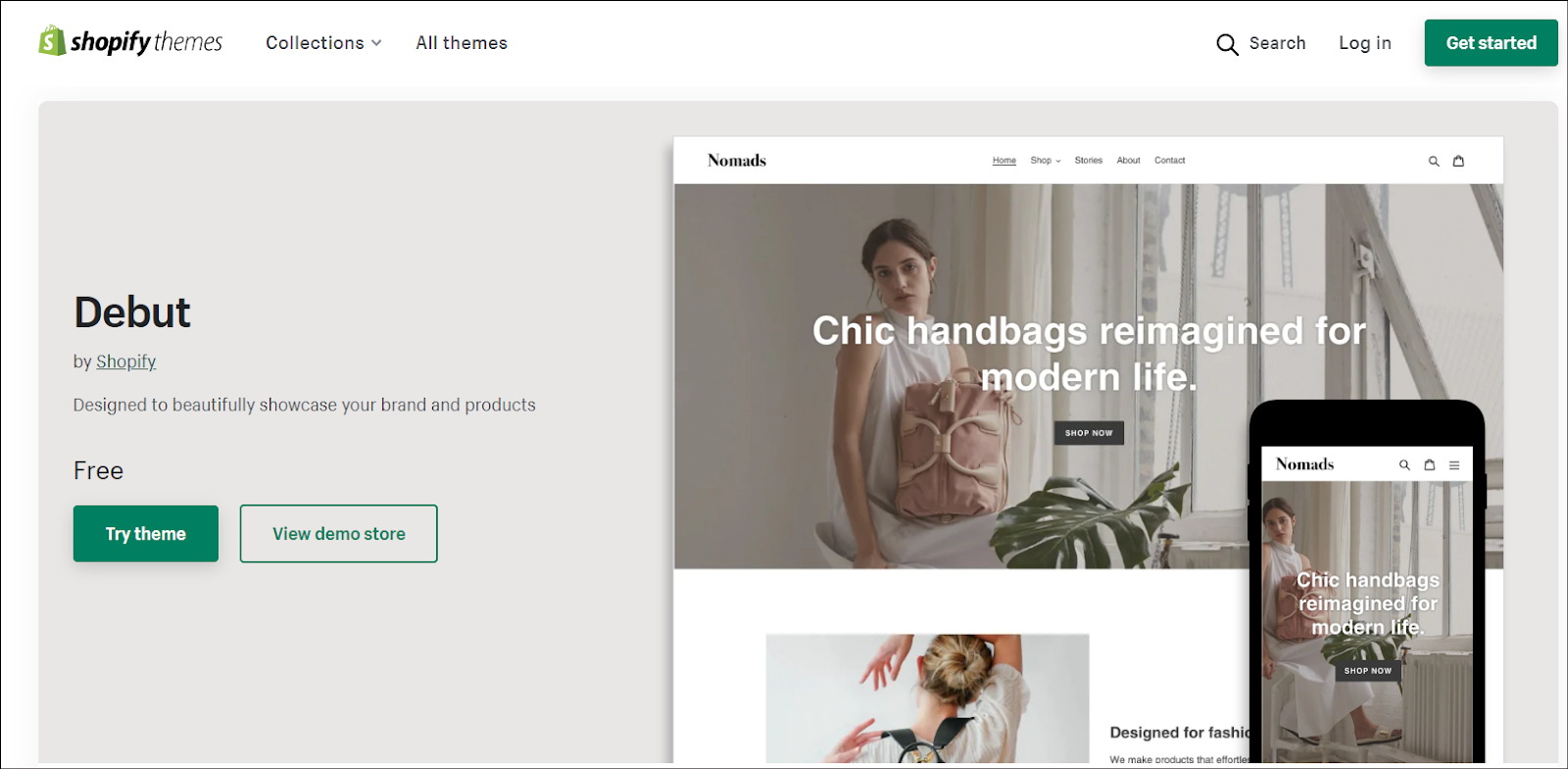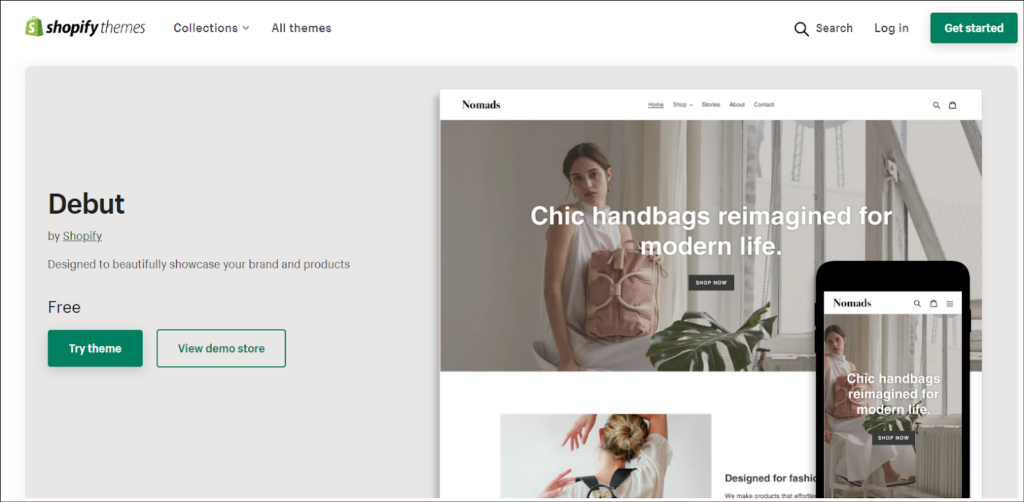 Key Features:
In-store Pickup
User-friendly theme for beginners.
Quick links for products & store pages.
Supports Debut
Customer testimonials
Promotional banners
Homepage videos
Product recommendations,
Product filtering.
FAQs About the Premium Best Theme For Shopify
What are the Best Premium Shopify Themes in 2022?
Though you'll find plenty of premium Shopify apps on the Shopify theme store, we recommend you to check the features, and whether or not the theme is mobile friendly. Buy only if it fits your criteria and business needs. Here is the list of some most popular Shopify 2.0 Themes:
Roxxe
Retina
Brooklyn
Parallax
Wookie
Which are the Best Free Shopify Themes For Beginners?
Check below the list of some free Shopify themes that you can download from their official website:
Dawn
Refresh
Craft
Taste
Studio
Which is the Highest Converting Best Shopify Theme?
The Retina is by far the best Shopify theme that can drive more traffic, and boost your business growth. It is available for $210 and has millions of active users worldwide.
The Retina Shopify theme is used by most luxury fashion brands for managing high-resolution photos.
Which Shopify Theme is Best for Dropshipping?
Just walk through our list of #5 Top-rated Dropshipping Shopify Themes from Envato Elements:
BigSale
Planet Tech Store
MegaStore
Arthur | Minimal
Clean & Beautiful
Final Words:
Moving to the end, we hope you liked our quintessential list of easy to use, modern, and free premium Shopify themes. So, select your free or premium Shopify theme as per your budget and requirement. Stay tuned for more informational articles.