Shopify has evolved as one of the most popular eCommerce platforms for businesses to set up an online store. Its user-friendly design, and sophisticated capabilities make it simple for merchants to manage and sell their items online. However, as competition in the digital marketplace grows, it becomes more difficult for businesses to stand out and attract clients. Automation apps can help with this. This blog article will highlight the top Shopify Marketing Automation applications for 2023. These applications assist organizations in streamlining marketing efforts, saving time, and increasing revenue. So, whether you're a tiny business owner or an established brand, keep reading to learn about the best automation applications for Shopify marketing.
7 Best Shopify Automation Apps in 2023: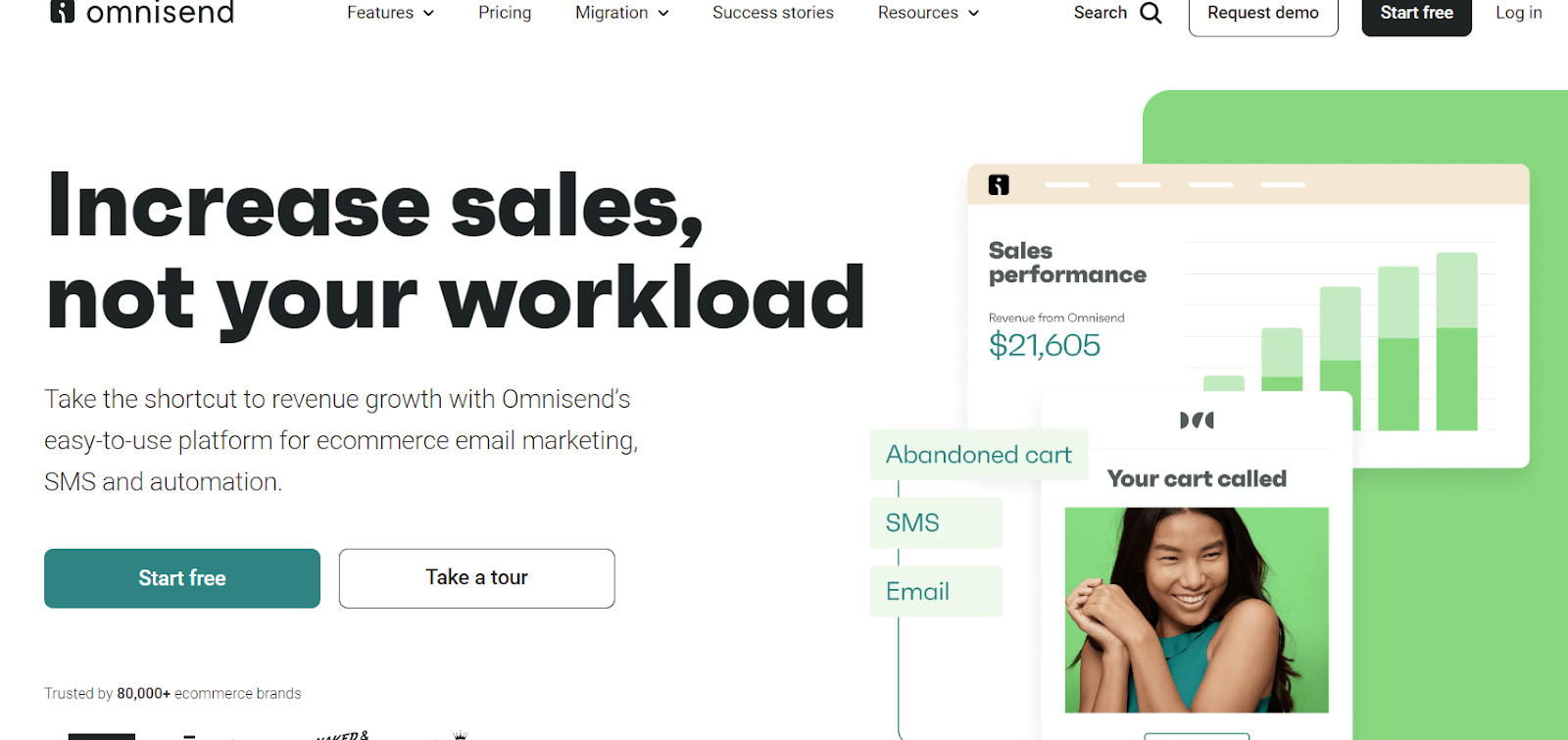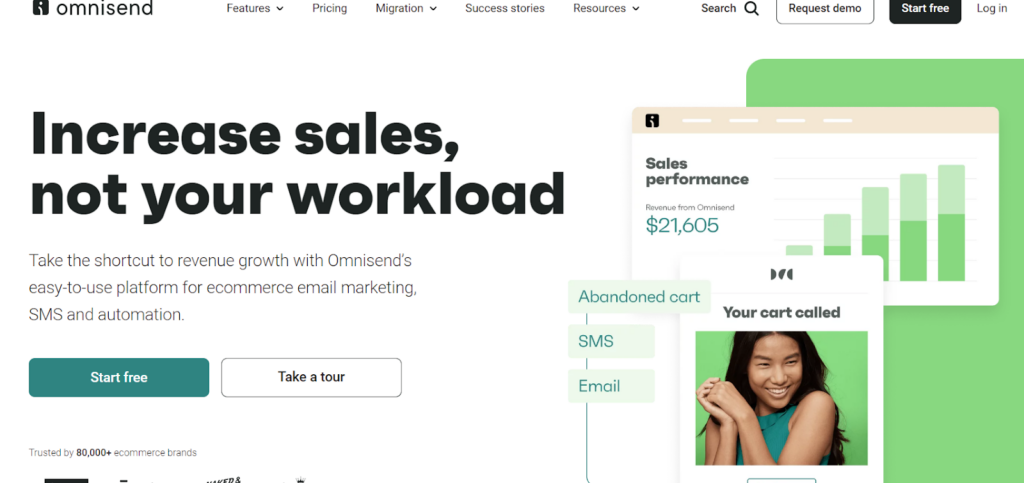 1. Omnisend Email Marketing & SMS:
Omnisend is best for email marketing automation for Shopify, SMS marketing, and workflow automation. It enables the marketing team to broaden its reach and conduct promotional email campaigns to consumers, providing information about the items people are interested in.
Advantages of Omnisend:
1. Marketing Automation: You may construct multi-channel processes for your audience with Omnisend's marketing automation.
2. Automation: OmniSend has powerful tools that allow you to construct automated workflows based on specific triggers or events. You may build up computerized campaigns that send tailored communications to your consumers depending on their behavior or activities.
3. Easy to Use: OmniSend is easy to use and offers a user-friendly interface that allows you to create and manage campaigns quickly and easily.
4. Customer Support: OmniSend offers excellent customer support, including a dedicated account manager, 24/7 live chat support, and a comprehensive knowledgebase

2. Klaviyo: Email Marketing & SMS: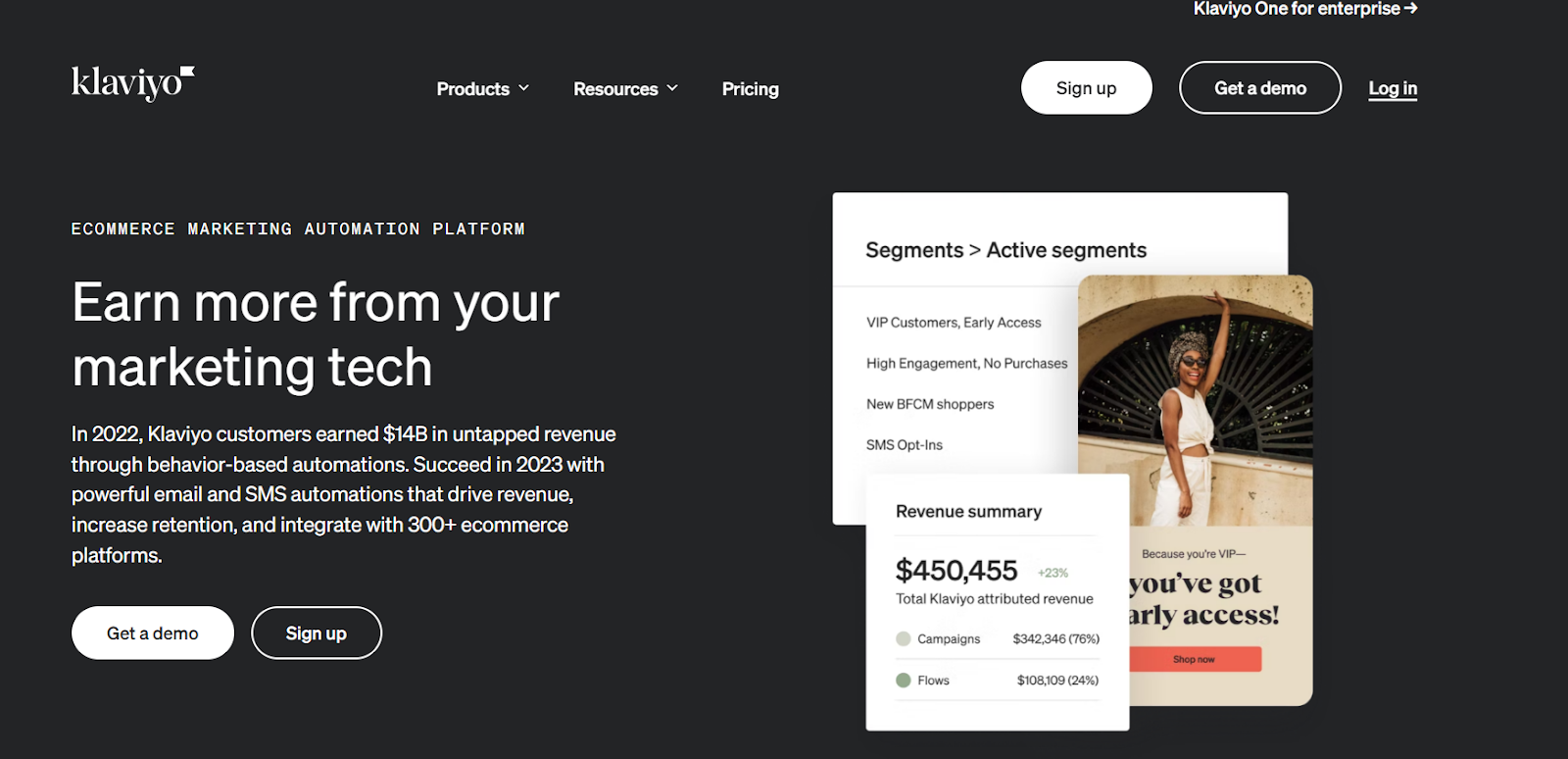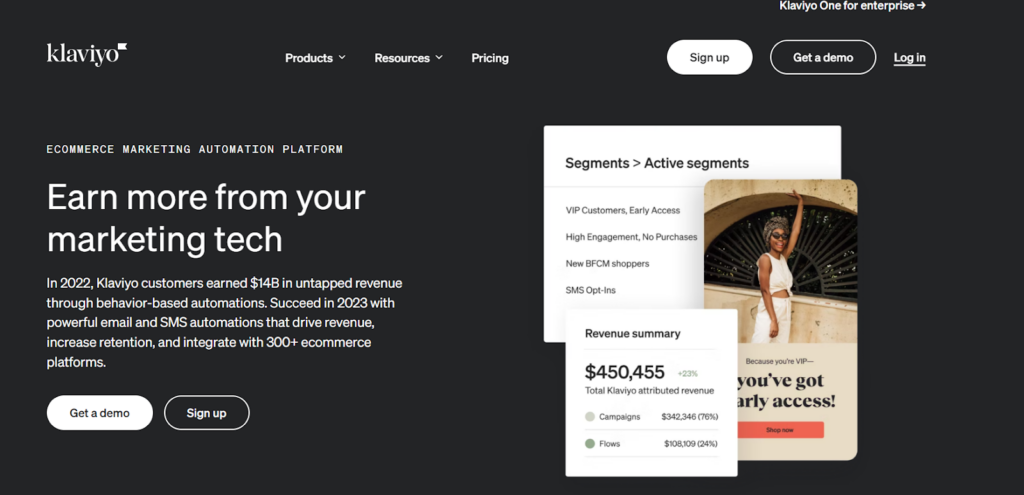 Klaviyo is a marketing automation platform with a built-in customer data platform (CDP)—organizations of all sizes use it to create personalized experiences across owned marketing channels such as email and SMS.
Benefits of Klaviyo:
Advantages of connecting Klaviyo with your Shopify store:
Klaviyo collects all of Shopify's client information. You may design email and SMS flows with triggers depending on Shopify events. You may also utilize this information to improve or generate new email segments.
Audiences may be segmented using Shopify data. Klaviyo collects all of the customer data collected by Shopify, including AOV, conversions, purchase frequency, exact goods purchased, and more. This enables you to categorize your consumers based on facts and optimize your Shopify email marketing.
Using the Shopify Flow app, you can make the connectivity between Shopify and Klaviyo even more automatic and straightforward. Flow allows you to design processes with triggers and conditions based on Shopify data. Send campaigns using custom triggers and conditions, and push events into Klaviyo.
The direct connection between Shopify and Klaviyo ensures you receive the finest customer service on both platforms.
3. Carts Guru Automated Marketing: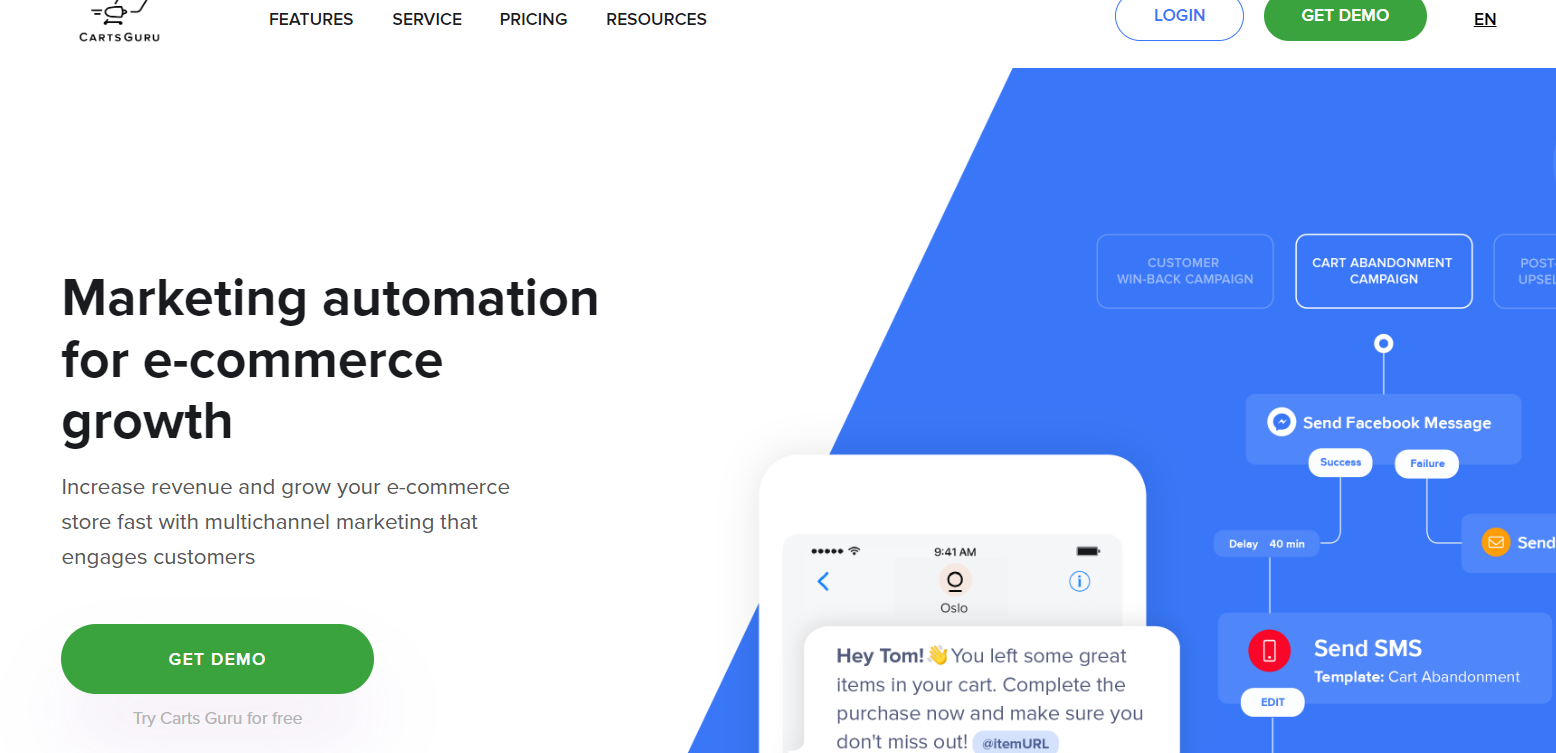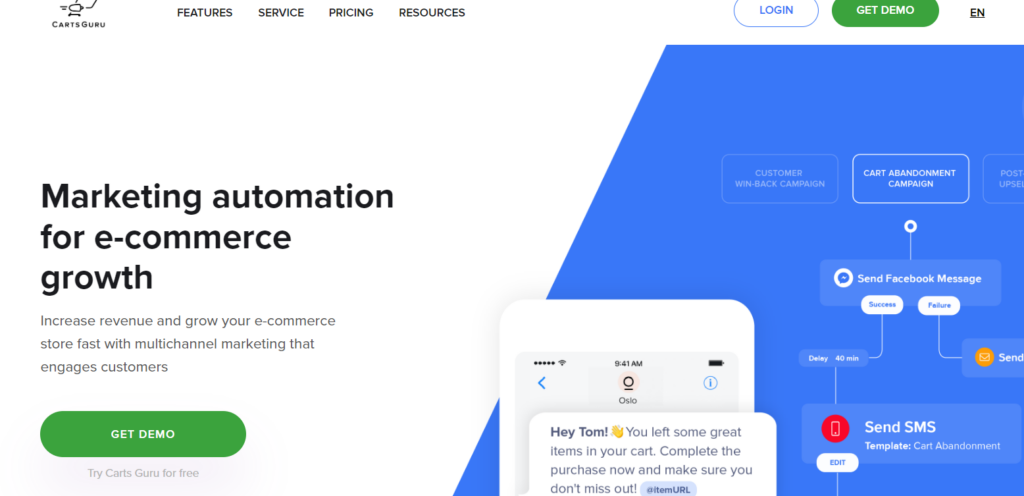 Carts Guru is a platform that provides automated marketing solutions for e-commerce businesses. Its primary focus is cart abandonment, when customers add items to their online shopping cart but must complete the purchase.
Carts Guru sends personalized messages to clients who have abandoned their carts using multiple communication methods such as email, SMS, and Facebook Messenger. Discounts, reminders, and other incentives might be included in these messages to encourage the customer to finish the transaction.
A key benefit of using Carts Guru:
Use intelligent segmentation to organize your clients into relevant lists so that you may approach the right consumer with the correct message at the right time.
4. Spring bot Marketing Automation: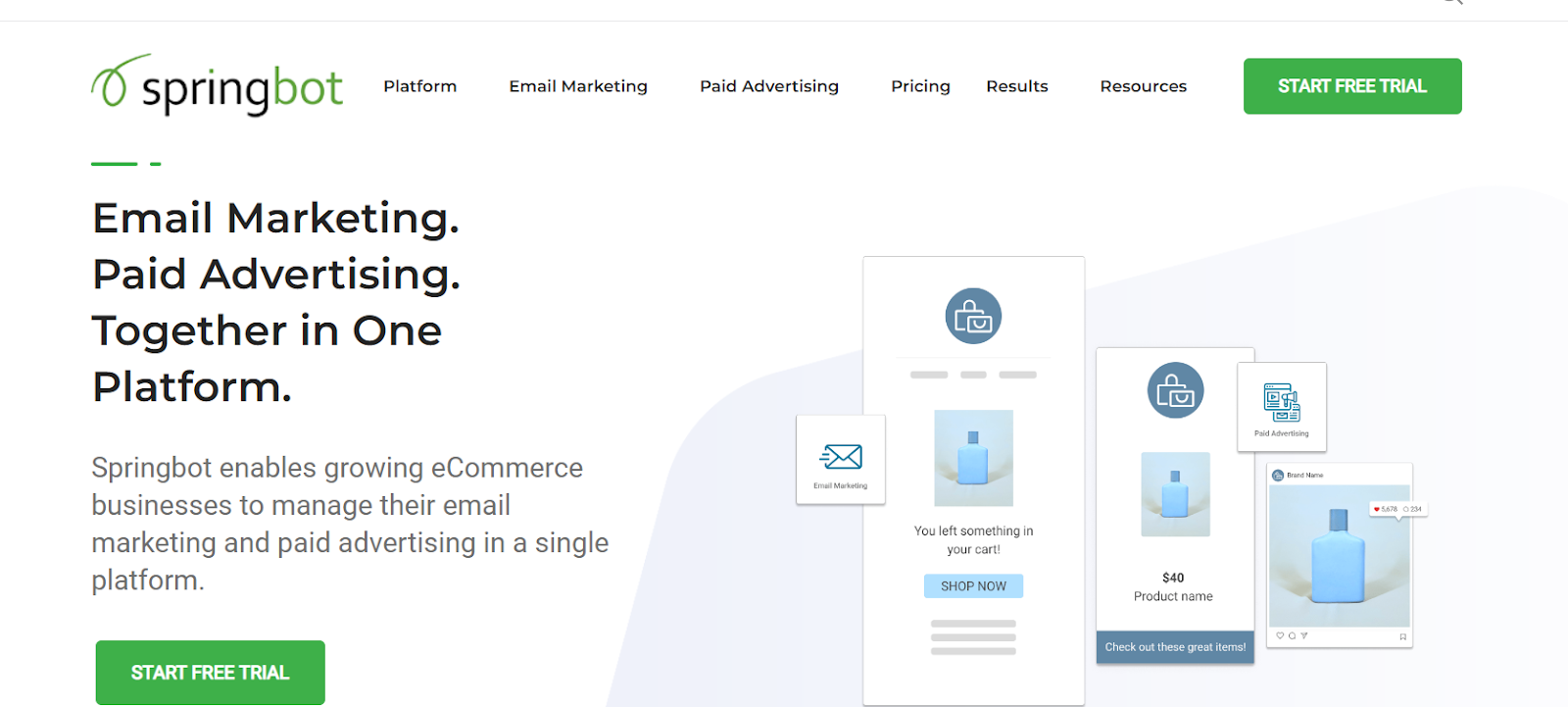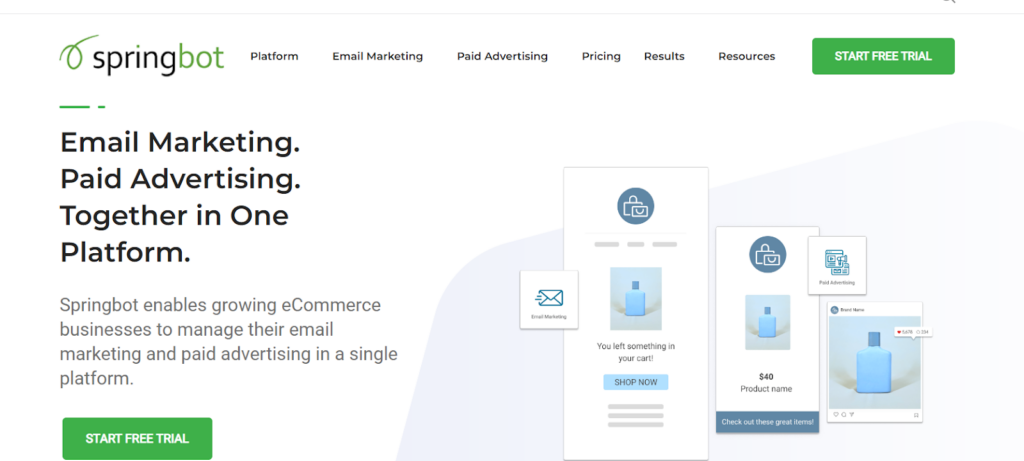 Springbot is appropriate for any medium-sized online store, including tiny ones, because it provides users with powerful e-commerce marketing tactics. One of the most essential features of the software is its integration with Shopify for data management, analytics, and marketing automation.
Advantages of Spring Bot:
1. Spring Boot is compatible with various servlet containers.
2. Bootstrapping conserves memory.
3. It reduced boilerplate code.
4. There is no need for an XML setup.
5. Mailchimp: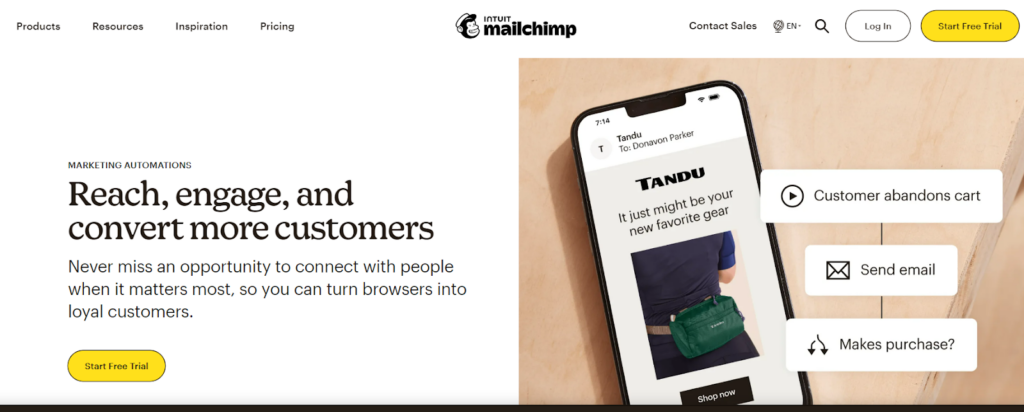 Mailchimp is a well-known email marketing platform that offers a variety of automation tools. Businesses may use Mailchimp to build and distribute targeted messages, set up automated workflows, and measure the effectiveness of their campaigns. The program also integrates with Shopify and other eCommerce systems, allowing firms to consolidate their marketing efforts across many channels. This is one of the best Shopify automation apps in the market.
Advantages of using Mail chimp Automation:
1.Saves time and effort: Mailchimp Automation allows you to create automated email campaigns that can be triggered based on specific actions your subscribers take. This saves you time and effort since you don't have to send individual emails to each subscriber manually.
2.Increases engagement: You can increase engagement and drive more conversions by sending targeted and personalized emails based on subscriber behavior. With Mailchimp Automation, you can create targeted campaigns that are more likely to resonate with your subscribers and keep them engaged.
3.Improves lead nurturing: Automation allows you to create a sequence of emails to nurture prospects and bring them further down the sales funnel. By offering exciting and timely communications, you can keep your tips interested and turn them into paying customers.
6. Send in Blue Email Marketing Automation by Combi Desk: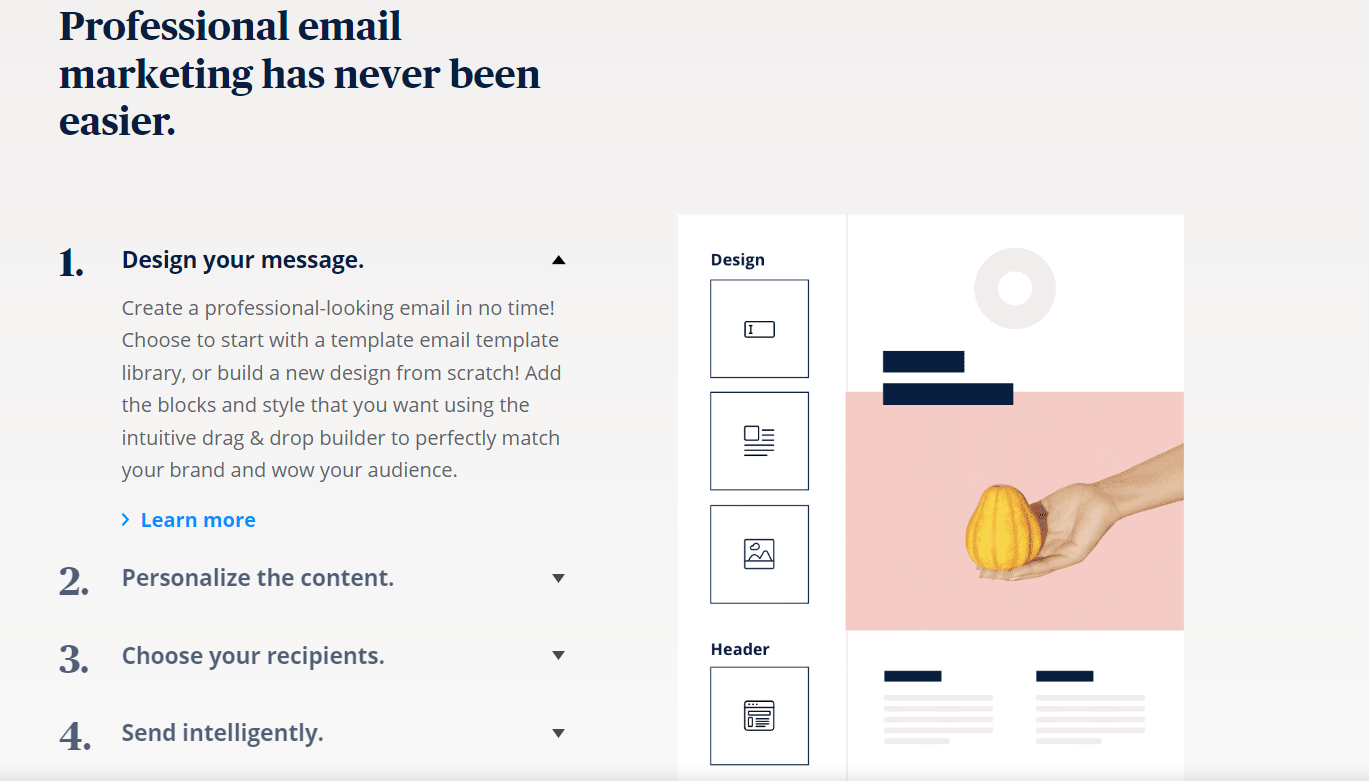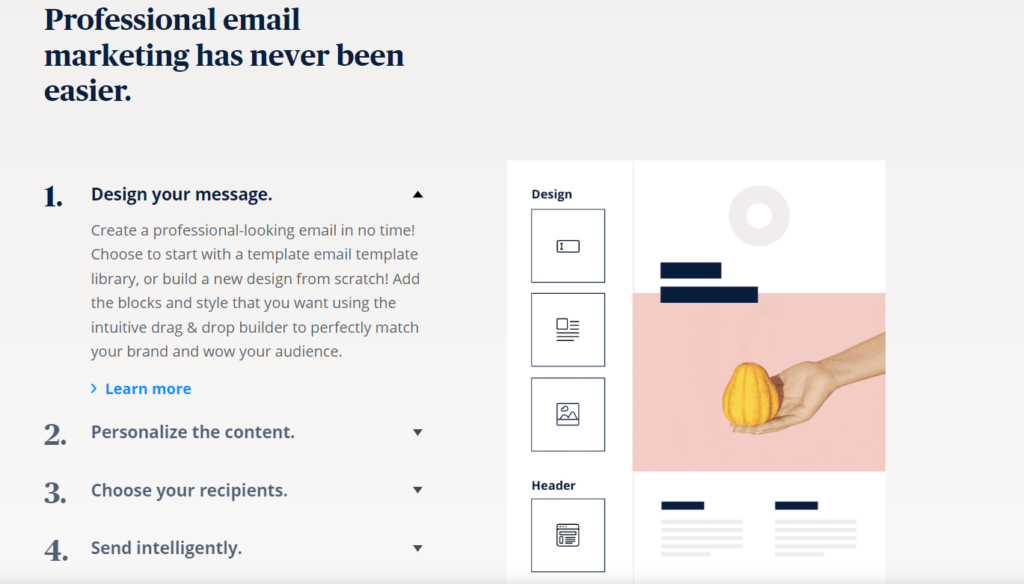 Send in Blue is an all-in-one email marketing automation platform allowing businesses to manage email campaigns, SMS messaging, and more. Combi desk is an integration platform that connects Send in Blue with other business tools to create a seamless workflow. With Sendinblue and Combi desk, businesses can automate their marketing and communication efforts, improve customer engagement, and drive more conversions.
Advantages of Send in Blue:
1.It is a robust email marketing solution that provides its users with various tools and templates for creating attractive and functional emails.
2.On the free plan, you can send up to 300 emails daily.
3.Send In Blue is a flexible email marketing platform that can meet the needs of any business, regardless of size or budget. It provides the most basic capabilities for small organizations and expands with them.
4.They have a great support system in place.
7. Fire Cart Marketing Automation by Canvass:
Canvas Fire Cart is a marketing automation software that helps businesses streamline their marketing efforts. With features like email marketing, lead nurturing, social media marketing, and google analytics.; Fire Cart allows businesses to create targeted campaigns and measure their success. Its user-friendly interface and customizable workflows make it popular among small and medium-sized enterprises.
Advantages of Fire Cart Marketing Automation by Canvass:
1.Multi-channel marketing: Fire cart enables businesses to engage with customers across multiple channels, including email, SMS, social media, and web push notifications.
2.Personalization: With Fire Cart, businesses can create personalized marketing campaigns tailored to each customer. This helps to increase engagement and build stronger relationships with customers.
3.Lead nurturing: Fire cart helps businesses automate their lead nurturing process, which involves sending targeted messages to prospects at different sales funnel stages. This helps to move prospects closer to making a purchase.
Conclusion:
In conclusion, Shopify is a powerful eCommerce platform that enables businesses to sell their products online. However, businesses need to leverage marketing automation tools to make the most out of Shopify. By using one of the seven best Shopify automation apps in 2023, businesses can automate their marketing campaigns, optimize their marketing efforts, and boost their ROI.
Let us know in the comment section. if you need immediate ecommerce web development services or assistance, you can contact Shopify development company in California now .Our friendly and knowledgeable representatives are available to help you with Shopify inquiries.
Frequently Asked Questions:
What is Shopify's marketing strategy?
Shopify marketing is a technique for promoting a Shopify store and its items using Internet marketing channels such as email and advertising campaigns. An efficient Shopify marketing plan raises brand exposure, keeps more existing customers, promotes customer loyalty, and boosts sales.
Can you automate a Shopify store?
The power of Shopify Flow extends beyond procedures in your organization. Connectors also combine and automate your apps without requiring you to write a single line of code. The more a corporation can automate with solutions like Flow, the more money it can generate.