According to the 2022 reports from Statista, currently, there are around 4.59 billion social media users which accounts for approximately 58% of the global population. Being a Shopify store owner, if you want to go where your customers are, social media platforms are your number one go-to solutions.
Social media has great potential for lead generation if you can take full advantage of the platform. Even the most experienced marketers can get annoyed with tedious tasks, low ROI, and frustrating obstacles when it comes to marketing products on social media.
The good news is that by selecting the right Shopify social share apps, your social media marketing campaigns are made more efficient and results-driven. Shopify contains numerous social share buttons in its Shopify Apps Store that can take your products to potential customers and improve your business. Let's look at the top 10 social media apps in the Shopify App Store:  
1. Whatsapp Chat+ Cart Recovery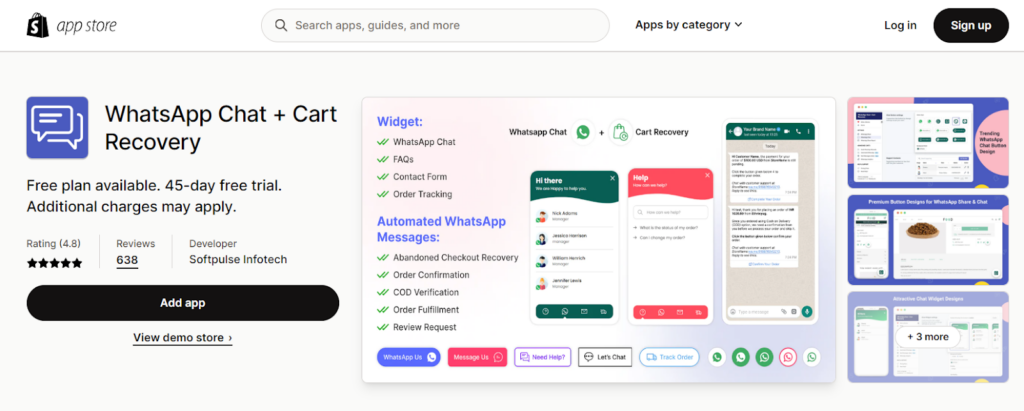 Introduction
WhatsApp Chat+ Cart Recovery is an excellent tool to enhance your customer experience. You can add WhatsApp chat buttons to your Shopify store. It offers several features to improve your sales conversion. You get a 45-day free trial version to try out the best features of the platform.
Features
The WhatsApp Share feature allows customers to share your products or services with their friends.
You can customize the display of WhatsApp Chat buttons so you can personalize them as per your requirements.
The tools allow you to send automated WhatsApp messages in multiple languages so that you can enhance customer interaction.
You can add unlimited WhatsApp support contact numbers and also send pre-approved WhatsApp templates with automated messages.
Pricing
Free Forever Plan
Advanced Plan: Starts at $ 7.99/ month
Premium Plan: From $9.99/ month
---
2. Outfy


Introduction
Outfy is a one-stop Shopify social sharing application to manage any number of stores. Using this app, you can quickly create videos, stunning collages, and animated GIFs and share them automatically across multiple social media platforms. 
Features
The automation feature allows you to curate and publish your posts automatically so you can save time in improving your products.
The app offers customizable themes and templates that help you create engaging promotional content within minutes.
You can create unique and high-performing hashtags for your products and take them to a wider audience.
If you face a problem anytime, the app offers chat and email support to assist you with your issues.
Pricing
Free Forever Plan
Starter Plan: From $15/ month
Pro Plan: From $30/ month
Ultimate: From $60/ month
---
3. Social Boost Giveaways Contest


Introduction
Do you want to accelerate your marketing efforts this holiday season? Social Boost Giveaways Contest makes it possible for you. The app lets you run giveaways, contests, sweepstakes, etc to get better brand reach and customer engagement.
Features
The Social Boost Giveaways Contest app is a user-favored Shopify social share app that offers easy to navigate interface.
Decide your marketing goals and based on them, choose the methods of rewarding participants for practices like subscribing, signup, following, survey, etc.
Refer a friend and share your campaigns with them to boost your store traffic, engagement, email lists, etc.
Pricing
Full-Featured: 50- Free
Full-Featured: 200- $10/ month
Full-Featured: 500- $20/ month
Full-Featured: 1000- $29/ month
---
4. Instagram Feed+YouTube+Reviews


Introduction
Instagram Feed app elevates the functionality of your online store by helping you leave a lasting impression on visitors. The complete process of adding a social media feed to your Shopify store like Instagram feed, Facebook feed, YouTube Video, Google reviews, etc. is made simple with the Instagram Feed application.
Features
Make your social media feed visually more appealing using multiple layouts and themes.
The widgets are responsive and thus adjust themselves according to the multiple screen sizes and resolutions.
The app provides automatic real-time updates on your posts which means you don't have to manually refresh feeds.
It lets you use the predefined settings to modify the font size, color, background, and card style of your feed.
Pricing
Lite Plan: Free
Basic Plan: $11/ month
Pro Plan: $24/ month
---
5. Marsello


Introduction
Marsello is a social scheduler app for Instagram, Facebook & TikTok. It is a retention marketing software that allows marketers to enhance customer retention and sales through data-driven automation, email, SMS, and loyalty programs,
Features
Social Media Scheduling: Marsello lets you create, edit, and publish your social media posts automatically at the specified time.
Marketing Planner: You can plan and schedule all your organic social media campaigns across Instagram, Facebook & TikTok.
Sales Tracking feature: you can integrate Marsello with your eCommerce platform and POS software to track the sales of products in your posts, in-store and online.
Media Library: Safeguard all your social media marketing assets in the media library and access them later real quick.
Pricing
Free Plan
Pro Plan: $29/ month
---
6. Free Social Media Icons


Introduction
Free Social Media Icons is a Shopify Social Share App that lets you connect all your social media networks with a customizable social bar. The features of this app help you add social share buttons to your Shopify stores so that your products and services are promoted by the users with ease.
Features
Change the visual elements of the social icons and add customized social share buttons to your store.
The app has unlimited social icons. You can add any social media platform icons to your Shopify store.
The app loads real quick and is designed for a mobile-first user experience.
Create social icons that suit your brand and let your clients know that it is easier to contact you. Thus, your customer engagement is elevated.
Pricing
Free Plan
Premium Plan: $1.99/ month
---
7. Social Share Cart


Introduction
You can share the social share buttons into your Shopify store using this Social Share Cart option and let your products get promoted by existing users. Once people get to know about your products on social media, you attract higher website traffic and in turn sales.
Features
The Social Share Cart app integrates with popular social platforms like Facebook, Twitter, Pinterest, email, etc.
You can use custom CSS to customize the social sharing icons and include them in your store.
Customers can generate the product link to share with their friends and family.
It offers a 15-day free trial period where you can test the app's capabilities at no cost.
Pricing
The pricing plan begins at $1.99 per month.
---
8. Social Commerce


Introduction
Social eCommerce app is all about managing your company's social media presence by connecting with your customers. You can help them share your products across social media through Shopify Social Sharing icons.  
Features
App configuration comes in 5 sections, namely, General Configuration, Social Configuration, Label Configuration, Design Configuration, and Mail Configuration.
You can create your social profiles, publish posts, comment on each other, and like or unlike the products.
You have full control over displaying/hiding the active status feature.
Pricing
The basic Plan begins at $29/ month.
9. Social Card


Introduction
Social Cards are an effective method to improve your user engagement and drive more traffic from social platforms to your store. Install the app from the Shopify App store and learn what it can offer for your company. 
Features
Using the social post preview, you can know how the post is displayed to the customers.
Convert your post into clickable social cards, share them, and attract traffic from social media sites like Facebook, Twitter, and Google Plus.
Using analytics, you can track the Social card results and check the number of clicks, and referrers, and know how your post is performing.
You can opt for a 7-day free trial and try the app for free.
Pricing
Premium Plan starts at $7.99/ month.
---
10. DS Social Share buttons


Introduction
Integrating social share buttons on your website is one of the best ways to improve your brand awareness and increase your web traffic from social media sites. With a single click, the DS Social Share Buttons help you integrate social icons into your Shopify store and seamlessly promote your products and services.  
Features
The app is easily customizable and lets you choose the format to display the button on your product page.
You can activate or deactivate the social media icons if you are no longer using them.
You have full control over the style and format of social share buttons and how they are positioned in your store according to your business requirements.
It is a mobile-responsive app and is compatible with different browsers.
Pricing
Free
Conclusion
Social sharing apps effectively increase your brand presence online. Finding the right social sharing app for your requirements can be daunting. Based on our research, we have listed above the top 10 Shopify Social Share Apps from the Shopify App Store. Hope you find the best-fit app for your business among them.
Did we miss any social share app/apps worth mentioning in this list? Mention them in the comments. Thanks for Reading!