If you have an online business store, you must have heard of the recently launched Shopify Google Analytics update. It comes with various amazing features and benefits to offer high profitability for online stores.
Google Analytics 4 (GA4) is not just an updated version but it extends a great scope for Shopify merchants. One of the most attractive features of Google analytics Shopify is its easy measurement of user interaction with the business website or app. Moreover, online merchants can also rely on improved data collection, event tracking, and machine learning support.
It can be rightly said that for every online business, Google analytics 4 Shopify is an essential need. Thus, if you also want to embrace all the amazing benefits and features, let us thoroughly explore how to add Google analytics to Shopify.
Steps To Setup Google Analytics 4 In Shopify Store –
Fortunately, it is quite convenient to set up Shopify Google analytics 4 in online stores. All you need to do is to follow the below-mentioned steps to easily complete the setup without any hassles.
1.Create a Google account and Google Analytics account
You need an active Google account to access the Google Analytics account. If you already have an existing Google account, you can use the same account for Google analytics. However, you can also create a new Google account and then a Google Analytics account.
2.Create GA4 Property
If you don't already have an existing GA4 property, you have to create a new one. For doing so,
Visit Google Analytics, then admin, and then click on 'create new GA4 property.'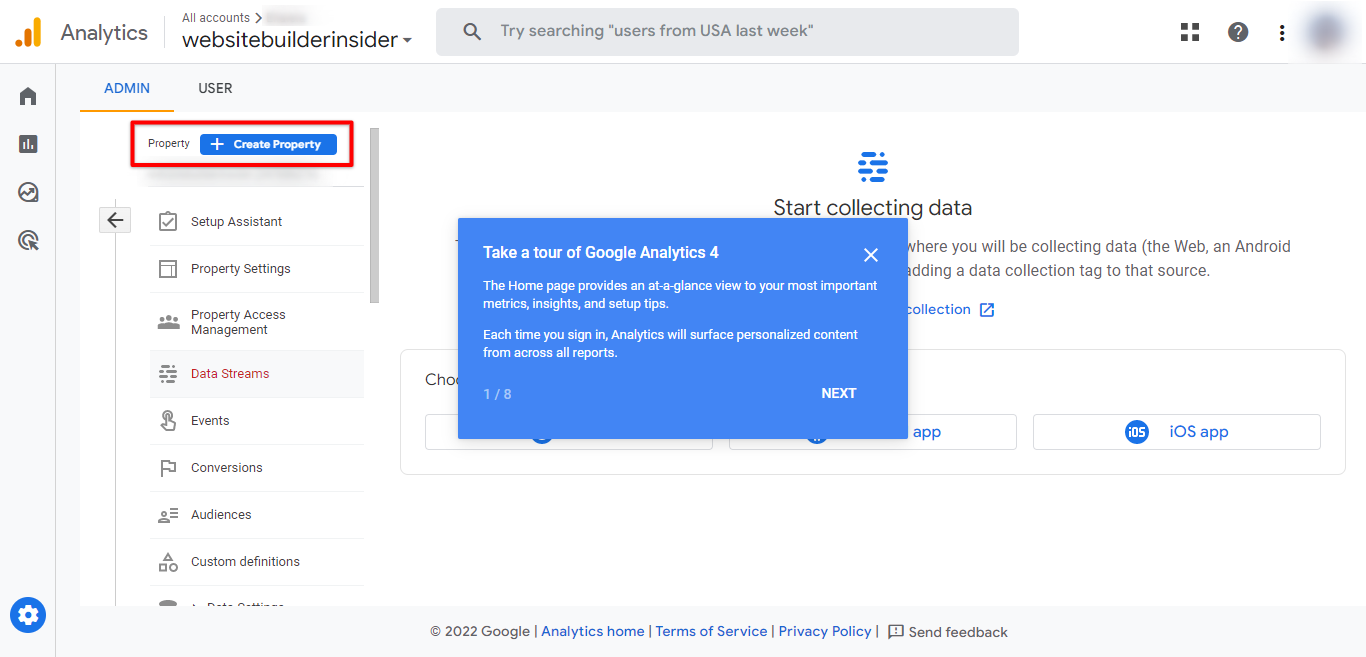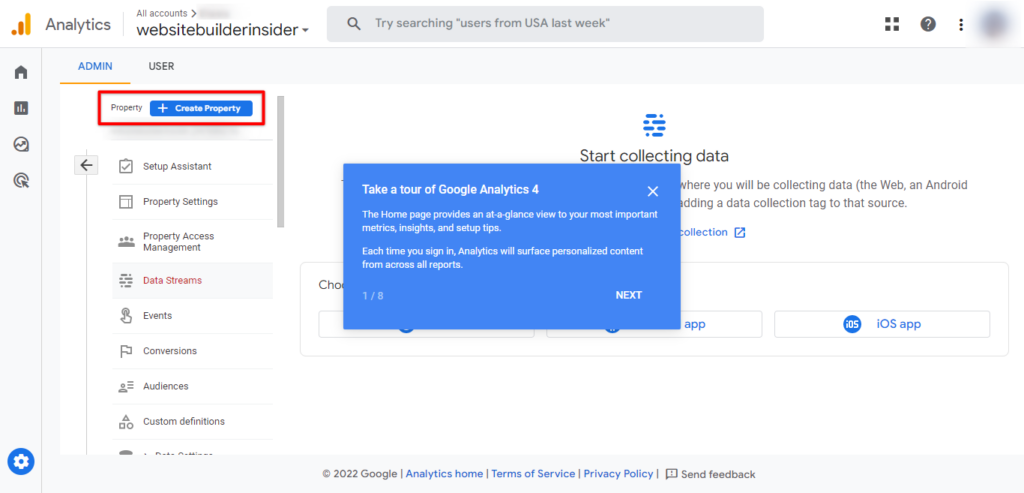 Enter your site URL and the enhanced measurement streams.
Implement the tracking code to complete the process. The measurement ID starts with 'G' rather than the usual 'UA.'


3.Install The Google Analytics Tracking Codes
For doing so, you should follow these steps:
Visit the Shopify admin and then click on the 'Online store.'
Under the online store, choose 'Preferences.'
Now, under Google Analytics, select the 'Add Google Analytics code' to manage the pixel.
Click on 'Connect your Google account.'
Select the available GA4 property measurement ID that you want to connect with your Shopify store.
Simply paste the same GA4 property measurement ID in the tracking ID field.
Now, click on the 'Connect your Google Analytics 4 property' option.
Finally, click on the 'save' button.


4.Enable The eCommerce Tracking
The next step to set up the Shopify Google analytics is to enable eCommerce tracking. You can easily do it using the following steps:
In your GA4 property, visit the 'data' section.
Under the data section, click on the 'eCommerce settings.'
Now, turn it on to enable mode.


5.Add The Enhanced eCommerce Tracking
The main motive for adding the enhanced eCommerce tracking is to easily observe the user interaction with product pages and Guaranteed Safe Checkout flow. You can use the following steps to add this to the Shopify store:
In your GA4 property, visit the 'data section.'
Under the data section, click on the 'eCommerce settings.'
Now, turn on the enhanced eCommerce tracking by enabling it.
You can then follow the required instructions for adding the necessary code in the Shopify theme.
6.View The Data In Google Analytics
After all the above-mentioned steps are completed, you can conveniently view the required eCommerce data in the GA4 property. For doing so, you can follow these steps:
Under the Shopify admin, visit the 'Conversions' section.
Under the conversions section, click on the 'eCommerce' option.
Under the eCommerce section, choose the 'overview' option to complete the process.


How Can I Setup Google Analytics 4 on Shopify?
Google Analytics 4 (GA4) is an accessible data platform that lets you track how users engage with your website or app. You can set up GA4 on Shopify by following these easy steps:
1. Create a GA4 property.
2. Add the Google Analytics monitoring code to your website. Copy and paste your GA4 property ID into the "Tracking ID" section before clicking Save.
3. Turn on e-commerce tracking. Go to Data > Ecommerce Settings in your GA4 property and enable Enable E-commerce.
4. Include improved e-commerce tracking. Finally, to add the necessary code to your Shopify theme, follow the Improved E-commerce Tracking Guide steps.
5. Go to Google Analytics and look at your statistics.
What are the Benefits of Google Analytics 4 for Shopify stores
Now that you know what it is, let's look at why you should utilize Google Analytics 4 for your Shopify business and why Shopify development company is using the google analytics 4 .
There are various reasons why your Shopify site should be upgraded to GA4:
Extensive Data Tracking: GA4 lets you track consumer behavior throughout the web and app, giving you a complete view of your store's success.
Enhanced Machine Learning: GA4 employs sophisticated machine learning techniques to provide more accurate and helpful insights into your shop's performance.
Actionable Reporting: GA4 reporting is designed to be simple to use and understand, providing the information you need to make informed decisions.
New Integration: GA4 now features new connections with other Google products, allowing you to gather even more valuable information about your company's performance.
Changing Privacy Landscape: With the ever-changing privacy environment, GA4 is built to adapt and keep you in compliance with your privacy requirements while offering the insights you require.
Is it worth it right now to install Google Analytics 4 on your Shopify store?
Although Google Analytics 4 has many advantages, there are some disadvantages to consider before putting it on your Shopify store. One thing to remember is that GA4 may slow down the performance of your business, especially if you have a large number of visitors. This is because GA4 captures more data by default than Universal Analytics, which may affect page load time. It's worth noting that when using GA4, some users have reported slower page load times.
Originate web provides a lightweight integration that will not slow down your Shopify business and sophisticated analytics and reporting tools. This makes it a good solution for anyone concerned about the impact of Google Analytics 4 on the performance of their website.
Frequently Asked Questions –
Q1.) Can Shopify websites automatically track the eCommerce events for GA4?
Answer: No, it is not possible for the Shopify websites to automatically track the eCommerce events for GA4. It should be done manually with the help of Google Tag Manager (GTM) or gtag.js
Q2.) Is it possible to add both Google analytics 4 and Google Universal analytics on the same Shopify website?
Answer: Yes, it is possible to have both Shopify Google analytics 4 and Google universal analytics on the same Shopify website. Both analytics should be carefully implemented to embrace the essential benefits. You should follow all the necessary instructions to avoid any unwanted hassles or complications.
Final Thoughts:
While it may appear difficult to set up Google analytics 4 Shopify for your online business, it is quite simple. Simply follow the above-mentioned steps and you are all sorted to enjoy the amazing features and benefits of Google analytics Shopify.
Google Analytics 4 (GA4) is simply superb to allow thorough tracking across the website and app, visualize the visitor's journey, have a strategic review, customize reports, etc. Don't keep waiting to experience these amazing features to boost the profitability and visibility of your online Shopify store.. if you need immediate ecommerce development services or assistance, you can contact us now . Our friendly and knowledgeable representatives are available to help you with Shopify inquiries
How useful is this information about how to add Google Analytics to Shopify for you? If you still need any assistance to set up Shopify Google analytics 4 in the online store, connect with us in the comment section. We are available with all the help you need with Shopify Google analytics 4.