In today's world, practically every product-selling company has an online store, and everyone is seeking to make their imprint digitally. And, with the eCommerce sector exploding, merchants and customers continuously seek new methods to break into the market. As companies try to capitalize on this circumstance, numerous software providers also try to profit from it. And throughout the years, Shopify has been one tool that many Shopify app development businesses have consistently exploited since, with this platform, developers receive a feature-rich eCommerce solution that helps them to attract new merchants.
In this blog, we'll discuss what factors to consider when choosing a Shopify development company for your business.
Why Hire a Shopify Development Company?
Hiring a Shopify development company brings numerous benefits to businesses. Firstly, these experts have extensive experience working with the Shopify platform, ensuring a seamless and professional website setup. They can customize the design and functionality to align with your brand and business goals. A Shopify development e-commerce agency can also optimize your online store for improved user experience, search engine rankings, and conversion rates. Their expertise in handling technical aspects, security, and updates lets you focus on core business activities while enjoying a robust and reliable e-commerce platform.
What are the Advantages of Hiring a Shopify Development Company for your business?
Hiring a Shopify development company for your business can provide numerous advantages and unlock the full potential of your online store. These professionals specialize in creating customized e-commerce solutions using the powerful Shopify platform. By opting for their expertise, you can benefit from various advantages that can significantly boost your business.
1. Saves Time:
When you hire an e-commerce agency for your project, you can save a great deal of time because they deal with the essentials well. Thus, you will have more time to devote to other business activities that require your attention. So, by hiring a development company, you can focus on your business growth rather than fret about handling all things single-handedly.
2. Improved Functionality:
A Shopify expert team can enhance your store's operation and propel your business forward. With their considerable industry experience, they can give vital guidance with email marketing and how to successfully grow your reach by interacting with new consumers. You will encounter fewer problems if you have experienced developers on your side, and if you do, they can resolve them quickly due to their in-depth knowledge of this platform.
3. Powerful Branding:
The Shopify experts can significantly strengthen your brand by implementing excellent branding strategies. Because they are thoroughly prepared, they may supply tools to assist with branding plans across several platforms. These specialists have a perfect idea of what your website requires and what trends will work for your Shopify business. This in-depth understanding allows for faster growth. Companies develop with people, and as more people become familiar with your brand, your business will expand, moving your store to new heights.
How to Choose the Right Shopify development company?
When you are looking for an e-commerce development agency, make sure you can check the following aspects:
1. Assessing Expertise and Experience:
Expertise and experience are crucial when looking for a Shopify development Company. Look for a firm with a proven track record of constructing Shopify stores and collaborating with clients from various sectors. To assess their qualifications and competence, look at their portfolio, client testimonials, and case studies. If you find an experienced Shopify development company in California, no one is better than the original web.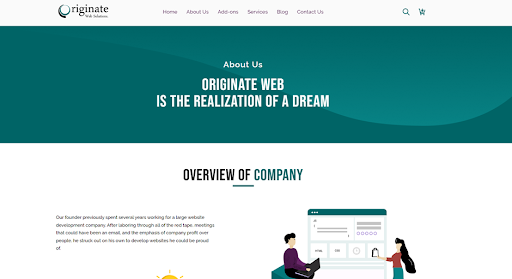 2. Good Communication:
Good communication is vital when looking for Shopify Website development services in La. Effective communication ensures that your requirements and expectations are understood clearly, allowing the development team to deliver a product that meets your needs. A company that prioritizes communication will inform you about the project's progress, promptly address any concerns or questions, and provide regular updates.
Strong communication encourages. Collaboration ensures a smoother development process, leading to a successful outcome for your Shopify store.
3. Technical Support And Maintenance:
Technical support and maintenance are critical for finding the top Shopify development firm. A reputable firm should offer extensive support services to guarantee that your Shopify site functions smoothly and efficiently. This involves fixing technical difficulties, delivering timely updates and security fixes, and giving support as needed. Proper maintenance ensures that your online shop stays functioning, safe, and up to date, which is critical for a seamless user experience and the overall success of your Shopify business. In the below section, we will add a screenshot of originate web, which provides 24/7 quick support for his clients.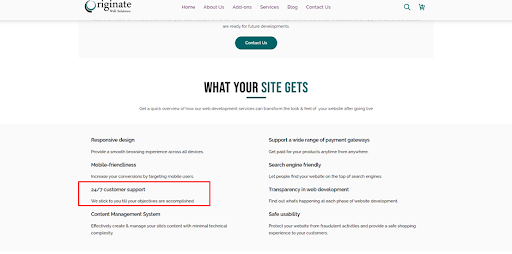 4. Cost-effectiveness:
While cost should not be the main requirement, it is realistic. Examine and compare the price models of various Shopify development businesses. Look for transparent price structures that correspond with your budget without sacrificing quality.
5. Reputation and Client Reviews:
Examine the Shopify development company's reputation by looking at internet reviews, ratings, and testimonies. Consider both positive and negative criticism to grasp their strengths and flaws thoroughly. If feasible, contact their prior clients to learn about their experiences.
Conclusion:
Choosing the best Shopify development company for your business is essential for a successful online presence. Hiring experts can improve your branding, save time, and improve functionality. When selecting a company, assess their expertise, ensure good communication, prioritize technical support and maintenance, consider cost-effectiveness, and review their reputation and client reviews. To find the right Shopify development partner for your business, you must carefully evaluate these factors.