According to research by Statista, the dropshipping industry has reached a value of almost $200 billion worldwide, accounting for an estimated 7 percent of all products available in Shopify-powered stores. Thanks to its high scalability and low fulfillment costs, dropshipping has quickly become one of the most sought-after business models among aspiring and established entrepreneurs. Luckily, numerous dropshipping apps can be found on the Shopify App Store to automate and streamline your operations. This article will look at the 15 best dropshipping apps to help select your ideal match and boost your business.
What's more? E-commerce platforms like Shopify make it relatively straightforward to open a dropshipping store. However, managing inventory, processing orders, and shipping can sometimes become cumbersome and time-consuming for store owners.
What is Dropshipping?
Before we dive into the best Shopify dropshipping apps, let us know what this business model is all about. Dropshipping is a business strategy allowing you to sell things online without owning or running the site where they are stored and processed. This means you may open an e-commerce site and offer a variety of items without dealing with inventory and fulfillment.
Now, it is time to look at the best dropshipping apps for Shopify 2023.
15 Best Apps for Dropshipping in 2023
1. DSers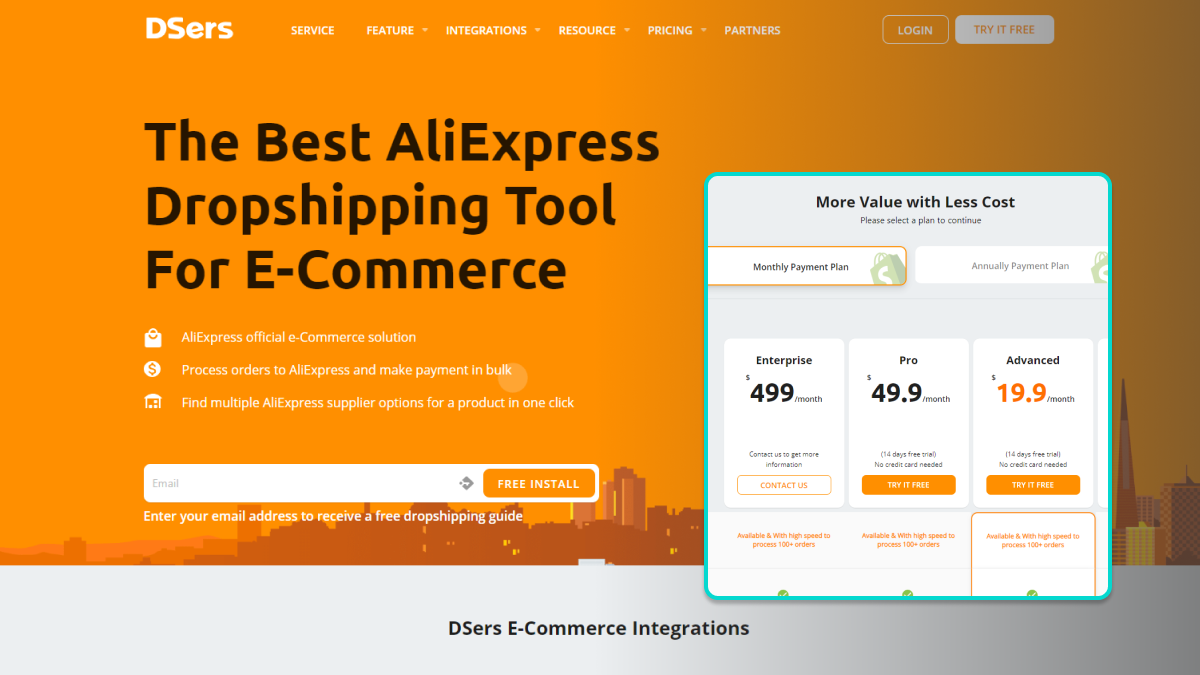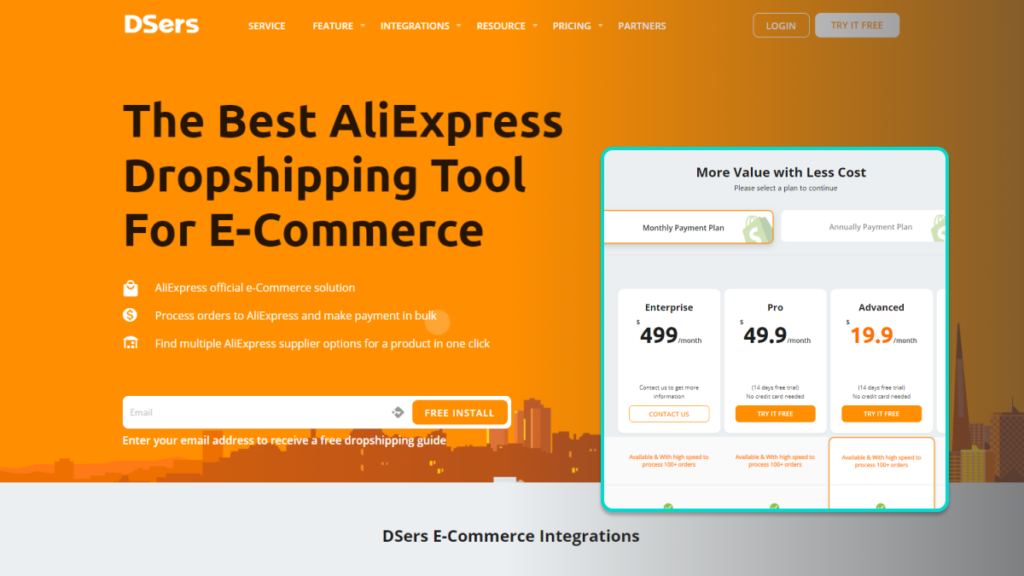 DSers is one of the greatest AliExpress Dropshipping platforms for E-commerce, allowing you to process and pay for bulk orders on AliExpress. With DSers, you may find several suppliers from AliExpress with a single click. This makes DSers one of the best apps for drop shipping.
Features:
Supplier optimizer
Bulk order
Bundle products
Stock management
Multiple stores management
Pros:
Orders can be processed in minutes by DSers
Forever-free plan option with lots of features
Free 14-day trial for paid plans
Online and video training options are available
Cons:
Interface difficult to manage at the beginning
Problems synchronizing data and delays in processing orders
Pricing:
DSers offers different plan options for all users. Some plans are free to use, while others are paid (as shown in the picture).
2. CJ Dropshipping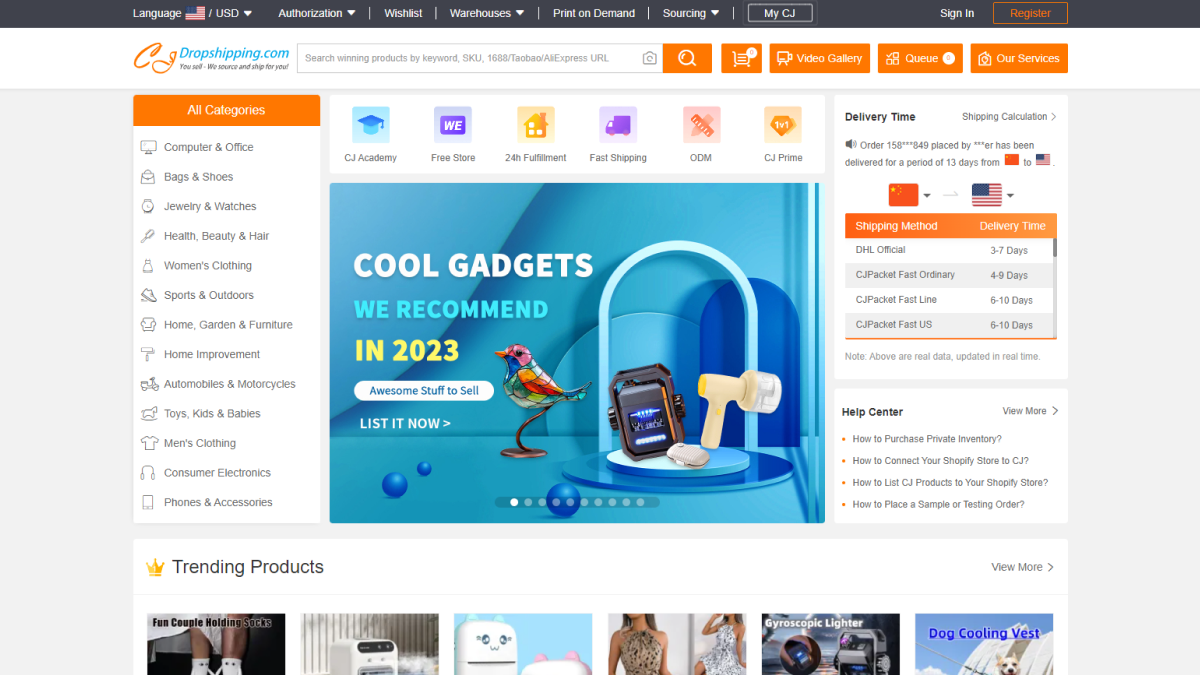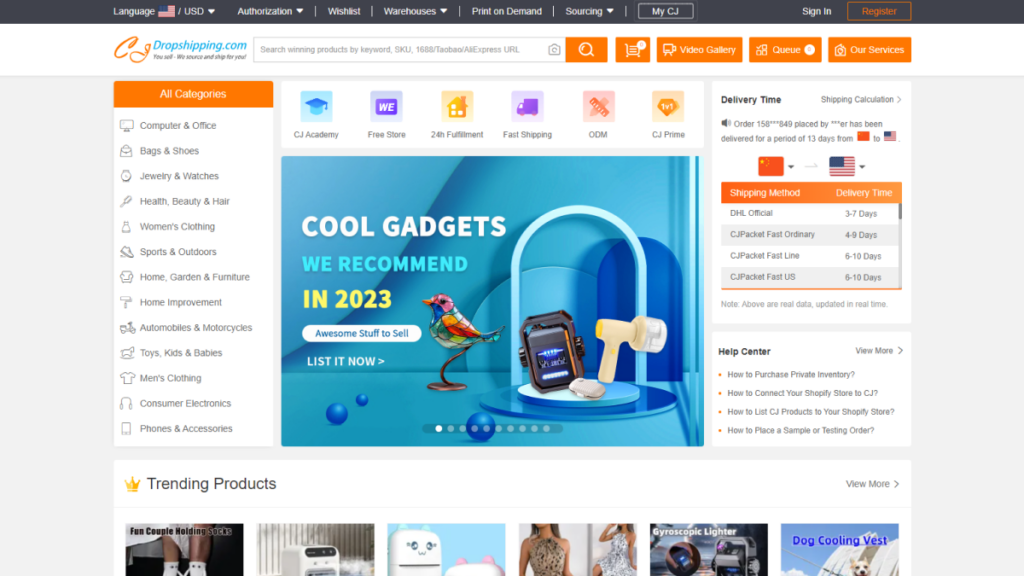 Looking for reliable dropshipping services for your eCommerce business? Look no further than CJ Dropshipping! With their app, eCommerce retailers can access a wide range of services, including product sourcing, order processing, product branding, bespoke packaging, and shopping services. Best of all, CJ Dropshipping has over 400,000 dropshipping items available in various categories.
Features:
Global warehouses
Quality inspection for packages
Free product sourcing
Cash on delivery
Pros:
Free to use
They handle absolutely everything
Their warehouses are located around the world
Bulk dropshipping orders
Cons:
Shipping might be expedited for select clients
Wrong billing might degrade the user experience
Pricing:
CJ Dropshipping app is free for all users.
3. DropCommerce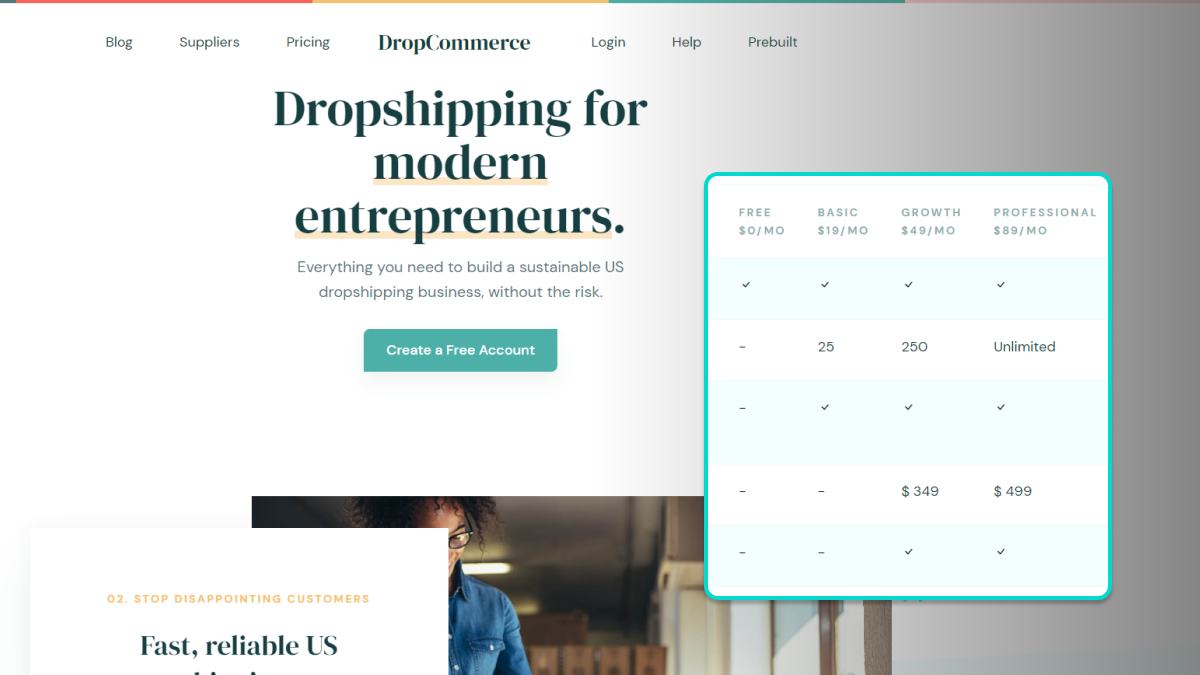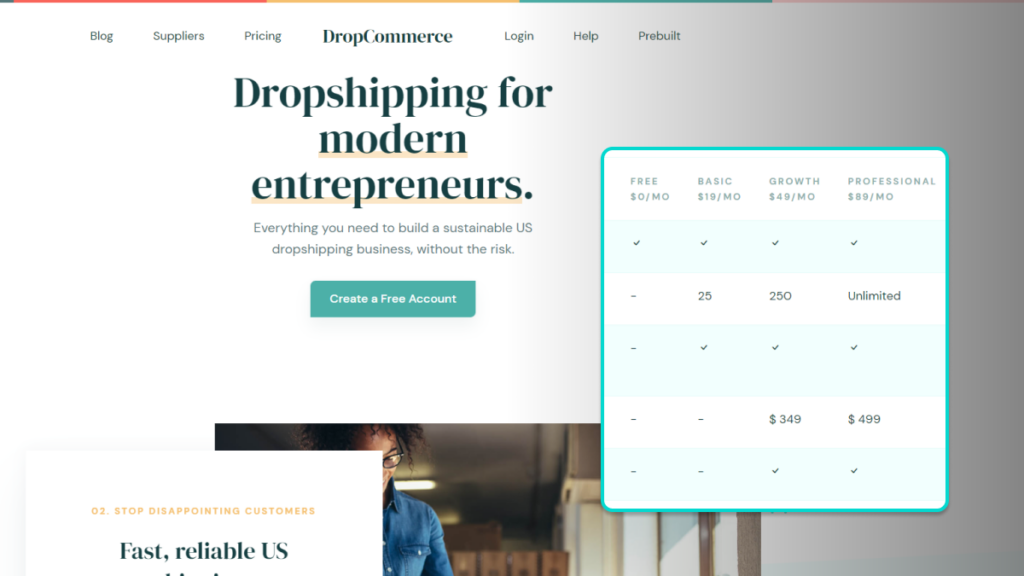 DropCommerce is a top-rated Shopify dropshipping app connecting store owners with approved US and Canadian suppliers. It offers seamless integration and reliable shipping options.
A must-have on the list of essential Shopify dropshipping apps for optimizing e-commerce businesses, DropCommerce provides reliable shipping options that ensure the success of business operations.
Features:
7-day customer support
No transaction fees
Codes for tracking shipment
Pros:
Useful interface
Fast and trackable shipment
Guaranteed order refunds
Cons:
The service is only available in Canada and the United States.
Pricing:
DropCommerce offers a 14-day free trial period. The price plan starts at $19 per month and goes up to $49 per month for the Growth plan.
The third level, Professional, costs $89 per month. And the most sophisticated option, Executive, costs $149 monthly.
4. Zendrop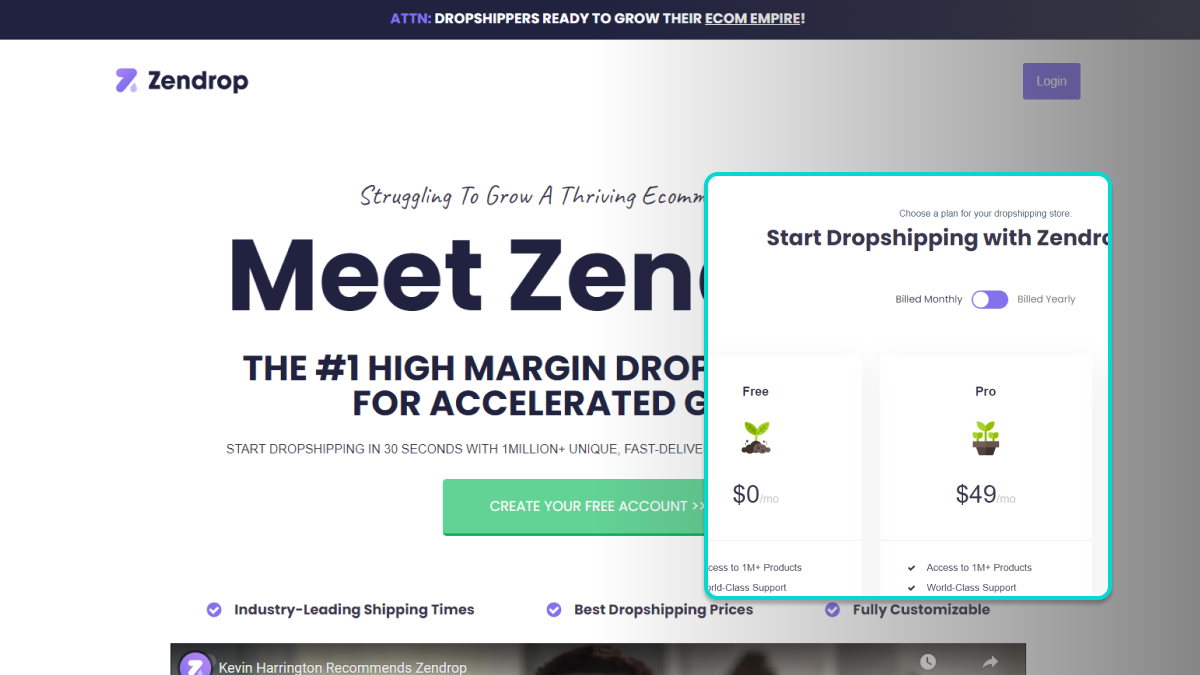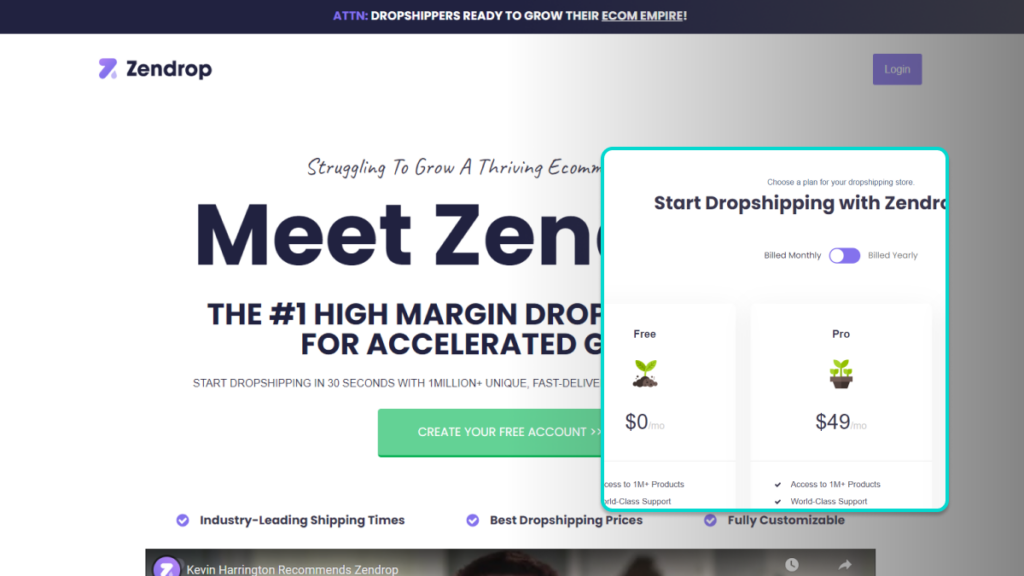 Zendrop stands out as an exceptional addition to the Shopify dropshipping apps list. Boasting an intuitive interface and global network of suppliers, Zendrop makes sourcing and fulfillment an effortless process for Shopify store owners.
With fantastic order management and fast shipping options, you can effectively optimize your dropshipping business using this app.
Top Features:
Private labeling
Product Sourcing
Real-time analytics
Custom branding
Pros:
Highly responsive customer service
24/7 email and live chat support
Recognized and trustworthy suppliers
Cons:
Limited free version
Higher price than alternatives
Pricing:
The Zendrop platform offers three different plans to all users: the free plan, the Pro plan, and the plus plan.
The Pro plan costs $49 monthly, including complete orders and automated fulfillment. The Plus package costs $79 monthly and includes added services such as Zendrop Academy, bundle products, and chargeback management.
5. Modalyst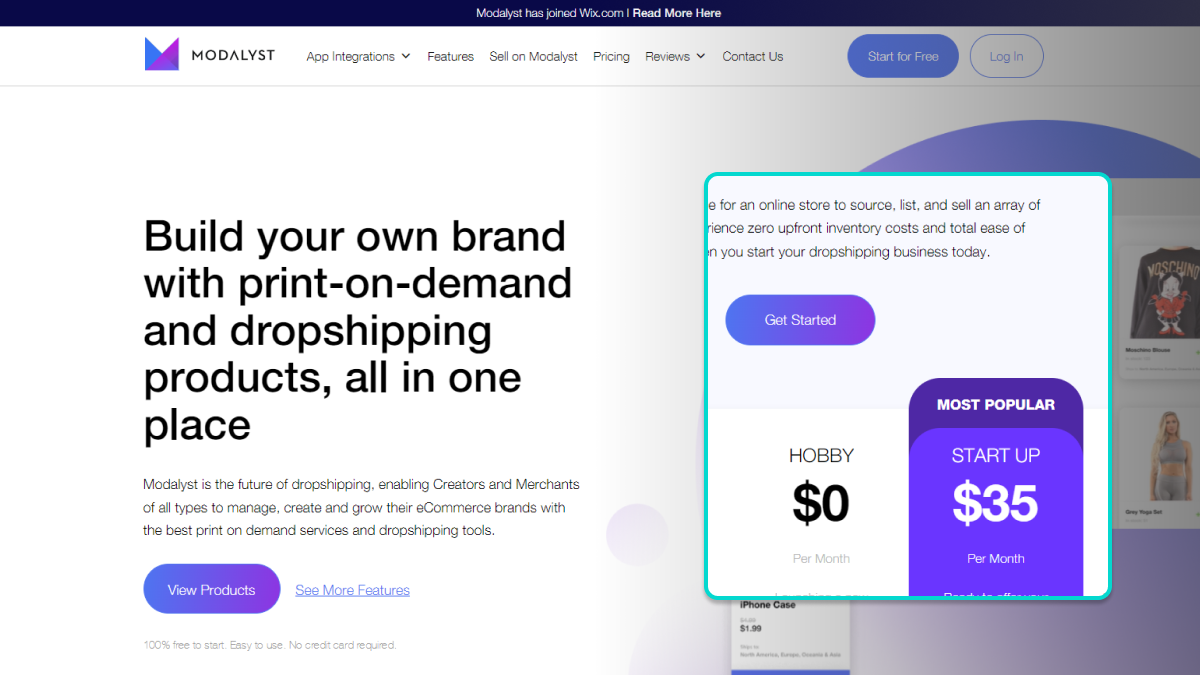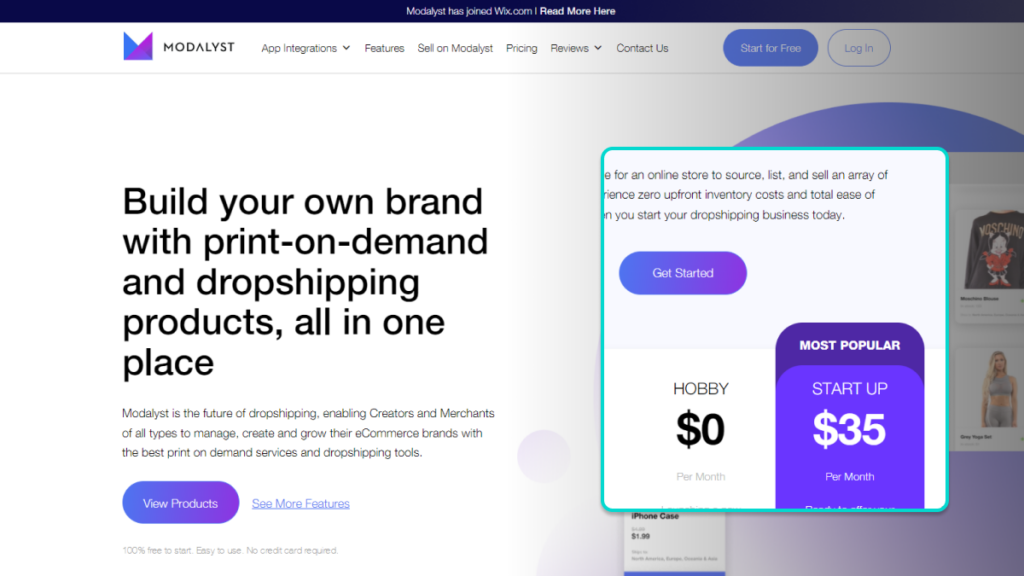 Modalyst provides eCommerce websites and businesses with dropshipping and print-on-demand services. You can sell drop-shipped or custom-printed items on your storefront without worrying about warehousing and fulfillment.
Plenty of useful features and relatively affordable pricing make Modaylst one of the best dropshipping apps for Shopify 2023.
Top Features:
Digital inventory
Selling directly on e-commerce websites
Unlimited dropship products
One-click synchronization of products
Pros:
You can ship anywhere
Transparent return policies with suppliers
It is directly integrated with Shopify & BigCommerce
You can manage the entire process from your Modalyst dashboard
Cons:
There's a 5% transaction charge on Modalyst's premium pricing plan.
Pricing:
Hobby Plan: $0 for all users
Startup Plan: $35 for all users
Pro Plan: $90 for all users
6. Inventory Source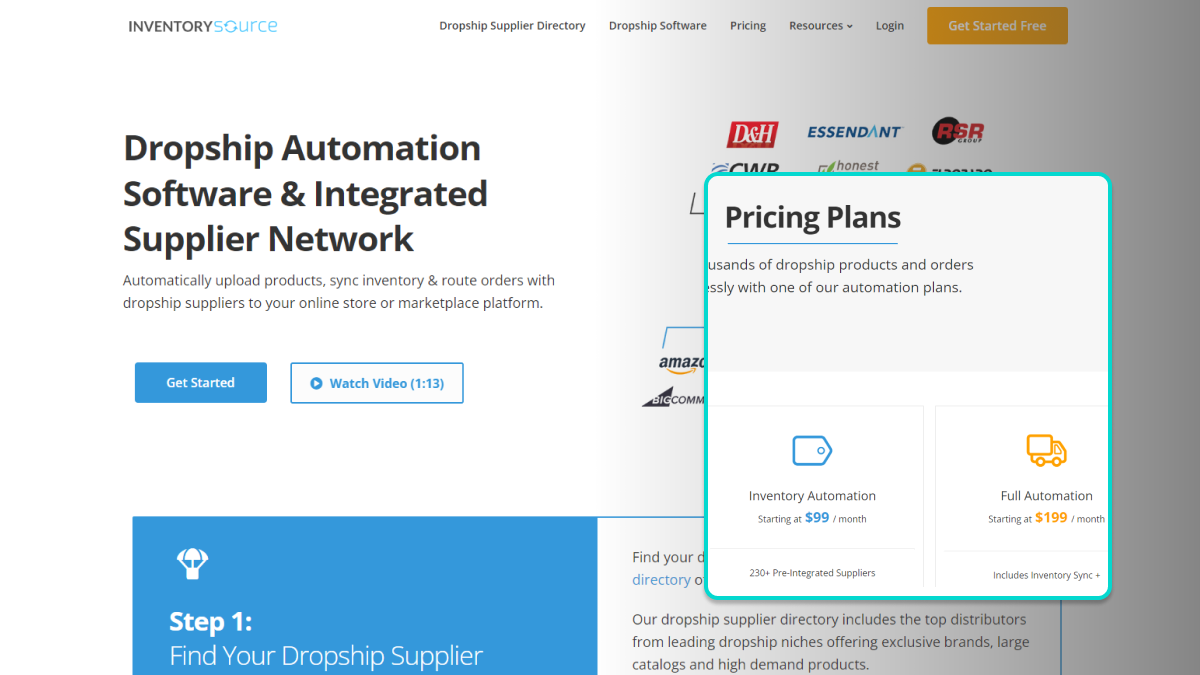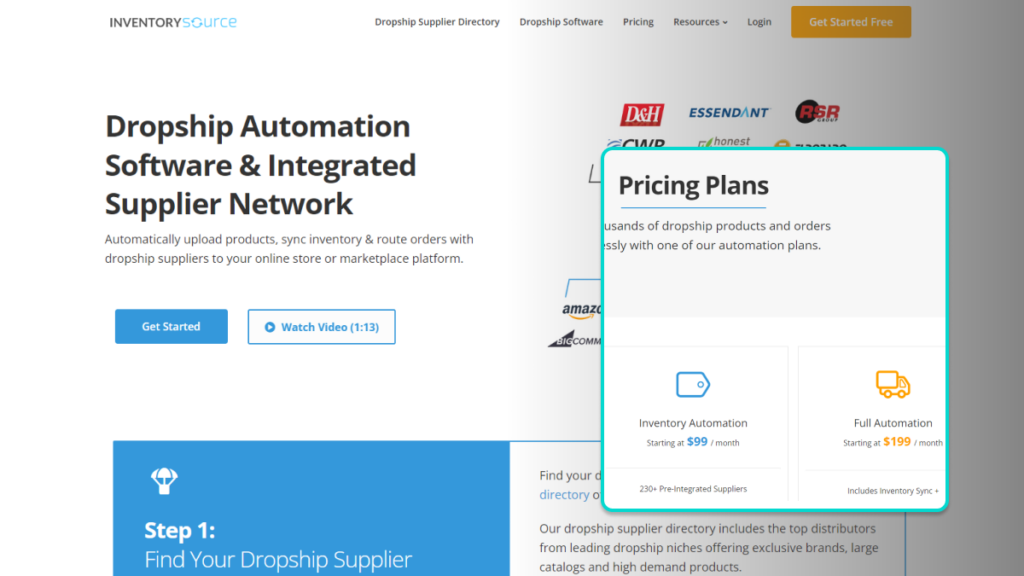 Inventory Source automates dropshipping tasks, including vendor management, product uploads, inventory syncs, order routing, and sales reporting for small and mid-sized eCommerce businesses.
There are more than 200 dropship suppliers partnered with Inventory Source, making it one of the best apps for dropshipping today.
Top Features
Real-time updates
Multi-channel management
Retail inventory management
Online Catalog
Reporting/Analytics
Pros:
Automatic inventory syncing
Tracking the status of your drop shipments
24/7 customer support
Display real-time inventory from the supplier
Mobile Accessible
Cons:
Pricing is too high for small-size businesses.
Pricing:
Directory account: $0 per month for all subscribers
Inventory automation: $99 per month for all users
Full automation: $199 per month
7. Doba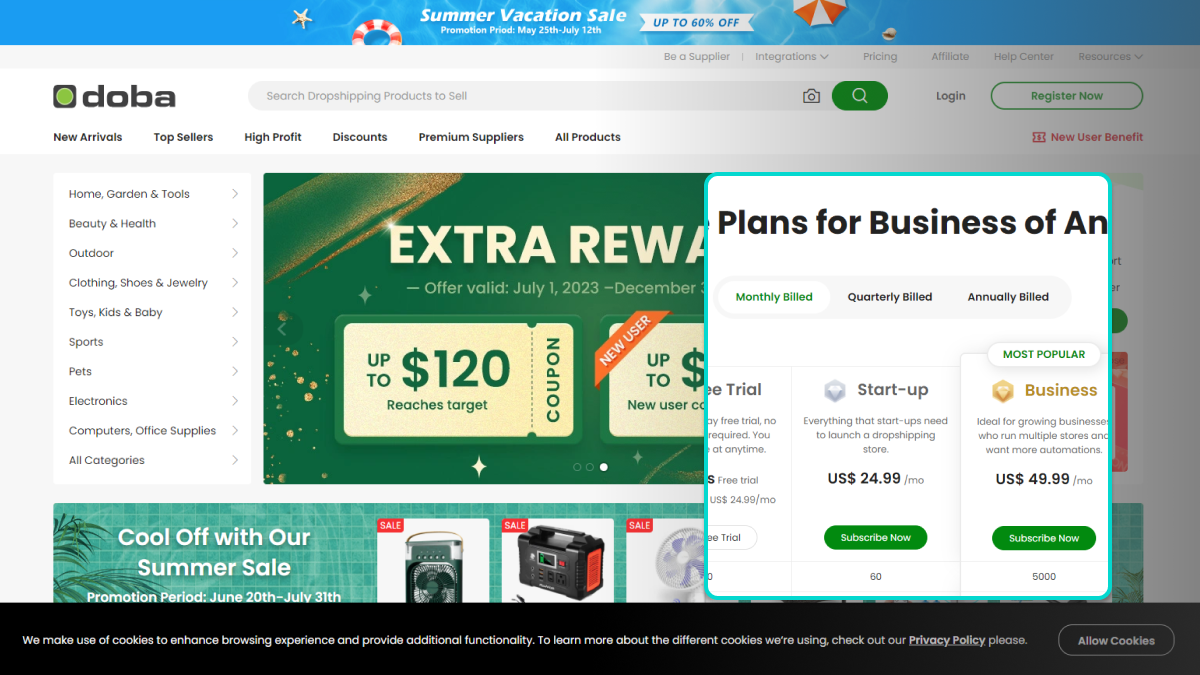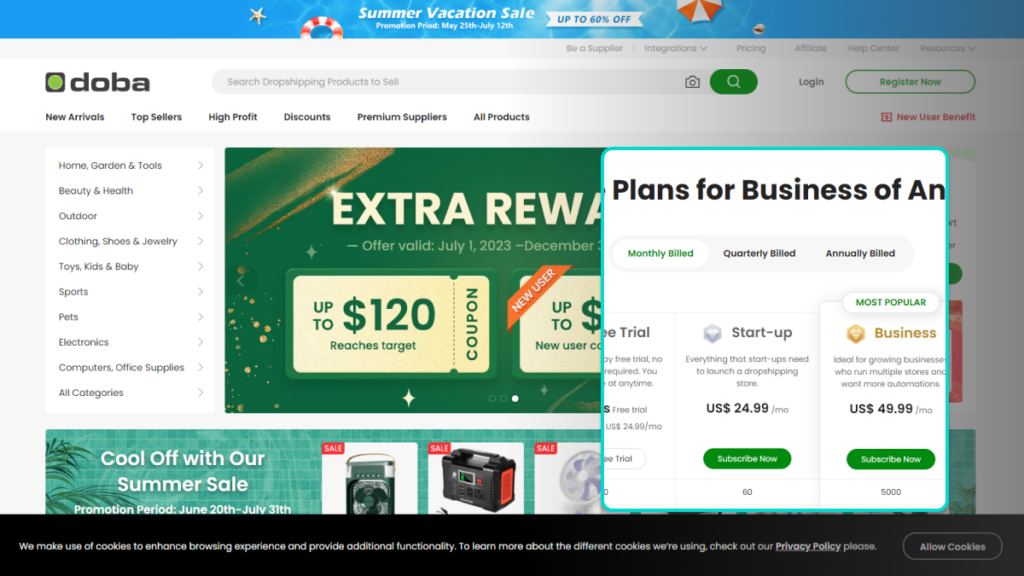 Doba is a simple listing tool with a solid dropshipping supplier directory for discovering and adding items. Due to its user-friendliness and robust features, it is one of the most popular Shopify dropshipping apps for 2023.
Top Features:
Customer service management
Bulk orders
Real-time order tracking
Product data management
Automated supply orders
Pros:
User-friendly
Customers can be reached through a wide range of channels
Simple connection with e-commerce websites
Popular integrations with many systems
Managing various webshops from a single platform
Cons:
More expensive for startup businesses.
Pricing:
Doba provides a 30-day free trial to all users. They provide several plans for all consumers. The most popular option is the business plan, which costs $49.99 monthly.
8. Importify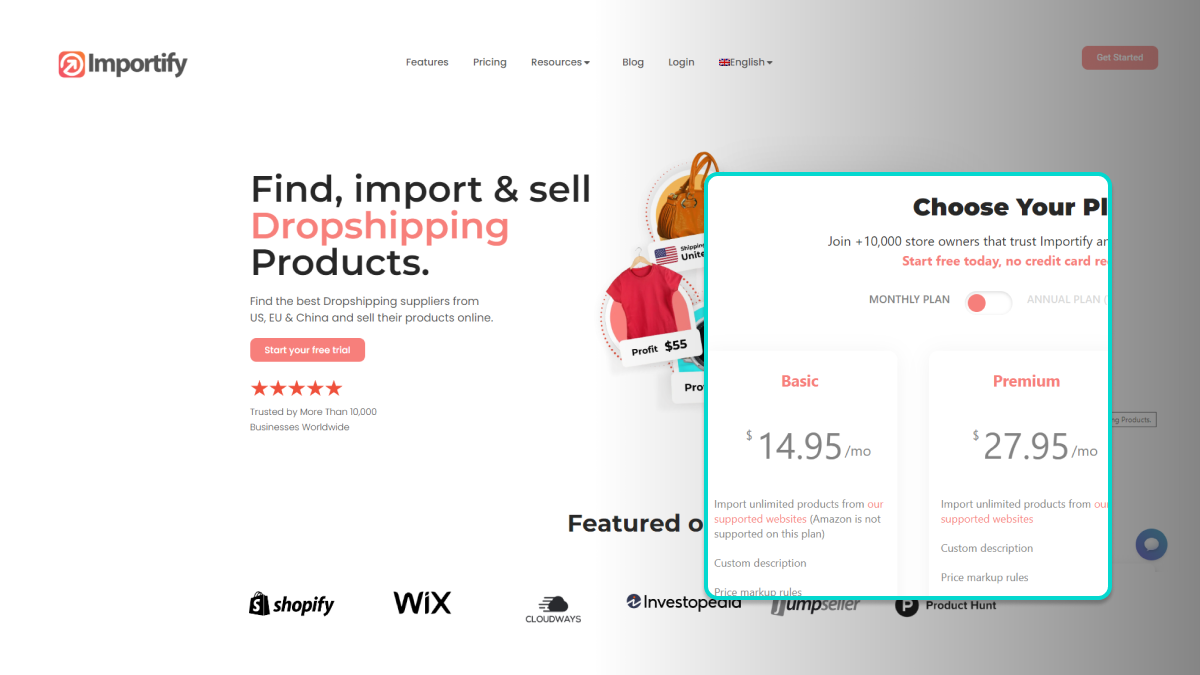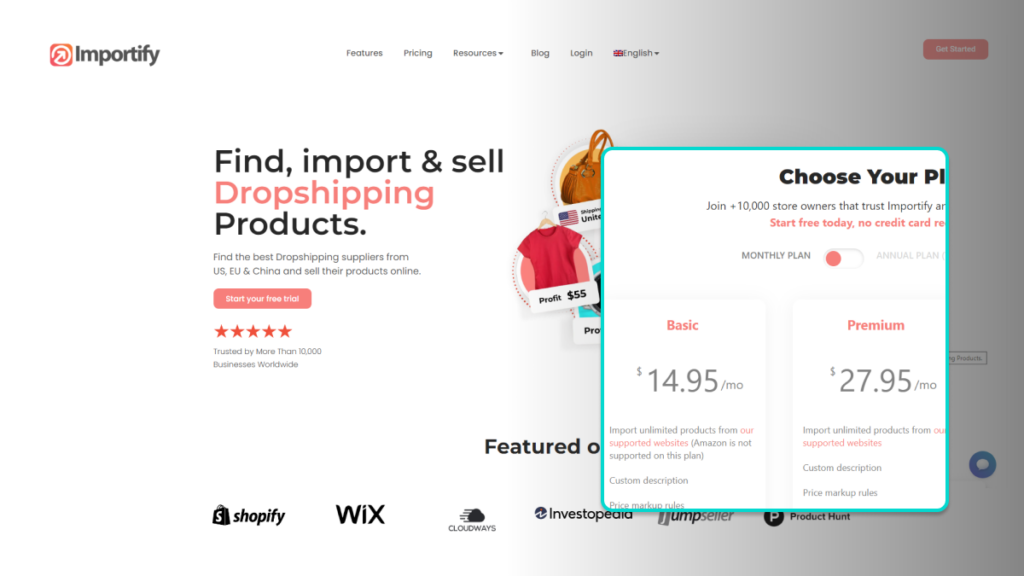 Importify is a Shopify tool that allows you to search, import, and sell dropshipping items from over 30 prominent marketplaces.
You can change product descriptions, pricing rules, and variations using the built-in editor.
Top Features:
One-click import products
Product research
Auto-assign collections
Connect existing products
Pros:
Excellent customer service
User-friendly integration
Price markup system
Immediate updates
Cons:
Some bugs can occur
There is no inventory tracking
Pricing
Basic Plan: $14.95/month
Premium: $27.95/month
Gold: $37.95 /month
9. Spocket: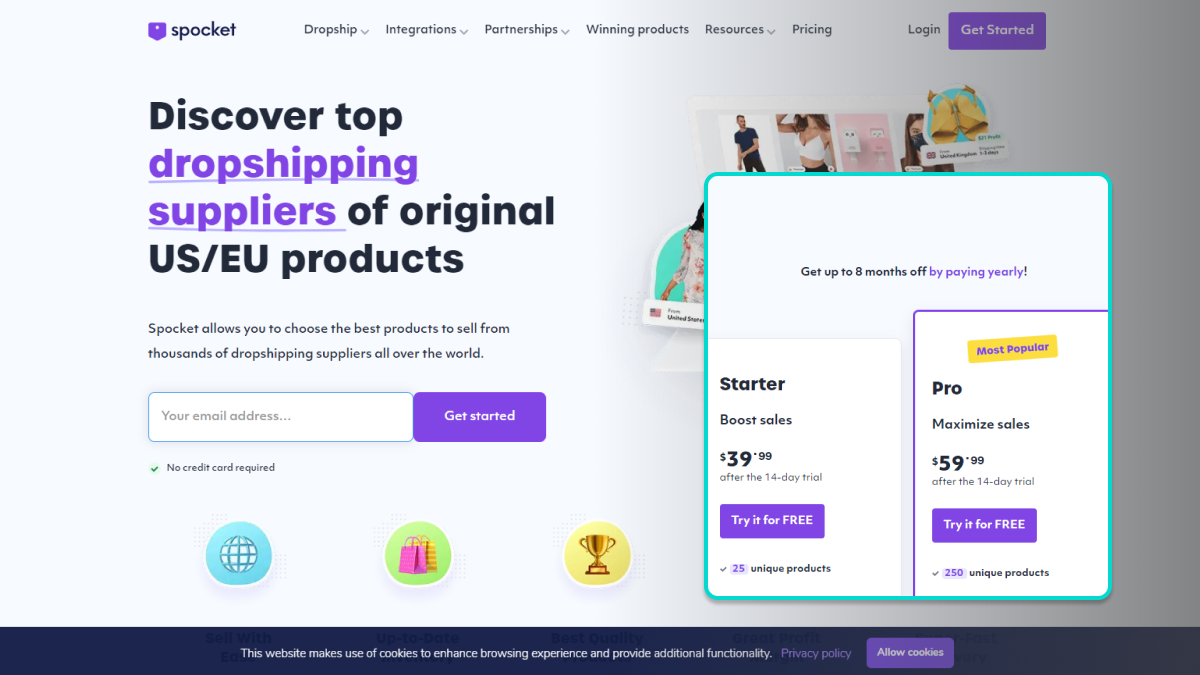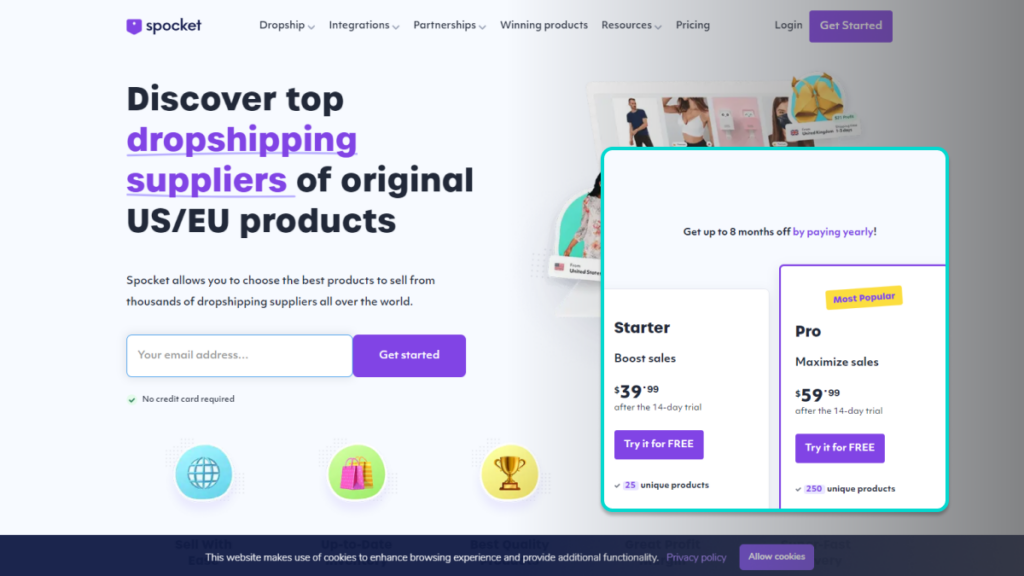 Spocket is a dropshipping platform that assists sellers in discovering products from a vast range of suppliers in the United States (US) and the European Union (EU). It is a reliable Shopify dropshipping application.
Features:
Fulfilling orders with one click
Auto-update the inventory
Chrome extension
Real-time order tracking
Pros:
Most platforms are easily integrated
Quick shipping and delivery
High-quality suppliers in the United States and the European Union
Automated order fulfillment
Cons:
There is no permanently free plan for beginners
Pricing:
Free Plan: $0 for all
Starter Plan: $39/month
Pro Plan: $59/month
Empire Plan: $99/month
10. GlowRoad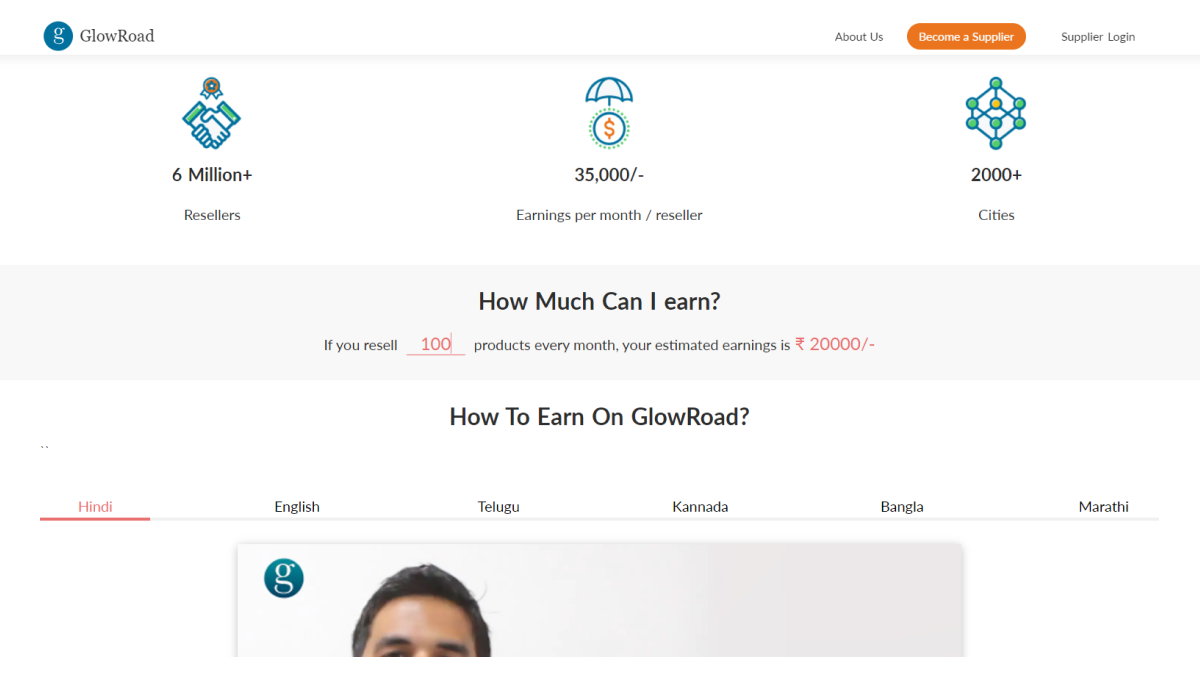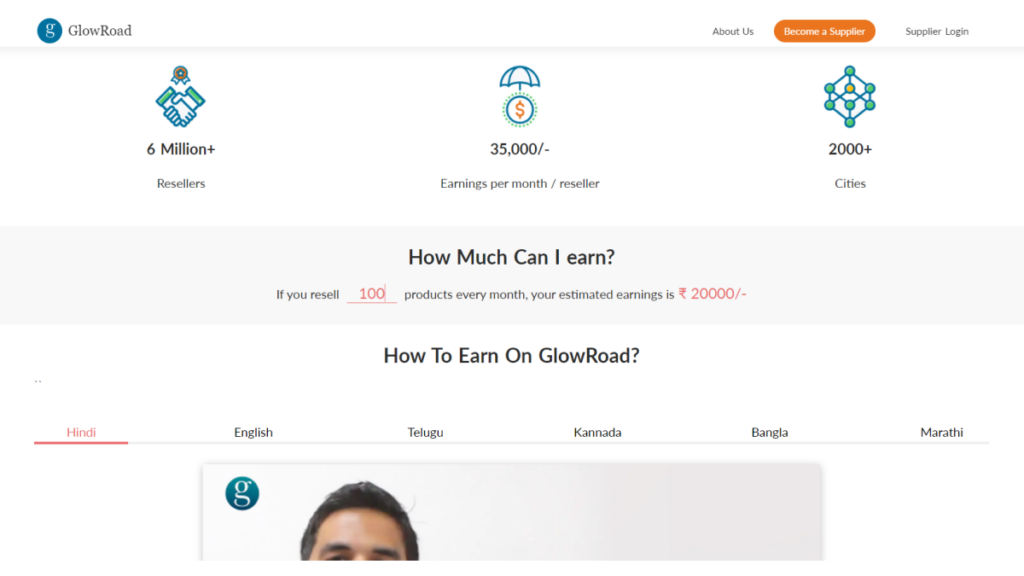 Have you heard of GlowRoad? It's an awesome Shopify dropshipping app that's based in India. With GlowRoad, you can become a supplier, and they even provide you with all the knowledge and tools you need to get started. Plus, they recently announced a partnership with Amazon, which is super exciting! Oh, and did we mention that you can also find GlowRoad on the Shopify App Store? It's a great way to start a business and make some extra cash.
Features:
Refund offer
One-click import
Inventory management
Quality control
Pros:
On-time delivery
Seller satisfaction
Listing winning products
Good customer service
Cons:
Communication gap from the customer side
Problem with delivery
Pricing:
GlowRoad is free to use.
11. Trendsi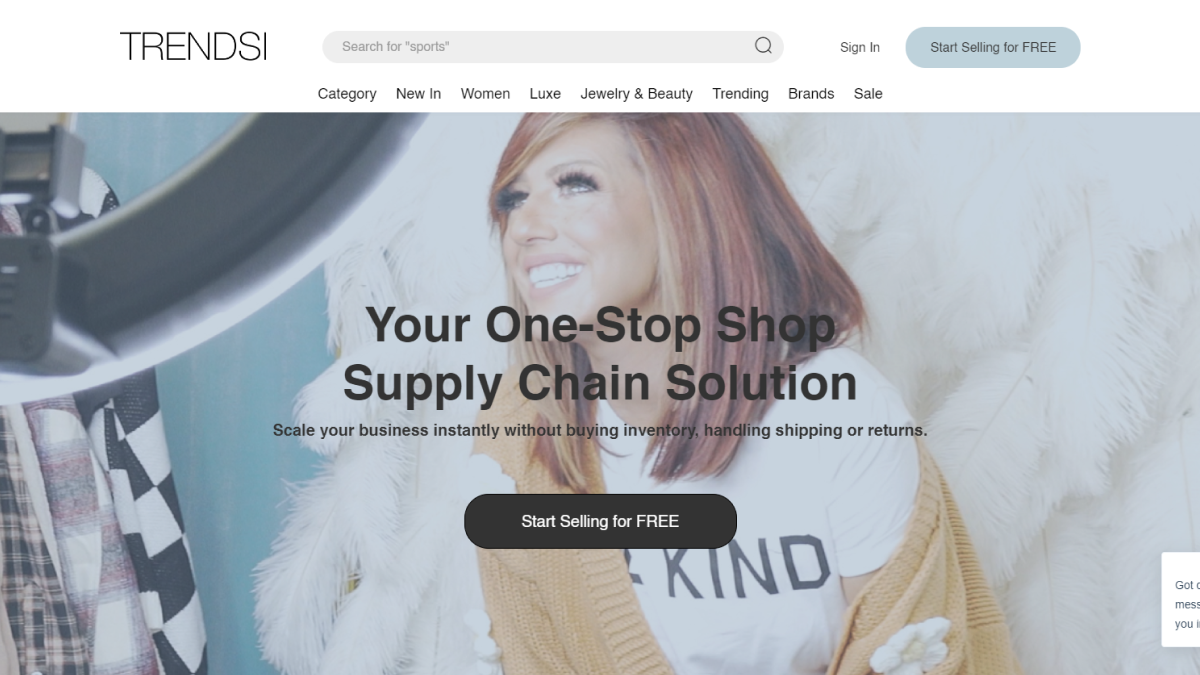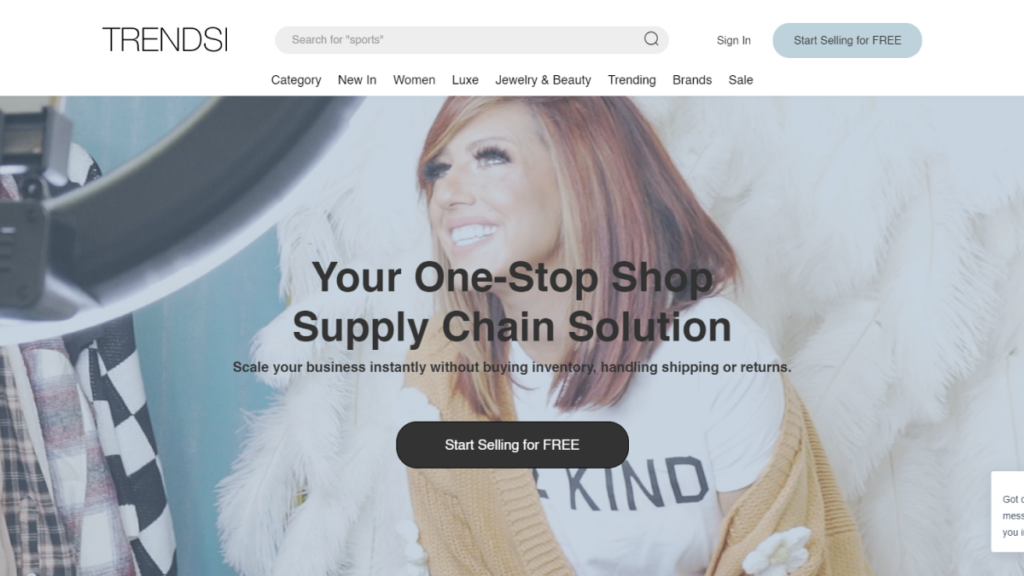 Trendsi is one of the best free Shopify apps out there. It is a fashion dropshipping app that promises to be your ultimate supply chain solution. Also, it provides a simpler approach to logistics, manufacturing, and product sourcing.
Features:
Finding products
Inventory sync
Custom packaging
Fast shipping and return policy
Pros:
Well-designed website
Helpful support team
A vast range of products
Offering reasonable pricing
Cons:
There have been a few complaints of shipping issues by users.
Pricing:
You should only pay if you wish to buy a product sample from the merchant. Otherwise, the app is free for all users.
12. Dropified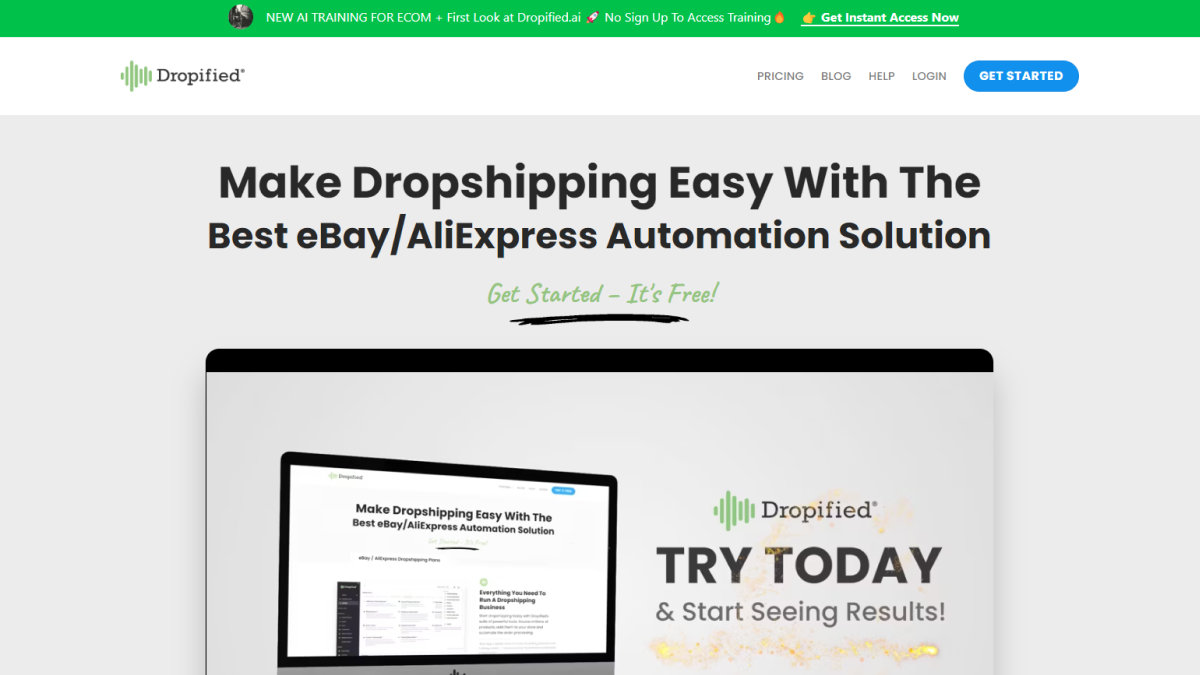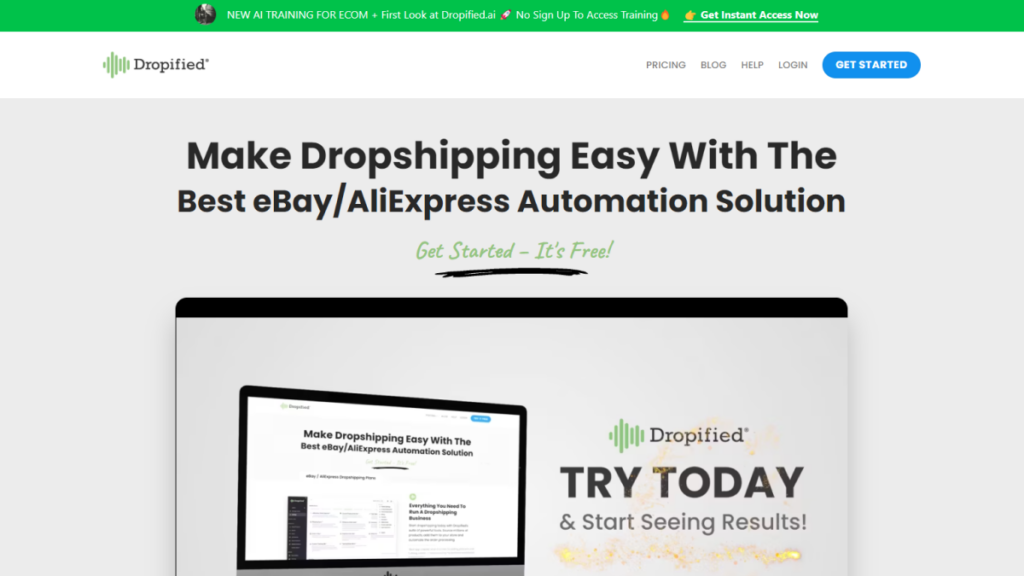 Dropified is one of the best apps for dropshipping you can get your hands on. It is a web-based dropshipping tool that helps e-commerce businesses find, research, import, and add products to online stores. Orders placed online can be fulfilled without companies having to handle physically or ship products.
Features:
Product information management
Product data management
Online Catalog
Shipping management
Sourcing management
Pros:
14-day free trial
30-day money-back guarantee
Responsive support
Multi-platform compatibility
Cons:
One of the most considerable cons of Dropified is limited automation. Most automated tools are only compatible with AliExpress. Many processes must be completed manually on other dropshipping marketplaces.
Pricing:
This app is free for all users.
13. AutoDS: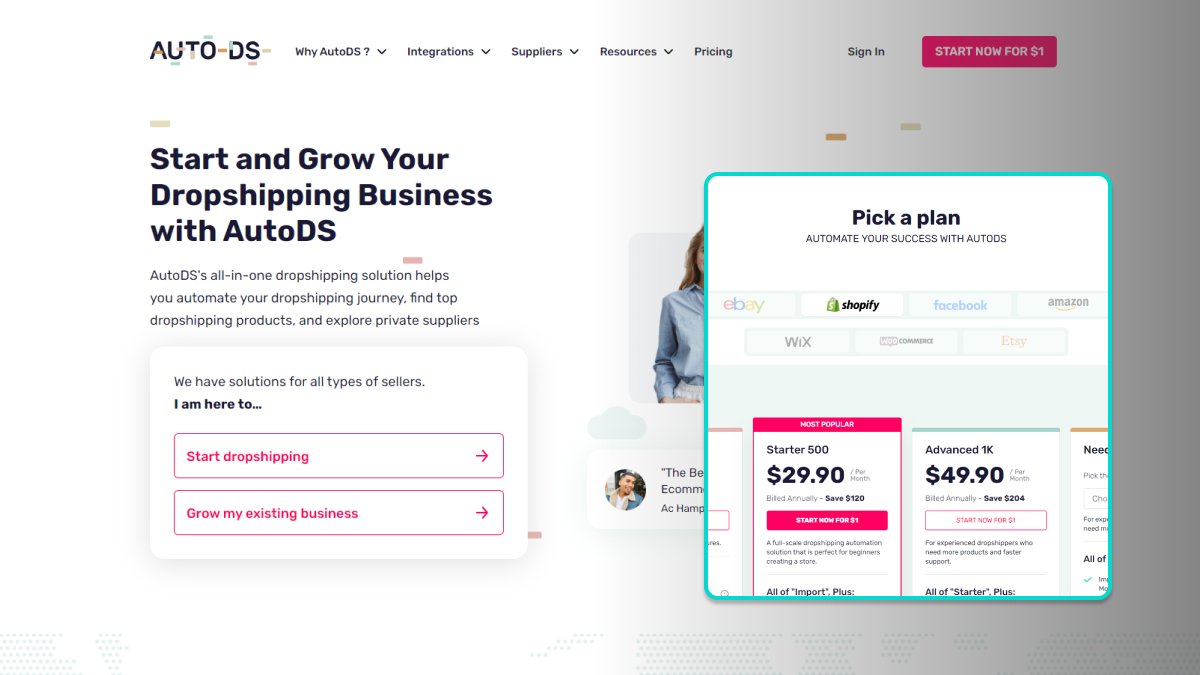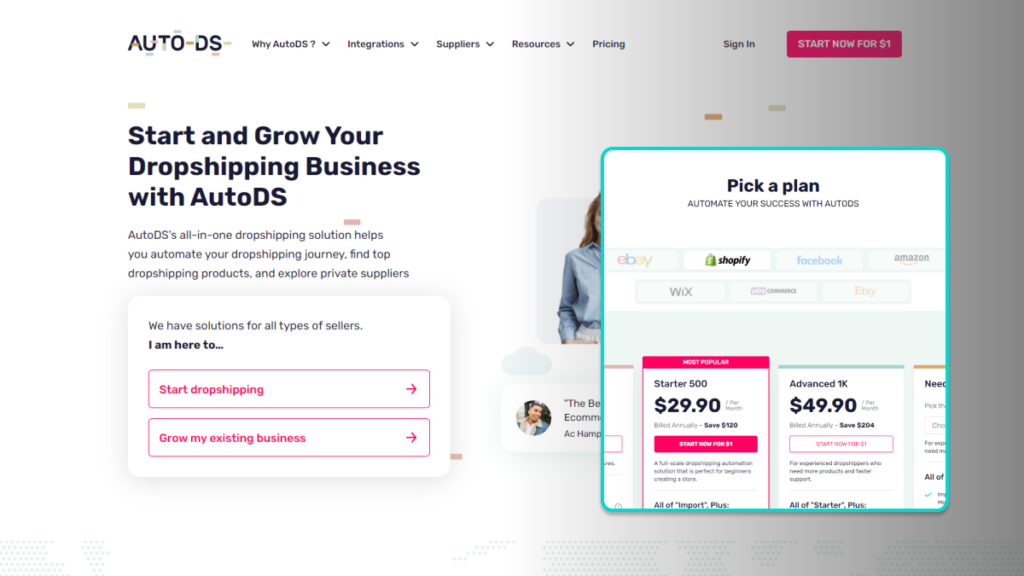 AutoDS is a cloud-based Shopify dropshipping tool that assists businesses in managing orders and tracking changes in stock levels and product prices across several sales channels. Among its features are performance measurements, profit computation, automated pricing optimization, and real-time updates.
Features:
Purchase order management
Inventory management
Sourcing management
Shipping management
Customer service management
Pros:
Excellent customer service
It makes the whole process much faster and easier to track!
User-friendly integration
Cons:
Sometimes, not all products can be imported immediately from the tool.
Pricing:
Import 200 = $9.90/month
Starter 400 = $17.90/month
Advanced = $32.90/Month
14. DuoPlane: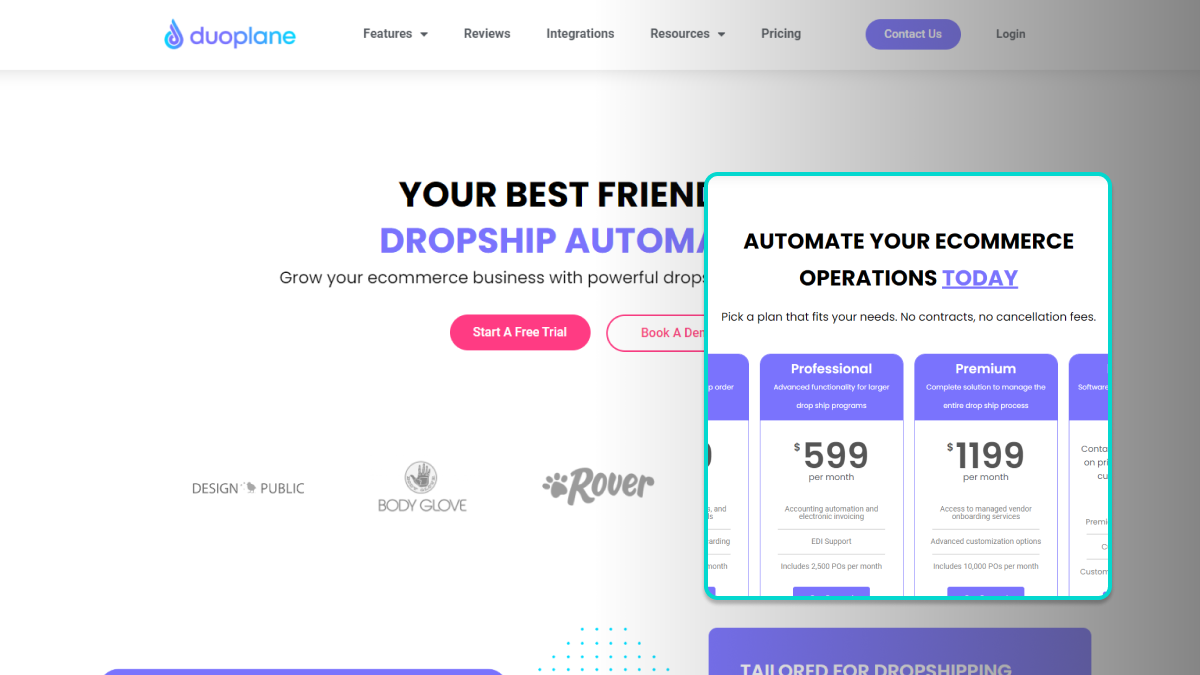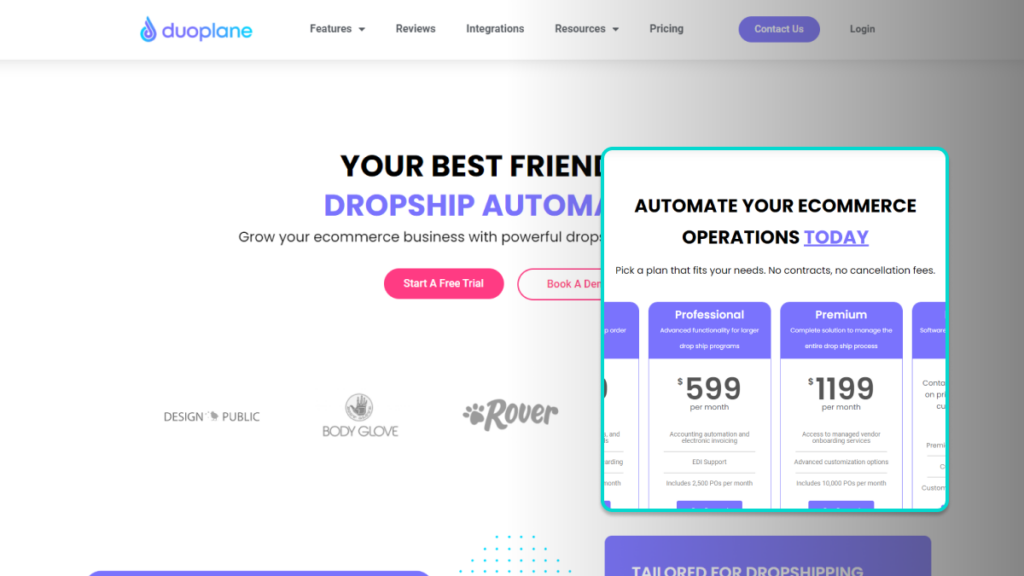 Duoplane is one of the best dropshipping apps on the Shopify App Store. It helps streamline inventory management, order processing, and vendor communication, making it easy for retailers to scale their business.
Features:
Real-time inventory syncing
Automated order routing
Customizable reporting
Third-party integrations
Reporting & statistics
Pros:
Efficient order management
Seamless integration
Cons:
Limited customization options.
Pricing:
Starts at $99/month.
15. Wholesale2B: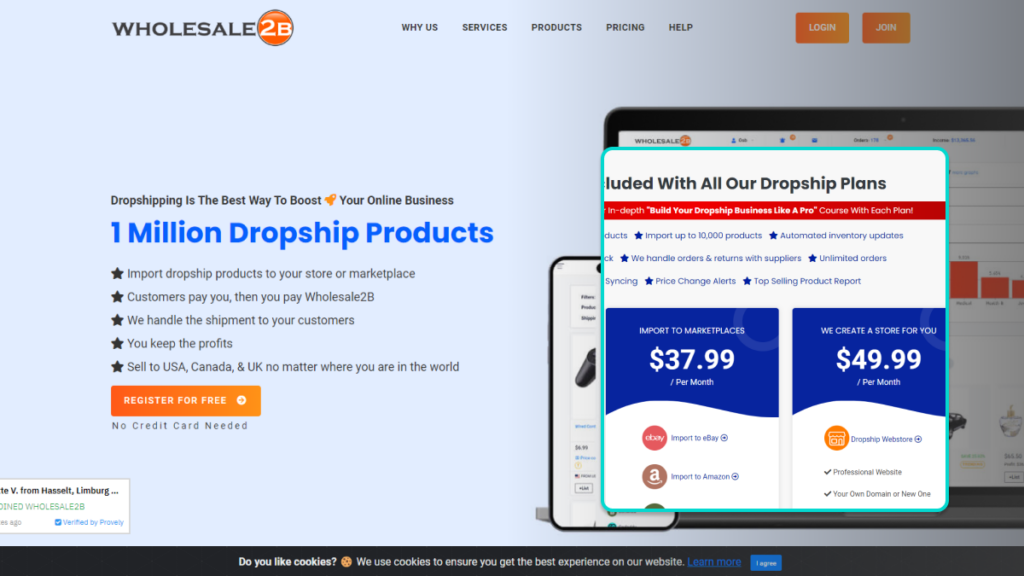 If you're looking for an efficient way to manage drop shipping without too much effort, Wholesale2B is an excellent option. With over 100 suppliers, Wholesale2B takes care of your business actions. It's one of the best apps for controlling the entire process.
Features:
Dropship analytics
Dropship CSV file
Dropship XML file
Automated syncing for orders
Pros:
Reasonable pricing
Wide range of products
Integration with e-commerce websites
Viewing suppliers for free
Cons:
Contact with the team is limited.
Pricing:
You may begin with a free account that requires no credit card. If you decide to relocate, an import plan to your current retailers costs $29.99/month. It costs $37.99/month to import to markets. The final Wholesale2B deal is $49.99/month with unlimited feature choices.
Conclusion
So, there we have it! All these 15 best dropshipping apps for Shopify in 2023 boast features and functionalities designed to simplify the dropshipping process. From inventory management and order routing through automated fulfillment, product discovery, and inventory tracking, all the aforementioned apps have something unique to offer.
These best apps for dropshipping help entrepreneurs run their dropshipping businesses efficiently. With various pricing plans available, users can select an app that best meets their needs and budget.
So, whether you are a beginner or a veteran drop-shipper, these tools will surely provide invaluable resources that help drive success in an increasingly competitive e-commerce world.