A few days ago Shopify released more than 100 updates on their Shopify editions winter 2023. While I would encourage all Shopify developers and admins to go through it all, today we specifically talk about a feature Shopify has implemented that revolutionalizes custom data management entry. After the release of Metafields, Shopify Metaobjects are a better way to customize data entry for Shopify admin. While they might seem similar in terms of the fact that they both store custom data they perform very different purposes. While meta fields store only a single block of data. Metaobject is a collection of similar forms of data. Let's lead with an example.
Consider this multicolumn section on a product display page. Prior to metaobjects if we want to dynamically populate data for this section it can take upwards of 12 meta fields considering all the titles, descriptions, and CTAs. This can clutter up the product meta fields. With metaobjects Shopify, we can group up all of these data in a single object which will not only end up being clean but also a lot easier to manage. Similar to meta fields we can use metaobjects for Products, Collections, Customers, and Orders.
How To Use Shopify Metaobjects?
Step 1- Under your Shopify store settings go to Custom data and add a new meta object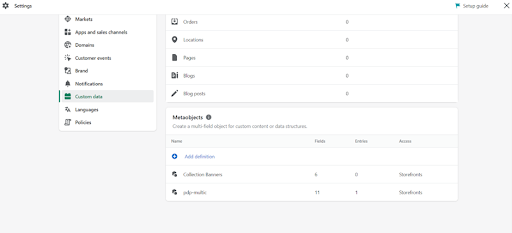 Step 2- Name the meta-object, add the fields required, and hit save.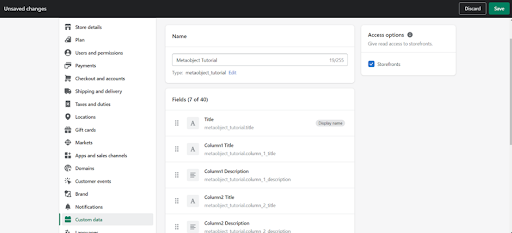 Step 3- Under your store nav bar go to content and select metaobjects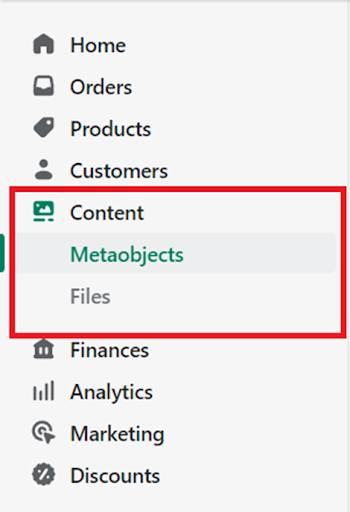 Step 4- Click on add entry and select your meta object

Step 5- Populate the fields and hit save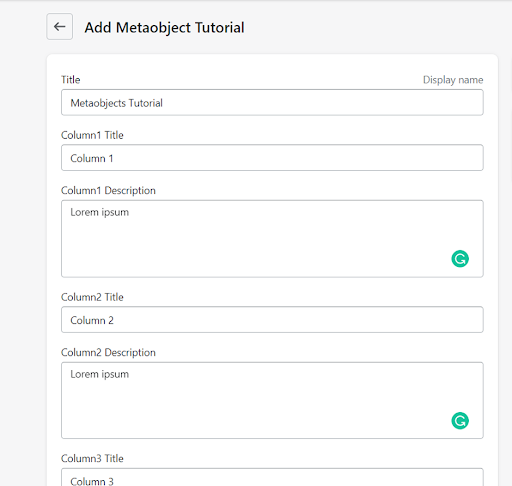 Voilà! your metaobject and its entry are now created and ready to use.
How to Link Shopify Metaobjects to your Desired Product?
Now to link your metaobject to your desired product you will need to create a meta field and reference the metaobject through it.
Step 1- Create a meta field with reference to your metaobject.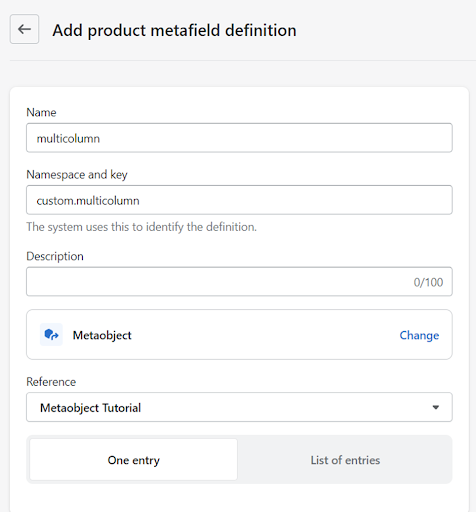 Step 2- Populate the meta field with your desired entry products

Step 3- You can now go to your theme customization settings and set the section entries to dynamic and select your metaobject entries.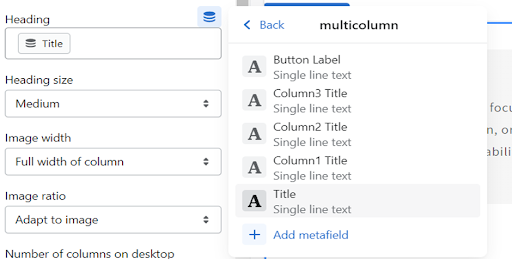 How to Effectively Use Meta Fields to Improve Store Performance?
Shopify's meta fields functionality allows merchants to add custom data fields to their items, orders, customers, and collections. They may contain a wide range of data, such as product measurements, color choices, and supplementary product information.
Here are some tips on how to use meta fields effectively to enhance your store performance:
1. Use meta fields to store more product information: Metafields may be used to record additional product information such as dimensions, material, or weight. This information might be beneficial for buyers deciding whether or not to buy a product.
2. Create custom fields for orders using meta fields: If you need to gather more client information during checkout, you may use meta fields. Create a custom domain, for example, to collect a customer's engraving message for a customized product.
3. Create custom fields for customers using meta fields: Meta fields can also be used to hold information specific to your customers. You could, for example, build a custom field to keep a customer's birthday or preferred product category.
4. Create custom fields for collections using meta fields: If you need to add more information to your collections, you may use meta fields to build new areas. For example, you might make a custom field to store a product's season or the target demographic for a specific collection.
You may improve your store's performance by offering customers additional information about your items, gathering essential customer data, and increasing your store's search capabilities by successfully employing meta fields.
Frequently Asked Questions:
What is a Shopify Metaobject?
Metaobjects let you add and save structured data to your store. For example, you may save product information like features, specs, and sizing charts. The metadata in metaobjects may be retrieved and edited via the Shopify admin.
How do I include metadata in Shopify?
Go to Online Store > Preferences in your Shopify admin. Insert your store's title and meta description by SEO best practices. Save the file.
Wrapping up:
Finally, adding metaobjects in Shopify entails establishing a meta field in the Shopify admin or utilizing the Shopify API. Metaobjects are used in Shopify to contain additional information about goods, collections, orders, etc. This might be handy for adding custom data, increasing search capabilities, or developing new features for your business. When establishing shopify metaobjects, it is critical to follow Shopify's requirements to ensure they are correctly structured and shown on your store's storefront. Adding metaobjects in Shopify may help you improve your store's functionality and create a better shopping experience for your customers with some knowledge and experimentation.
Let us know in the comment section. if you need immediate web development services or assistance, you can contact  Los Angeles Shopify agency now . Our friendly and knowledgeable representatives are available to help you with Shopify inquiries .
Thanks for Reading!