"Customer is King." We have heard this quote a lot. Throughout your entrepreneurial journey, you will realize its truth multiple times! In this digital era, customers are smart enough to distinguish good products from mediocre ones and great customer experiences from mediocre ones.
With massive amounts of customer data, it often gets difficult for marketers to process the information and interpret it accurately. This is the exact scenario where a customer relationship management (CRM) tool or software can help you. If you use Shopify, there are a bunch of useful Shopify CRM integrations that can take your ecommerce business to a higher level.
Today, your customers value efficiency, flexibility, and personalized shopping experiences to make purchase decisions. As countless retailers pop up for each product online, customers don't hesitate to abandon a website if it isn't serving them in the best way.
So, it is high time you learn about the seven most popular Shopify CRM integrations and strive for delightful customer interactions.
What is a Customer Relationship Management Tool?
In simple terms, A CRM is a tool that assists you in managing your customer relations. It is invaluable in managing and enhancing interactions and relationships with prospects, clients, and customers.
Shopify CRM software can help automate many aspects of customer engagement, streamline communication, and centralize customer data. It means you spend relatively less time and money talking to your customers but still keep them more engaged with your brand.
If you run a Shopify store, you can use Shopify CRM integrations for better customer satisfaction and ultimately drive business growth and profitability.
The good news is that you don't require technical knowledge to implement a CRM system. Major platforms like Shopify offer CRM integration apps to help you maintain long-term customer relationships.
Do you want to know which Shopify CRM integration works for your business? Originate Web is a top Shopify development company to help you with the top 7 Shopify CRM integrations. Just pick the one that aligns with your business objectives.
Top 7 Shopify CRM Integrations For Your Store
Metrilo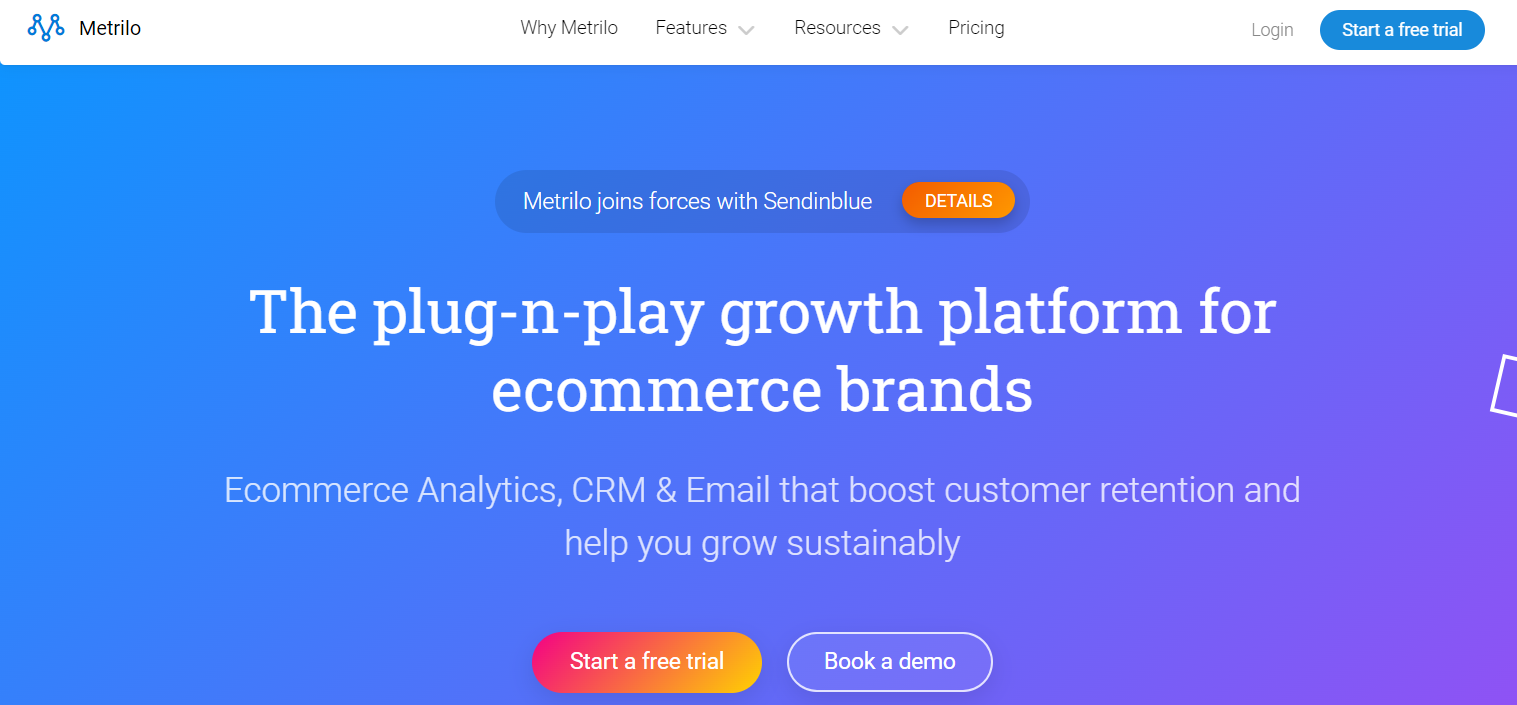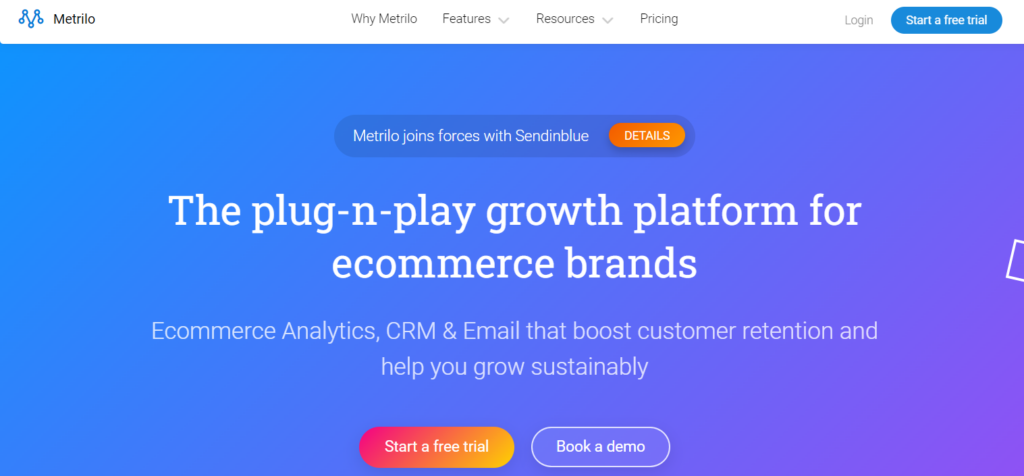 Metrilo is a popular all-in-one CRM and email marketing platform helping online stores thrive in a dynamic ecommerce landscape.
The main aim of Metrilo is to let users spend less time & money on paid traffic and instead focus on investing in long-term customer relationships instead of spending.
The tool lets you monitor and analyze your store, gather customer information, and capture potential customers through targeted email campaigns.
Features:
Metrilo's product management reports provide customer purchase data, visitor views, purchases, and abandon rates, giving more profound insights into how best to sell products.
The smart assistant acts like an AI tool and helps you improve customer relations regardless of new or existing ones.
Metrilo lets you send highly personalized and automated emails to customers. The feature enables users to send emails based on the customer's behavior on specific conditions.
Live chat and email support to the customers during business hours. The platform has an extensive resource hub where you can access industry updates.
Price: Plans begin from $119/month. The free trial version is available for days.
Freshsales


Freshsales is a cloud-based Shopify CRM integration software offering sales & marketing capabilities. The AI-based lead scoring of the system enables you to prioritize leads based on their probability to convert and feed this data automatically into the system from web forms, emails, and chat.
Features:
Freshsales CRM tool is designed to provide an intuitive and user-friendly interface perfect for people new to CRM systems. The implementation process is simple and takes only 18 days compared to other CRM tools, which take up to 72 days.
This Shopify CRM software can be tailored to meet the specific needs of the users. Create custom fields, define workflows, and set specific conditions for data entry and management.
Offers integrations with third-party tools and platforms like HubSpot, Gmail, Outlook, etc., so you can access all your customer information in one place.
Price: Both free and paid versions are available.
Close CRM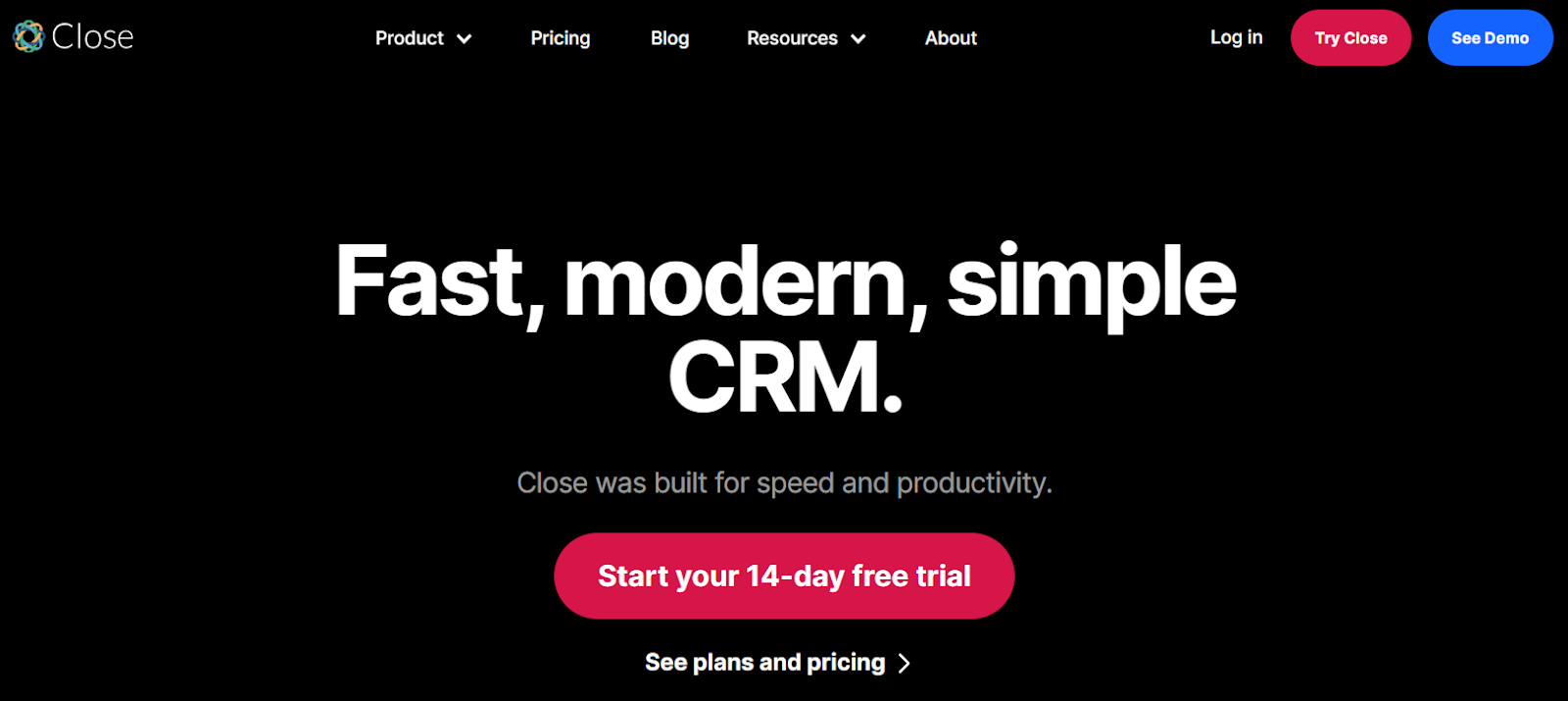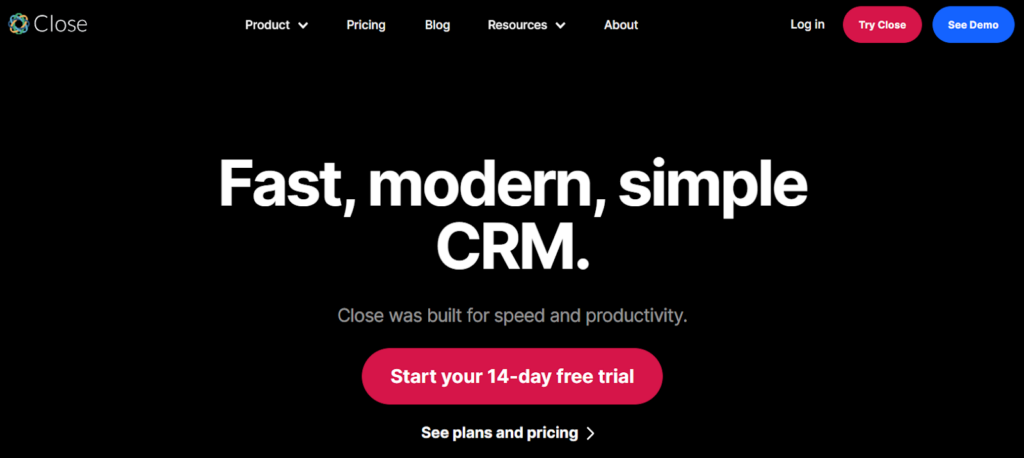 Close is one of the best Shopify CRM software exclusively designed for Small and medium-sized businesses (SMBs) to help them manage customer data, automate sales, and turn more leads into revenue. The software offers outstanding sales automation features that can help you easily generate and convert leads. 
Features:
Close CRM system lets you manage your sales calls through Voice over Internet Protocol (VoIP). 
If you have a database of leads to sell your brand in the future, the Close CRM enables you to craft messages and automate your complete email campaign within a few clicks of the button.
Close offers automatic calling and call recording features that let you keep track of sales processes and revert on what's working and what isn't. You can make sales calls to nearly 200 countries, thus smashing the boundaries of language, culture, and currency. 
Price: Plans begin at $49 per month. The free trial is available for 14 days.
Endear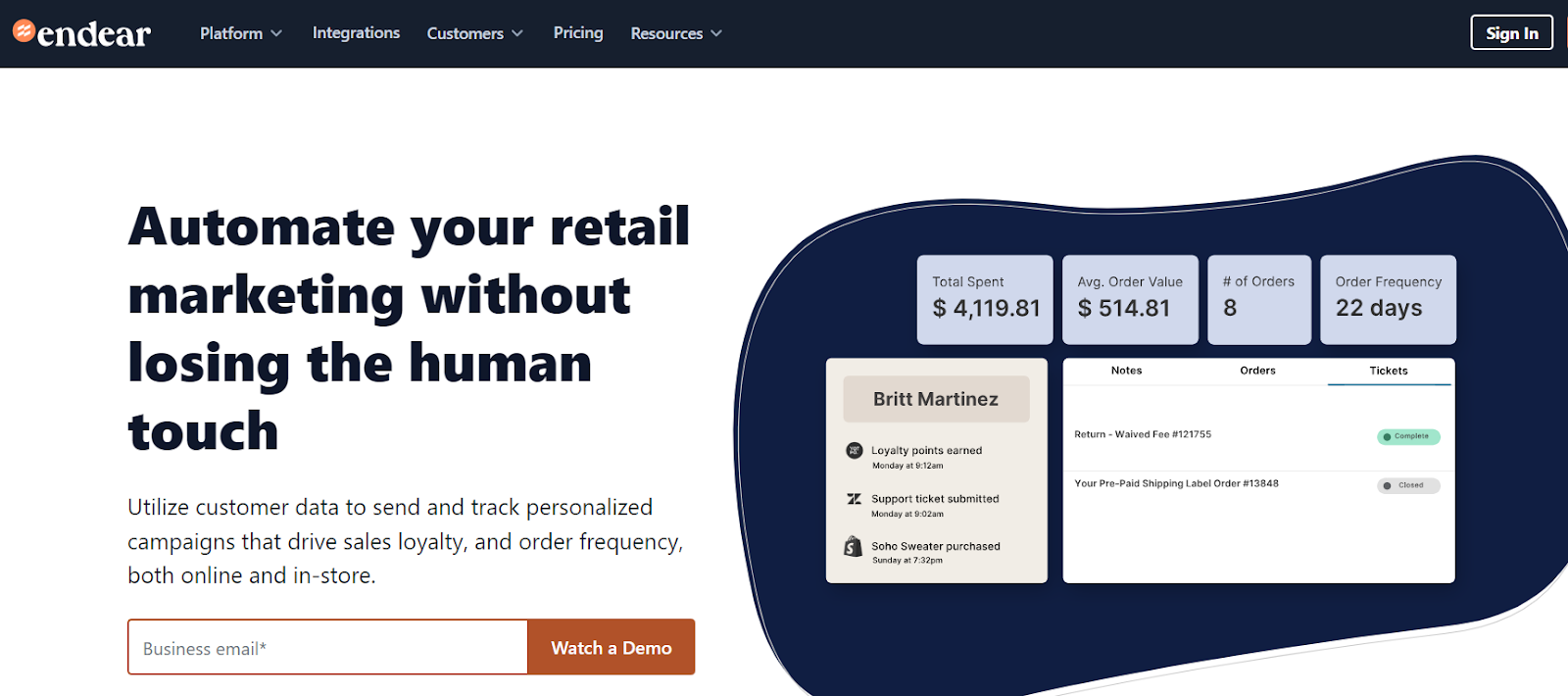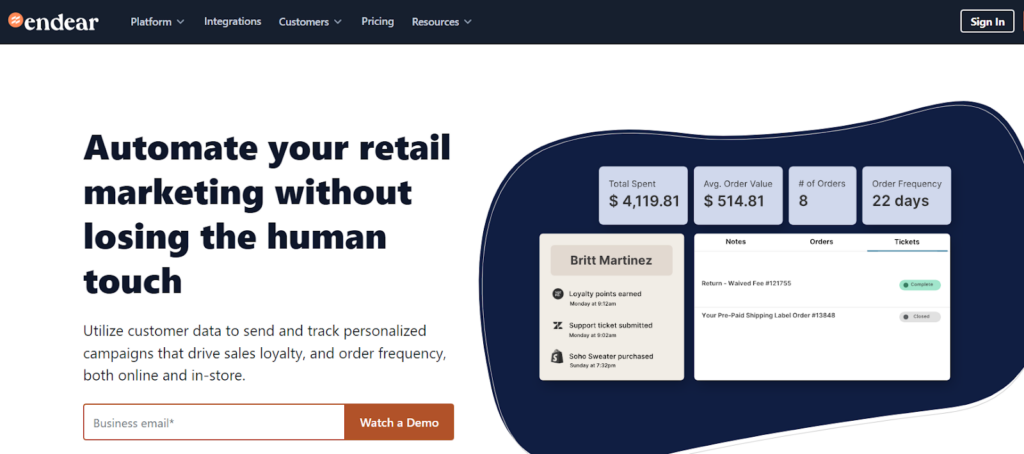 Endear is the first & only clienteling app licensed for Shopify merchants. This CRM app enables merchants to send personalized messages to their customers and, in turn, boost sales.
This Shopify CRM integration app manages everything from collecting clients' data and creating campaigns to sending personalized lookbooks and tracking their engagement.
Features:
Integrate your store to this Endear CRM system with just one click and get live customer order history, statistics, and product inventory updates. The app lets you track the customers likely to buy your products. You can send them personalized offers and thus convert them into repeat customers.
Send product recommendations to the prospects based on their purchase history and share them through text, email, and WhatsApp, depending on their preferences.
With this centralized Shopify CRM software, you can keep track of buyer activity across all streams and websites and get deep insights into growing your customer base using the information.
Search and segment your customers using the Endear Shopify App based on multiple filters like average order value (AOV), ZIP code, location, user behavior, purchase history, preferences, etc.
Price: Custom quote.
Engagebay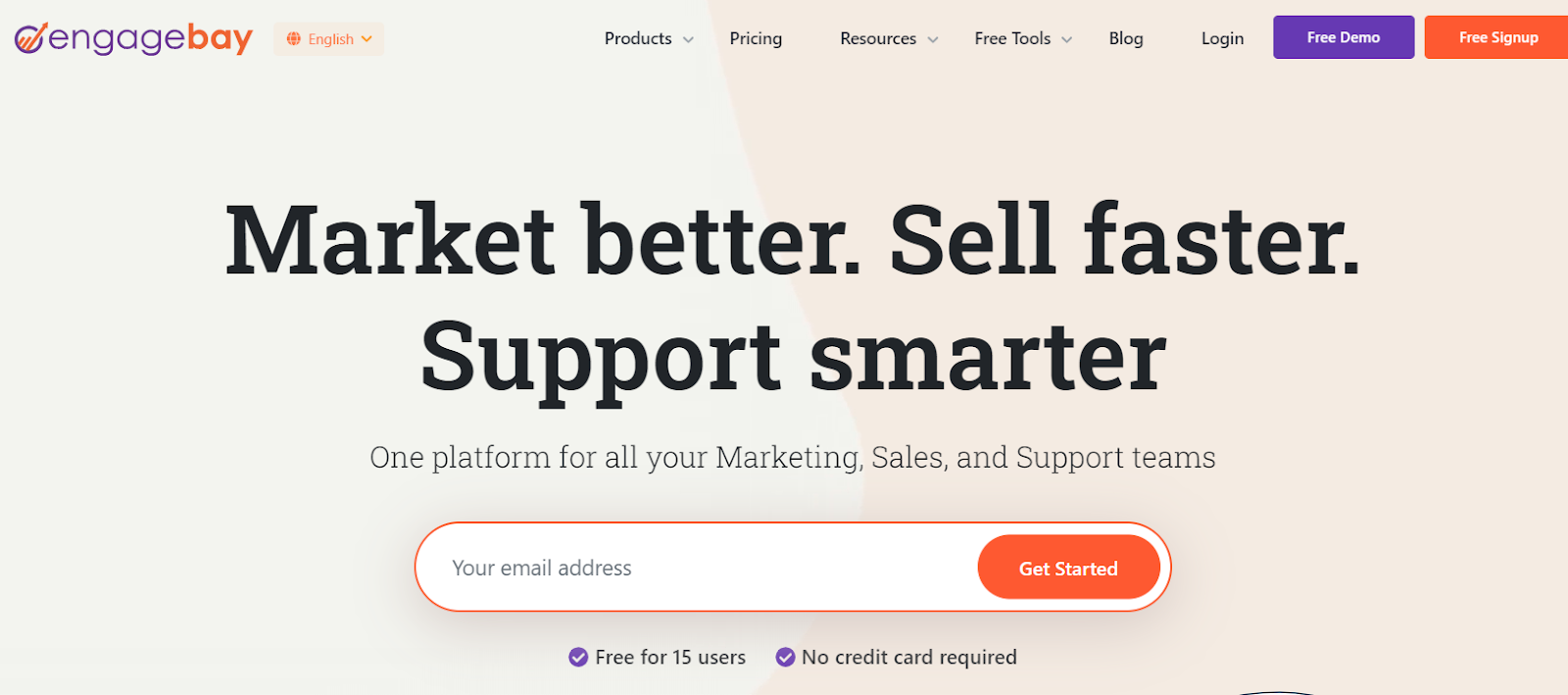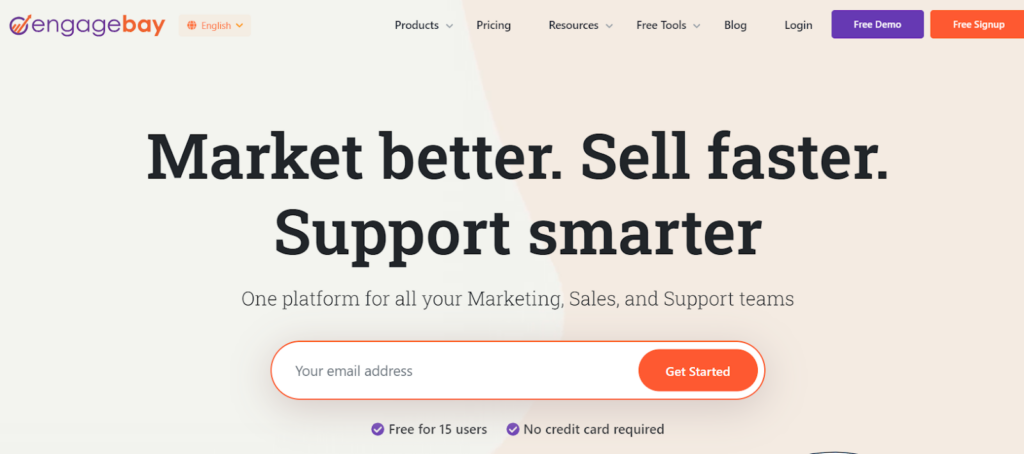 Engagebay has a cloud-based all-in-one software solution with robust sales, marketing, and customer support capabilities. This unified CRM tool is perfect for startups and small and mid-size businesses.
Exclusively designed for omnichannel brands, Engagebay enables users (retailers) to collect customers' data, communicate with them face-to-face, and create personalized shopping experiences for their customers.
Features:
After signing up, you are directed to a customizable dashboard where you can add or modify reports and deals and check the progress of the deals regularly.
The automated sales feature is quick to set up, and you get a trigger alert every time a sales rep moves a contact into the prospect column. This way, you can get a clear view of every pipeline stage on a single dashboard.
The automated builder feature enables you to create new events, assign tags, send nodes, and close tasks upon completion. Project management is made easier with Engagebay.
The Shopify CRM software also offers a robust email tracking feature that tracks all responses to your emails. You get alerts for significant activities like email opens, document downloads, landing page visits, unsubscribe requests, etc. Set up triggered and capture hot prospects at the right time.
Price: Plans begin at $11.04/month. The free trial is available for 14 days.
Pipedrive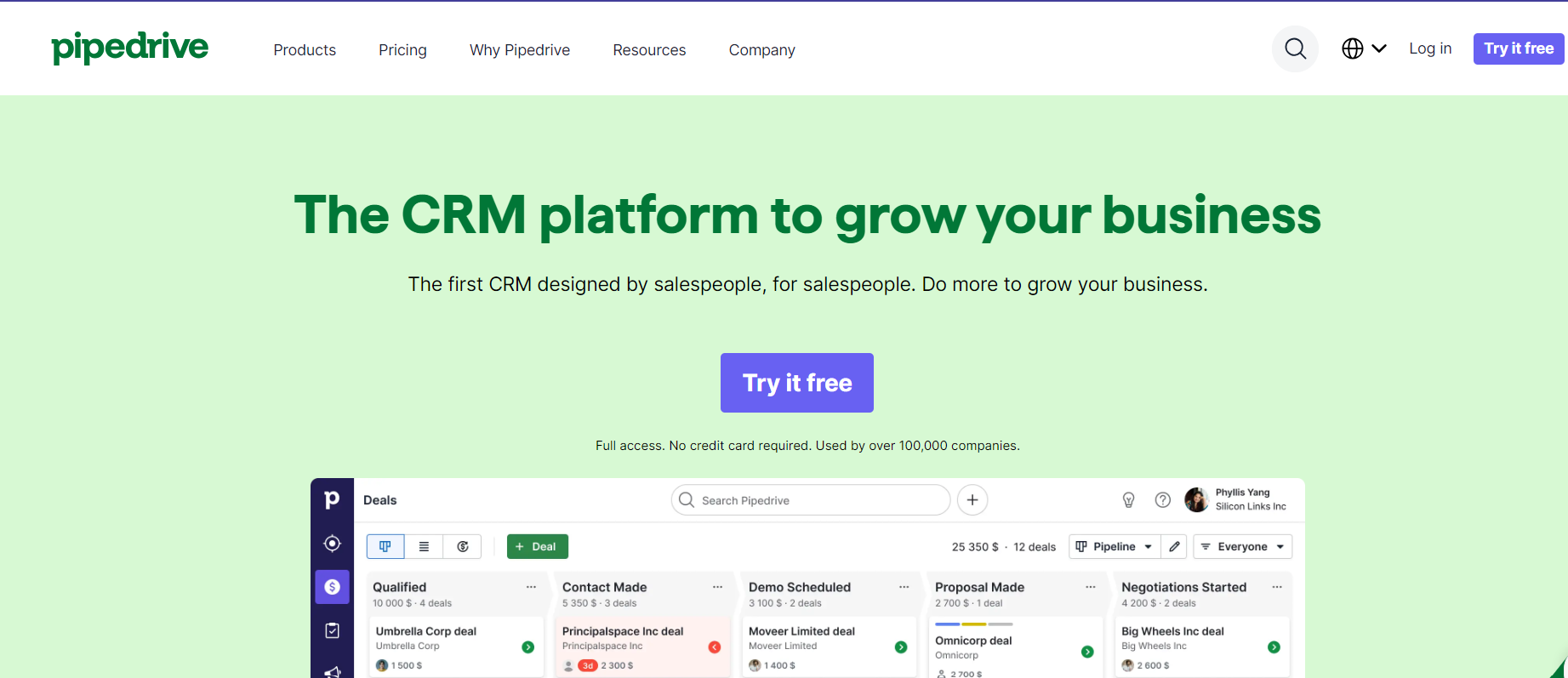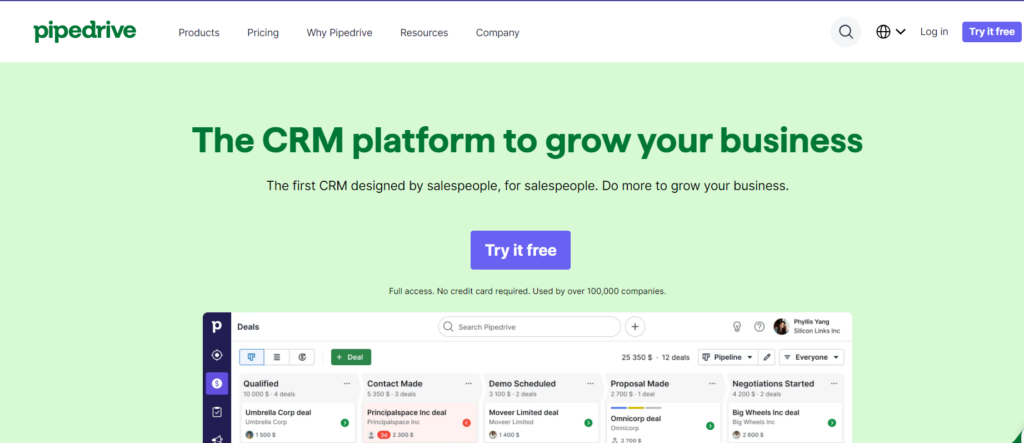 Pipedrive is a sales and marketing management software ideally designed for small and medium-sized businesses (SMBs). Accurate data forecasting enables sales reps to understand customers' desires and interests precisely.
Using the visual pipelines, you can understand what stage a lead is in and take necessary action to close the deals. Thus, it helps you close more deals.
Features:
Leadbooster Chatbot collects potential leads 24/7 and routes them to a user-specified destination like a sales rep, etc. The automatic calendar synching helps leads book appointments with the sales rep without leaving the chatbot conversation.
Pipedrive integrates with various integrations and apps like Asana, Zapier, Automate.io, Zendesk, Mailchimp, etc.
Robust security features, including data encryption, daily backups, and GDPR compliance. A dedicated data protection officer and multiple certifications are also provided for the users.
Using contact management, you can import contacts from your previous CRM system or synch them through Microsoft or Google. These contacts are stored as organizations and people and then attached to the deals.
Price: Plans begin at $9.90 per month. The free trial is available for 14 days.
Active Campaign


Active Campaign is a Chicago-based CRM company with over 130,000 active users worldwide. This software is designed to enhance your sales and marketing capabilities through automation.
Active Campaign incorporates a sales automation feature to help growing sales teams capture and convert potential leads like never before.
Features:
The tool has over 125 unique email templates to help you craft quick emails. If you want to email designs, ideally signing with your brand, you can start building emails from scratch.
Active Campaign is one of the most secure Shopify CRM integrations with top-notch security features to safeguard your store data and customers' confidential information.  
Get to choose from a list of more than 350 Integrations and add-ons & provide a seamless experience for your customers. Popular integrations include Shopify, BigCommerce, PayPal, Quickbooks Online, Xero, etc.  
A dedicated customer support team through live chat, email, or phone based on your pricing plans. Active Campaign offers unlimited resources to help you stay updated with the latest industry developments, software, and more. 
Price: Plans begin at $29 per month. The free trial is available for 14 days.
Conclusion
In today's rapidly evolving ecommerce realm, engaging with your customers and building deeper relationships is crucial. With the right Shopify CRM integrations, you can significantly boost your online store's chances of success.
As you set out on the growth path, do not hesitate to seek expert guidance. With dedicated app integration services delivered by Originate Web, you can ensure triumph in the digital landscape. 
With years of experience, an in-house team of veteran developers, and an unwavering commitment to quality, Originate Web has a long list of happy clients. Let us add your name to it!
Contact us to know more!