Driving quality traffic to your e-commerce store and converting visitors is a constant hustle. With the rapid outburst of e-commerce stores, acquiring customers is even more challenging. This is where affiliate marketing can serve you right. Affiliate marketing is not limited to celebrities or influencers with terrific popularity. Anyone can try affiliate marketing if they have a significant audience, as it offers higher returns on investment (ROI) than other marketing strategies. If you own a Shopify store, the Shopify affiliate program is a proven strategy to drive the right traffic to your website.
It is an exclusive affiliate program for the Shopify store. In case you didn't know, affiliate marketing is a great way to earn money while you sleep!
That's right! This blog unveils how you can do just that through the Shopify affiliate program
But before that, let's learn what affiliate marketing means.
What is an Affiliate Marketing?
Affiliate marketing is a reward-based marketing technique where the affiliate partners promote your products to their audience. They receive a commission in exchange for the sales & sign-ups you have earned through their referrals.
You will get access to a special referral link that can be attached to your website as an affiliate partner. You can use the link to track the success of referrals and earn a small part of the commission on every sale your referrals make.
To help you make money through affiliate marketing, Shopify has launched its own Shopify affiliate program. This program allows its partners to earn passive income through commission for driving sales to Shopify products.
Introduction to Shopify Affiliate Program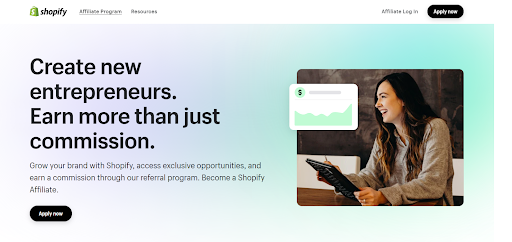 Shopify's affiliate marketing program allows bloggers, content creators, or influencers to partner with Shopify and earn money through customer referral programs. Do you have to pay money? Absolutely Not.
You don't have to spare a single penny to earn Shopify affiliate commissions. The program is completely free of cost to join. This program is hosted by a reputed Shopify affiliate app, Impact.
It assists Shopify affiliates with third-party tracking and real-time reporting and builds a reliable community of brand ambassadors.
You can also create an affiliate program through the UpPromote Shopify affiliate program app.
Here is a brief overview of the program:
Commission rate: 100% for the first two months & fixed payout thereafter.
Cookie Duration: 30 days.
Payment method: PayPal.
How Does It Work?
Once your application is accepted as a Shopify affiliate, you will be logged into Impact and receive a unique reference link.
You can utilize the link to refer to products in your blog posts, website, or even social media content.
You can also take advantage of the Shopify referral program and use the referral link in banners and landing pages.
When someone joins Shopify through the link and becomes a subscriber, Shopify pays you a commission in exchange for the referral.
Thus, the more people subscribe to Shopify through your link, the more Shopify affiliate commissions you earn.
Benefits Of The Shopify Affiliate Program
Shopify already has an established customer base across the world. Anyone interested in ecommerce knows well about the Shopify platform and what it can offer. This brand popularity helps the affiliates to sell more easily.
Impact is the Shopify affiliate software that lets you easily track sales, get meaningful insights, and create affiliate links.
You earn a part of the commission every time the referral pays for a subscription. Thus, if you have plenty of audiences, you can turn them into referrals and generate passive income through the Shopify Affiliate Program even when you sleep.
The 30-day cookie period enables Shopify to save the cookies and count them as your referral within the cookie period. That means, even if your referral doesn't subscribe on their forest visit, you earn a commission if they sign up anytime within the 30 days.
Are You Eligible To Become A Shopify Affiliate?
So, one thing is clear now. Shopify lets you earn a decent passive income through its Shopify Affiliate Program. But, there are specific eligibility criteria for applying for this program.
Anyone with a website driving significant monthly web traffic can apply for this program.
Content creators providing original & authentic content for websites, blogs, publications, online courses, videos, or even social media are eligible to apply.
Entrepreneurs, Shopify enthusiasts, or anyone who understands the concept of e-commerce & how things work in the industry are good enough to try the Shopify affiliate program.
Please note that those who want to apply for the program should thoroughly understand the essence of Shopify partner program terms to avoid any confusion.
How To Become A Shopify Affiliate?
Just follow the steps below to become a part of the popular Shopify affiliate program:
Visit Shopify's official website and navigate to the affiliate page
Sign up for the Shopify affiliate Program.
Read the terms of the affiliate program for the Shopify store and apply.
The Shopify team may take up to 3 days to review your application. If your application gets through, you will receive a personalized affiliate link to share with your audience and earn a commission when they subscribe to Shopify plans through the link.
Additionally, a detailed email will be sent to you with the resources to let you get started as a Shopify affiliate. It may also include information about your Affiliate manager and insightful guidance on how to grow your business and get more reach.
How Much Do You Earn As A Shopify Affiliate?
Your earning capacity in the Shopify Affiliate Program depends upon several factors, including:
The number of sign-ups made through your referrals,
The type of Shopfy plans your visitors have signed up for, and
Whether they continue the subscription for at least two months.
If your referrals unsubscribe after the first month, your earnings will fall. Please remember that you don't earn a commission if the referrals opt for free trials.
Thus, the percentage of referrals who convert from a trial period to a paid subscription will significantly impact your earnings as a Shopify Affiliate.
Shopify Affiliate Program Commission Rates
As a Shopify affiliate partner, you can earn commission through the Shopify bounty and commerce coach programs. Let's dive into both in detail.
1. Shopify Bounty Program
In the Shopify Bounty Plan, the affiliates get a fixed, one-time payment when a referral is done through the Shopify affiliate link. The partner receives 200% of the subscription fee paid by the referral for the first month.
For example, if your referral opts for Shopify basic plan, Shopify will pay you $58 for the first month instead of $29. Please observe that this program does not apply to Shopify Plus plans.
You will receive payment in two halves – the first half of the payment gets paid within 30 days of the referral subscription, whereas the other half will be paid within 30 days of the end of the calendar month in which the first payment was made
2. Commerce Coach Program
If you have a proven track record as a Shopify affiliate who supplied a lot of referrals to Shopify, then the platform invites you to join its premium commerce coach program. In this program, you can earn a flat rate of $150 – $225 for each referral according to your tier.
Alongside, you will be guided by a partner manager who works with you to level up your affiliate marketing campaign. On top of all, the commerce coach members will receive exclusive Shopify promotions to recommend to their subscribers.
How Do You Get Paid in the Shopify Affiliate Program?
Shopify affiliates will receive payments through the Impact app. The platform requires a minimum payout balance of $10 USD before withdrawal. Once the threshold is crossed, you can transfer the money to your bank or PayPal accounts.
The payments are made twice a month. If you consistently provide referrals to Shopify, they pay you once a week or biweekly. Please note that Shopify pays in US dollars regardless of your country, region, and currency.
In Conclusion
The terrific growth of Shopify offers an incredible opportunity for bloggers or those with a significant audience to introduce Shopify's abilities to their audience and make passive income.
The Shopify affiliate program enables creators, educators, thought leaders, and influencers in the e-commerce industry to share their experiences with a community of entrepreneurs. So, join the dynamic Shopify community to share your unique perspectives and learn more profound insights into Shopify and how you can help businesses grow.
In case you are looking for expert advice for launching or boosting your Shopify venture, you've just stumbled across the right page. We at Originate Web offer world-class e-commerce solutions for Shopify store owners to help them scale their businesses organically.
Check out our services and get in touch!