The rise of eCommerce is not hidden in any industry. According to market experts, eCommerce will contribute to nearly 95% of purchases by the year 2040. Thus, with the immense possibility of growth, most businesses are planning for Magento to Shopify migration.
The migration from Magento to Shopify enables businesses to gain a competitive edge in the present conditions and future possibilities. Despite the user-friendly interface and many advanced flexible features, the process to migrate from Magento to shopify can be complicated. If not planned and executed well, it may not deliver the expected results.
Thus, careful planning for Magento to Shopify migration is extremely important. To ensure hassle-free migration along with the desired benefits, businesses should migrate using the Magento to Shopify migration checklist.
Let us get into the details to understand every aspect of Magento to shopify migration in detail.
Why eCommerce Businesses Are Migrating From Magento?
Magento, by default, enjoyed being the leading platform for online stores. But, gone are the days.
Though, the platform still enjoys a significant client base; however, many businesses are migrating from the platform. So, what are the possible reasons for Magento migration? These are some of the potential reasons:
High setup and maintenance cost
Complicated architecture
Slow expected performance
High dependency on extensions
Thus, it can be understood that Magento surely ensures some advantages to online businesses; however, utilizing those benefits can be a complicated process. As a result, the popularity of Magento to Shopify migration is at its peak.
Reasons For Magento To Shopify Migration –
Migrating from one platform to another can be complicated and complex for businesses. Thus, the decision should not be made without considering the essential Magento to Shopify migration checklist.
There are multiple alternatives to Magento but Shopify stands distinguished from them. It makes sense to rely on a platform that stood through the test of time rather than any new platforms that can break your business.
Below are the important factors supporting Shopify as the perfect eCommerce business solution to ensure Magento to Shopify migration.
1.Hosting and Infrastructure:
Since Shopify is based on the SaaS model; it easily works using the ready-to-use infrastructure and hosting needs. This means you can completely relax about the hassles to maintain the infrastructure as Shopify does everything for you.
Moreover, this also helps in reducing the setup and running costs and time. Additionally, thanks to the central Shopify servers, the platform enjoys enhanced security, improved speed, and seamless optimization without any hassles.
2.Ease of use for merchandisers and admins:
When talking about the ease of using the eCommerce platform, nothing can be as good as Shopify. There isn't any specific demand for having technical proficiency to use the platform. Moreover, Shopify is a straightforward platform for merchandisers and admins with its simple and clean backend.
In simple words, Shopify makes everything easy from visualization to editing the required changes.
3.Quick and easy customization:
Another important reason to choose Magento to shopify migration is the quick customization. Shopify customization offers multiple themes and requires no coding. No matter what the needs of your brand are; you can easily customize them in your Shopify theme without any professional developer.
4.Vast app library:
If you still rely on multiple 3rd party apps to ensure the smooth running of your business store, you should immediately plan to migrate from Magento to Shopify. With its 6,000+ apps, the Shopify app store offers complete eCommerce customization solutions for almost every business.
Moreover, it also supports more than 100 design themes that are compatible with every browser and device. All the apps and designed themes are specifically optimized for the Shopify servers to ensure seamless performance.
Thanks to this, you can also boost the performance and functionalities of your online business store to overshadow your competition.
5.Payment Options:
Shopify uses its own payment gateway – Shopify Payments. This ensures enhanced safety and protection of the customers against possible online fraud cases. The customers can seamlessly proceed with the payment process without any worries.
Along with this, the platform also supports the Shop Pay feature to ensure ease and convenience to its loyal customers. Thanks to this feature, loyal returning customers can save all their payment and shipping details to speed up the payment process. As a result, businesses enjoy high conversion rates, better ROI, and reduced cart abandonment rates.
6.Compatible Sales Tools:
eCommerce and sales tools are always together. You cannot have one and skip the other when expecting amazing business growth and performance. Shopify makes it easy to get the desired support of sales tools, for the business, without any extra cost.
With compatible features like – multi-channel selling, digital product selling, recovery of abandoned carts, etc., Shopify ensures amazing business growth and higher ROI.
7.Lower maintenance and setup cost:
Unlike Magento which comes with many layers of hidden costs, Shopify works on the subscription model. Depending upon the subscription you choose, the professional team will perform all the hard work to ensure great success for your business. Thus, you can be sure to embrace your business success within a defined setup and maintenance cost without any hidden surprises.
8.Responsive customer support:
Last but not least, the responsive and instant customer support also facilitates the Magento to Shopify migration. You can expect a reliable solution to your concerns at any time you need with the Shopify customer support team.
This works as an additional benefit over Magento which demands an additional cost to support and maintain any website-related concern. Thanks to the super responsive Shopify support team, you can solve the problem before any damage is done.
It won't be wrong to say that Shopify is the one-stop destination to find effective solutions for smooth and reliable business performance.
The Available Pricing Model For Shopify –
Now, when you are convinced to migrate from Magento to Shopify, have a look at the pricing model available. You can avail the different Shopify services by choosing from the multiple packages depending upon your needs.
The following are the different pricing models available:
Shopify Light ($9 per month) –
Integrates Shopify's payment processor with the existing store.
Basic Shopify ($29 per month) –
Offers core functionalities and up to 2 staff accounts to startups for launching their online store.
Shopify ($79 per month) –
It supports all features of Basic Shopify accompanied by the low transactional fee and extended functionalities for maximum business growth.
Advanced Shopify ($299 per month) –
This package offers 15 staff accounts, lower payment rates, up to 88% shipping discount, and other additional features attracting business success.
Shopify Plus (starting from $2,000 per month) –
This package is the best for large companies to supercharge their eCommerce business.
Shopify makes it easy for businesses to take their success to the next level without compromising quality and performance. You can choose any of the available pricing models, depending upon your business needs and requirements to benefit your business.
Steps For Magento To Shopify Migration –
You can follow these simple steps to ensure Magento migration to Shopify:
1.Take a backup of your Magento store:
Start by backing up the essential data from the existing Magento store. You can do that using the following steps:
Visit the admin panel and click on the system.
In the tools section, click on the backup.
At the top right corner, select the type of backup you want.
Click on the 'ok' button.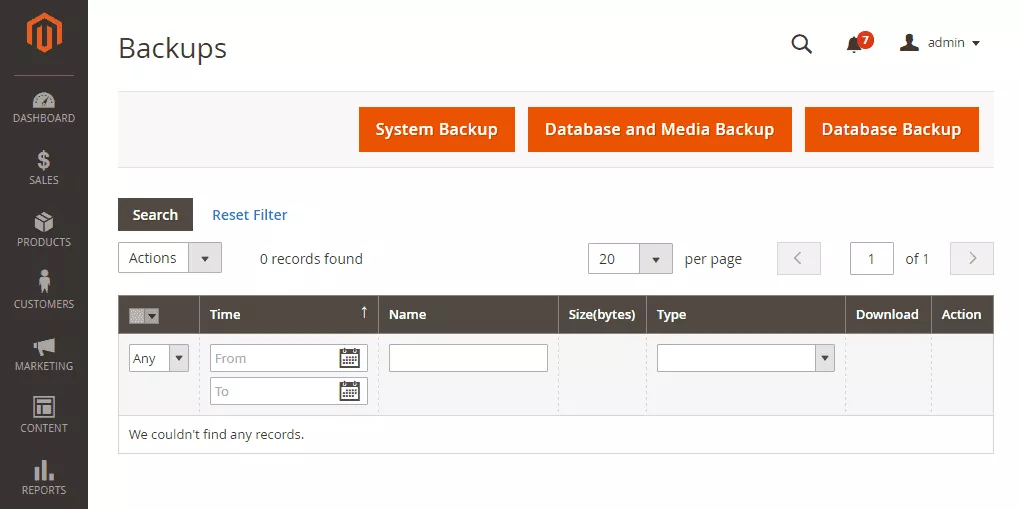 2.Prepare the Shopify store:
Next, you should prepare the Shopify store to transfer the data. Choose from the available pricing model for your business needs. Pick the required theme and install the required features.
3.Download the import app:
Choose an import app that helps in seamlessly transferring the data to your Shopify store. You can try:
Store Importer
Multichannel Importer
4.Export Magento Data:
Use the following steps:
Visit the admin sidebar, click on System → Data Transfer → Export
Set the required entity type for products, customer data, etc.
Choose the export file format in the export setting
After entering the details, click on continue to export the Magento data.
5.Import the data on the Shopify store:
You can use the following steps:
Visit the Shopify admin page, click on Apps à Import Store
Choose the platform option as Others (Magento is by default not listed)
In the upload files, click on 'Add files' and select all the required files along with CSV files
Click on 'Continue Import' and then on 'Import' to complete the process.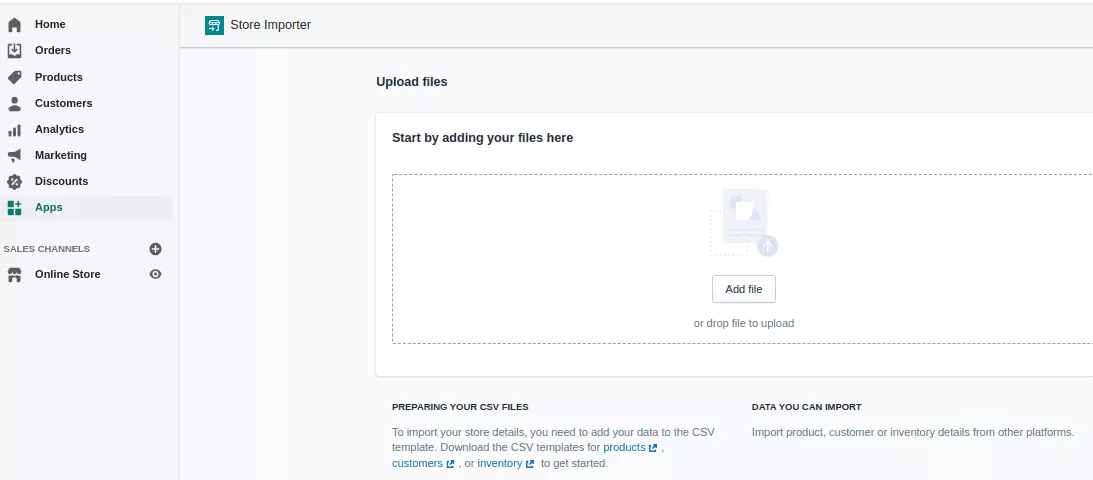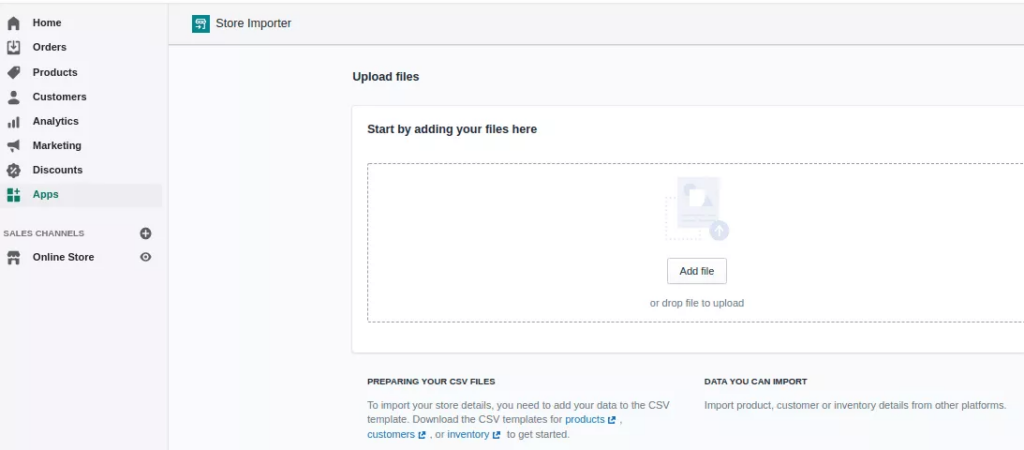 6.Review the imported data:
Check and confirm all the transferred data to avoid any hassles afterward. Make sure to review all the imported data.
7.Restyle your Shopify store:
Finally, depending upon your business data, you can restyle your Shopify store to complete the Magento to Shopify migration.
Final Thoughts:
Many top-ranking eCommerce brands like Heinz, Gymshark, Staples, LeSportsac, etc., are leveraging the benefits of Shopify with Magento to shopify migration. So, what are you waiting for?
If you are seeking professional help to migrate from Magento to Shopify, we are here for your assistance. We have helped many eCommerce stores with Magento to Shopify migration without compromising your business's performance, ROI, and brand value.
Reach us today to schedule expert consultation for the Magento to shopify migration.